360 YOU: Sally McRae Only Gets Stronger After Setbacks
Find out how the Badwater 135 champ finds ways to keep leveling up.
Photo: Courtesy Sally McRae
Heading out the door? Read this article on the new Outside+ app available now on iOS devices for members! Download the app.
The Badwater 135 is known as the toughest footrace in the world. 
The race traverses 135 miles through Death Valley, CA, home to the hottest temperatures ever recorded on earth. Race day temps have climbed as high as 127 degrees, hot enough to soften and even melt the rubber of athletes' shoes. Heat radiates off the black asphalt, slowing many runners to a crawl. The road is relentlessly exposed, forcing even the fittest athletes to confront the challenge of extreme heat and bright sun. Most competitors wear head-to-toe white to reflect as much heat as possible, relying on sun hats and arm sleeves to deflect the relentless rays. 
The race starts at Badwater Basin, the lowest point in North America at 282 feet below sea level. It then steadily climbs, crossing three mountain ranges to rack up a total of 14,600 feet of ascent to the terminus at the Mount Whitney Portal (8,374 ft), the trailhead to the tallest point in the lower 48 states. The heat climbs and monotony of the road combine to make this race an alluring mental and physical challenge to athletes. 
For Sally McRae, the siren call of Badwater was impossible to ignore. 
RELATED: 360 YOU: How Sally McRae Defines Success and Strength for Herself
Bad Days at Badwater
By 2018, McRae had been living as a professional athlete for years, racing and standing on podiums all over the world. 
"I felt confident approaching Badwater, that I knew my body and I knew how to do this," says McRae. "I know how to train hard. So when I stood on that start line, my mindset was very much that no one here has trained harder than me. There's just no way."
So McRae dove into the crucible that is the Badwater 135. The day did not go as planned. 
From mile 30 (relatively early in a race of that length), her abductor was cramping so badly that she could hardly keep herself upright. The effort of straining against her own body wore her down and exhausted her. By mile 50 (not even halfway), she was angry. 
Frustrated and dejected, she looked at her crew and realized how much they had all sacrificed to be with her in the desert for days, supporting her dream. 
"It hit me, how much they had given up to support me. I knew I couldn't let them down."
Overwhelmed with gratitude for her family and friends, she re-committed to the strongest finish she could muster. It took her over 35 hours, but she finished in 7th place. 
"I had a lot to learn, and I was very humbled. I had prepared for the race of my dreams, and I wanted to win," says McRae. "I didn't have the race I dreamed I would have, but I had the race I needed to have."
A Student of the Sport
McRae's coach encouraged her to take 2019 off from serious racing to reevaluate her goals. Then, the COVID-19 pandemic derailed most every runner's race calendar for 2020. Just four days before she was slated to toe the line at Badwater again, the race director called the event off. 
So, McRae did what she does best: she put her head down and got to work. She logged hundreds of miles on the Badwater course, acclimating to the heat, climbs, and befriending the white line of the long desert road. 
"The more I share about my training, the more often I'm asked about how I'm able to handle the high volume of training, not just running but also lifting. The short answer is consistency and fueling," said McRae in a social media post about her Badwater training. 
RELATED: A New Study Asks: Higher Volume or Higher Intensity?
Most of all, she worked on her mental game. 
"I knew I could come back, and be prideful again like I was in 2018. Instead, I wanted to come back as a student, committed to learning," says McRae. 
She experimented with different methods of fueling and heat training, using herself as a living science experiment to various approaches. 
"It was just like when I started getting into ultras. I knew I needed to figure stuff out, and try to do it my way," says McRae. 
Back to Badwater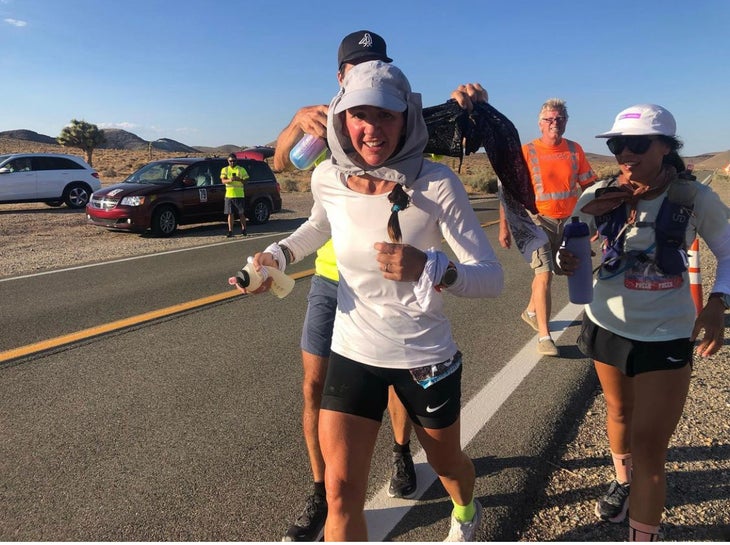 Much like her race in 2018, McRae's 2021 attempt did not go smoothly. She struggled with GI issues early on, and could hardly keep any calories down. Because the race traverses sensitive ecosystems and a patchwork of state and federally protected land, runners have to use Biffy Bags—essentially a portable toilet—to go to the bathroom, which took the physiological challenge of GI distress and turned it into a logistical challenge as well. 
At mile 60, McRae was near a breakdown. Her husband left the crew vehicle to attend to her, bringing her yet another Biffy Bag. 
"I told him, I'm so sorry that you have to deal with this. It's 120 degrees out here, and you're in charge of taking care of my shit. I'm so sorry," says McRae.
Her husband simply looked at her and said, "I love you. I'm so proud of you, you're doing amazing."
That single interaction helped her reframe the GI setback. 
"I realized I could feel really weak, and still be courageous. I can have nothing left in me, and still try to give my best," says McRae. 
So, she ran on, and developed a substantial lead. 
"There's still this struggle of being a competitive athlete, and I might be winning, but I'm puking my brains out and I feel awful. But still, I have to celebrate this," says McRae. "I wanted so badly to have this triumphant, strong finish, super-fast, flying through the finish line. And I realized that doesn't matter. Like, the result does not matter. It's what I did in that journey. It's what I overcame. It was the people that were with me."
She credits her win that day to her mindset shift, in approaching the race with curiosity and gratitude rather than pride. 
"I approached that day with so much gratitude and belief. I was hyper-focused on that despite the discomfort I was in, I believed I could win. That belief kept me moving forward, despite what I was feeling," says McRae. 
A Shift in Mindset
Even with the win under her belt, McRae is restless. Restless because she knows she can run the course better, and won't be satisfied until she executes the race she knows she's capable of. 
"I don't need to go back to Badwater and prove anything. I'm the Badwater champion. No one can ever take that away from me. And I will always be a champion. And it took me a long time to be able to say that," says McRae. 
Now, McRae is after the course record. Not because she has something to prove, but because her joy comes from quietly working toward incremental improvement, and finding new ways to be strong in the face of adversity. This year is particularly poignant, because it marks the age at which she will outlive her mother, who passed away from cancer when McRae was a teenager. 
"I want to use this year to celebrate the strength that I've chosen throughout my life. I want to be strong for my kids, I want to lift others up," says McRae. She has launched what she's calling the Choose Strong Project, where she'll race Angeles Crest 100, Leadville 100, Wild Strubel UTMB, Puerto Vallarta UTMB, and Malibu Half Marathon, directly on the heels of Badwater in her most ambitious season yet. She knows the back-to-back racing will limit her recovery time and competitive ambitions, but hopes that the fresh perspective will challenge other athletes to take on challenges to help them find their own definition of strength. 
"I've accomplished everything that I've wanted to accomplish and I want to use this year to celebrate the community that supported me, but also to deliver a message that's far greater than any medal that I can ever hold," says McRae.
This year is about choosing strength, and celebrating that choice. It's about having gratitude for the hard, scary things. It's about having the courage to come up short, and the bravery to get back up and try again. And again. As many times as it takes to fulfill big dreams.
McRae will return to the Badwater 135 on July 11-13th. You can stream the race here.
RELATED: I'm Never Going to Be Fast Again, But I'm Still in Love with Running