Pam Reed's Epic Summer of Endurance
Heading out the door? Read this article on the new Outside+ app available now on iOS devices for members! Download the app.
For all of the leg-, lung-, and soul-burning races she's participated in, Pam Reed thought she'd finally met her match in March.
It was at a grueling event held near Pinedale, Wyoming, called The Drift, which is billed as the highest-elevation winter ultramarathon in the U.S. Open to runners, mountain bikers, and skiers, it's a self-sufficient 100-mile race with 9,000 feet of elevation gain. There were four heated aid stations with minimal provisions, but they were up to 25 miles apart.
This year competitors encountered blizzard conditions and frigid temperatures that reached minus-18 degrees Fahrenheit. In other words it was tough. But then again, so is Reed, who, for the past 30 years has challenged herself in the hardest endurance events on the planet. 
Only 11 of the 46 competitors finished the race—including just three of the 21 runners—but, of course, Reed, a 62-year-old endurance sports legend, was one of them.
"I was so cold," Reed recalled the day before the Western States 100. "It was really, really hard, and it took a lot out of me, but I finished. And if I can do that, I can do anything." 
It's with that mentality that Reed will be tripling her fun this summer by attempting something that only one person has ever done before. 
After finishing Western States for the eighth time on July 25, she will recover for about a week and then tackle the July 4-6 Badwater Ultramarathon, a legendary 135-mile race on the roads from Furnace Creek, California, through Death Valley and up to the base of Mt. Whitney. After that, Reed will then travel to Silverton, Colorado, to run the July 14-16 Hardrock Hundred Mile Endurance Run, considered to be one of the hardest mountain ultramarathons in the world.  
If all goes well, Reed will run 337.5 miles in three events over a span of 22 days. Let that sink in for a moment.
RELATED: There's Nothing Quite Like Golden Hour at Western States
A Daring Double
Courtney Dauwalter, who just set a new women's course record in winning the 2023 Western States, will be tackling Hardrock, too, in an attempt to pull off the unprecedented feat of winning both races just three weeks apart. 
In 2011, Darcy Piceu placed second Hardrock and third at UTMB about seven weeks later and then did it again in 2015, when she finished second and fifth, respectively, in those races. In 2012, Krissy Moehl ran Western States (fourth), Hardrock (fourth), and UTMB (14th) during an amazing two-month span.
More often than not, though, those double-duty efforts go awry, but Reed's primary goal is just to finish each one.
"I'm an over-the-top person, but when I say I'm gonna do something, I'm gonna do it. You know?" Reed said. "So I'm gonna do it."
RELATED: Courtney Dauwalter Runs to New Western States Course Record
An OG endurance legend
Reed has put together a legendary career in endurance events as a triathlete and ultramarathoner. She's a 38-time Ironman finisher with numerous age-group titles and a former record holder for running 24 hours (138.96 miles in 2003) and 24 hours (212 miles in 2004), She's believed to be the only woman in the world to run 300 miles without stopping, a feat she accomplished in 2005, and she rolled through 491 miles at the Sri Chinmoy Self-Transcendence 6-Day Race in 2009.
But 100-mile runs have always been her forte, having racked up numerous wins since 1996. That includes two outright Badwater victories in which she beat all of the men in 2002 and 2003. In the latter of those, she beat Dean Karnazes to the Whitey Portal finish line by 25 minutes and then famously made an appearance on The Late Show with David Letterman. 
I want to be exhausted every day because I want to live my life to the fullest. And running a hundred is a good way to do that.
That was then, this is now, and for most ultrarunners that might seem like a lifetime ago. But now in her fourth decade of competing in ultra-distance events, Reed is still going strong. While she's mostly eschewed modern nutritional supplements—she loves sweet potatoes soaked in coconut oil during races—she's fueled by the same work ethic and passion for the sport that she had in the 1990s. She knows she's nowhere near as fast as she once was, but she's just as committed and arguably even more determined than ever. 
Reed admitted after finishing Western States in 28 hours, 52 minutes and change—her slowest time among her eight finishes—was both one of her hardest 100s to date and somewhat difficult to put into perspective, but finished with a big smile knowing that that's almost always been her primary goal. 
"I learned a lesson long ago when I was racing the Leadville 100," Reed recalled. "I went there to win it, and at one point in the race, I was in third place and I dropped out—just because I wasn't winning. I wouldn't recommend anyone do that. That's so ridiculous. You just have to keep going. I mean, finishing is the most important thing."
Reed ran her first 100 in 1992, when, at age of 31, she finished sixth among women and 71st overall in Utah's Wasatch 100. That was 31 years ago this summer—half her life ago!—when 2023 Western States champion Tom Evans was just a seven-month old baby in diapers back in England. 
RELATED: How Tom Evans Won the Western States 100
And yet, she's still at it. Western States was Reed's 10th race of the year of at least 50K, and she's placed among the top 10 women in four of those races.
Reed has been an inspirational speaker and owned and directed the Tucson Marathon for 27 years before selling it to Jamil Coury's Aravaipa Running organization last year. So now, more than ever, she has time to run—and recover to run more.
"I just love it, and I'm blessed enough that I don't have anything else I need to do," said Reed, a mother and stepmother of five kids. "I mean, my kids are all grown up, so I can just run and relax and get massages and recover in the jacuzzi."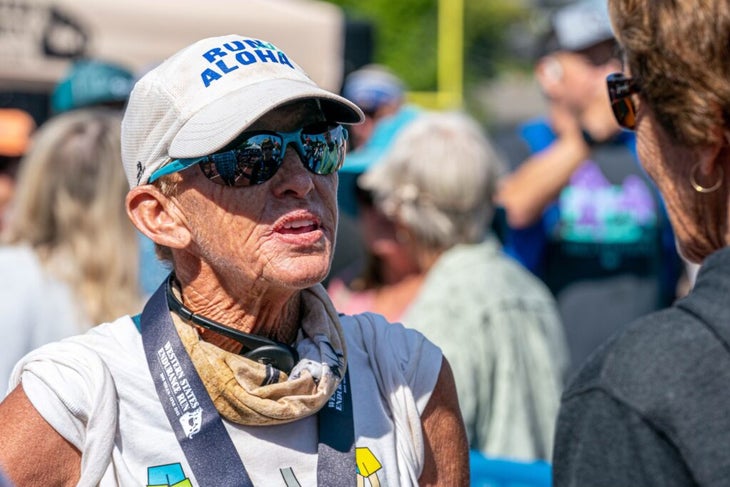 Rejuvenated after injury
Knowing what she went through last year, it might seem shocking that she's able to run 100-milers at all. But if you know Reed, it shouldn't be surprising at all. Like all runners, Reed has had plenty of injuries during her career, but perhaps none have been as devastating as the broken leg she suffered during the Covid-delayed 2021 Ironman World Championship last May in St. George, Utah. 
After a strong effort in the 2.4-mile swim, she was very near the end of the 112-mile bike segment when a spectator inadvertently walked into the course and bumped into the back of Reed's bike, sending her into a horrible crash that broke her right femur.
"It literally felt like a truck hit me," she said. "I had watched other spectators crossing as I was approaching from a long way away and told myself to be aware. But as I was coming up to an aid station, the woman literally walked out right behind me, so I never saw her."
After surgery in which a steel rod and pin were inserted in her leg, she left the hospital with the aid of a walker and started plotting in her head when she could get back to running. She had to sleep in a reclining chair for two months, but after that she started walking and, by late summer, doing walk-run sessions and riding a bike.
Ever the tenacious athlete, she ramped up her training enough to be able to compete in the 2022 Ironman World Championship in Kailua-Kona, Hawaii, in early October and finished a few minutes under 15 hours.
"I was slow. I wanted to have a sign that said I broke my leg in May, because people were passing me left and right," she said. "But I was there, and I finished."
After that, she upped her training volume and ran the Javelina Jundred 100K in late October and the Fat Ox 100-miler in early December. Shortly after finishing the latter race, she found out she got into the Western States through the lottery earlier that day and then was informed by Coury that she got into Hardrock. 
"At that point, I called my husband and he's like, 'Well, maybe you should think about doing Badwater," she said. "So about a month later, I was on a podcast with Louis Escobar, and he said, 'Pam, you're 62 years old, how many times do you think you would get into both again?' And I said, you're right. I gotta try.  So I applied for Badwater and I got in. So here I go, because, why not, right?"
That might seem like divine luck, but it shouldn't be surprising that Reed has done all three in the same summer once before. In 2015, she placed 20th among women at Western States (26:39), eighth at Hardrock (39:25), and second at Badwater (31:24) for about 98 hours and 30 minutes of running over a 31-day span. (Badwater is now held earlier in July, while Hardrock is later in the month).
Despite falling numerous times on the snowy sections on the Western States course last weekend, she survived relatively unscathed aside from several cuts and burns on her skin from the snow and ice. Now, after a few massages and a lot of time in the hot tub, she's onto the next. 
"At the end of the day, I just want to drop from exhaustion," Reed said. "I want to be exhausted every day because I want to live my life to the fullest. And running a hundred is a good way to do that. It's just an incredible thing. It really is. I'm so amazed every time I do it. And I have to remember when I'm out there and remember that you just have to keep going. It's so hard. Yeah. You know, you feel like crap, you're growing up, whatever happens, you know, but if you gotta get off to keep going and there is a finish line, and there is a joy in getting to the finish line."