One Runner's Mission To Overcome Chronic Injury
Women's Running's art director opens up about her struggles with injury and her drive to make it to another starting line.
Heading out the door? Read this article on the new Outside+ app available now on iOS devices for members! Download the app.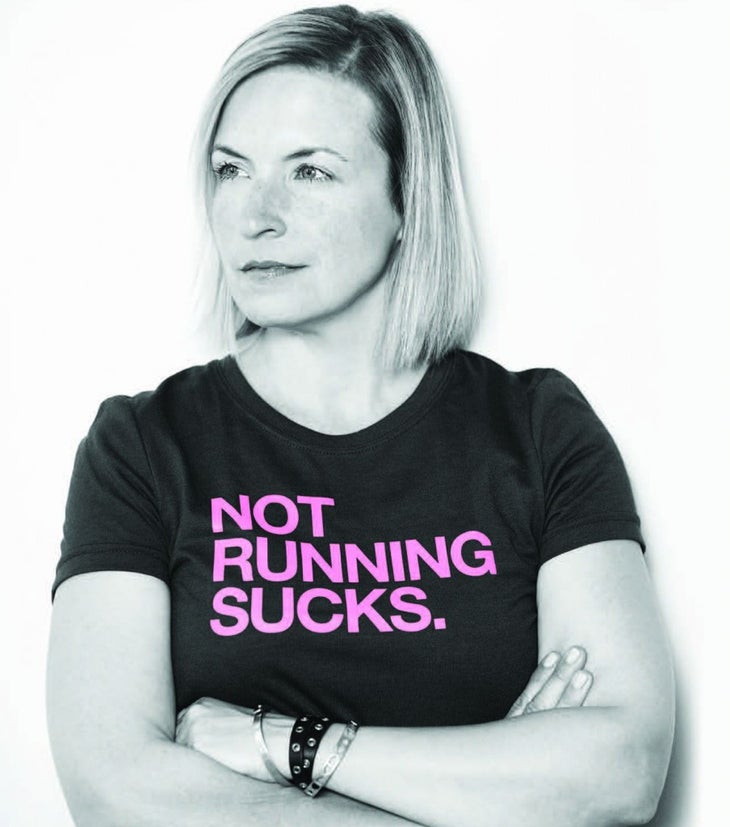 I CAN'T BELIEVE I JUST DID THAT! WHAT DID I JUST DO? Feelings of euphoria and doubt flooded my head. I had just doubled my mileage in one day—and now I was limping half a mile back to the car where my friends were waiting.
It's just a little knee tightness. It will be better by tomorrow, I thought, trying to convince myself it would be fine. Little did I know, this was the opposite of fine. This would be the last day I ran 10.5 miles—maybe ever.
From the time I was 10 years old, running was as integral a part of my life as eating and sleeping. Running began as an escape from baby-sitting my siblings and evolved into my cheap form of transportation—and a way to forge relationships. As an adult, running was my therapy, an escape from my overactive mind. But despite the form it took, running was always easy for me. It came naturally. I loved to run.
The Greedy Run
By that September morning, I had thousands of miles under my belt from many years of racing. When it came to running, I knew what I was doing. But even though I should have known better, I made a rookie mistake.
The Nike Women's Half Marathon in San Francisco was a month away, and I was behind on training. An emergency wisdom teeth removal and my dog's unexpected death had derailed my plan. The right thing to do would have been to find a different race or modify my expectations and walk-run, but I got greedy.
I had told my running buddies that I would only run 5 miles and meet them at the car, but when I hit mile 5, I felt so light, I couldn't prevent myself from pushing farther—until a sharp pain stopped me in my tracks.
The day after that run, I could barely walk. I decided to take it easy for the next few days. When I attempted to run four days later, I stopped short at 4 miles with the same pain in my left leg. It felt like I had a tourniquet around my knee.
Single Mile
Every time I tried to run, the pain resurfaced. Google diagnosed me with an inflamed IT band. I wouldn't be able to run the half, but I was glad it was nothing serious. I took time off, stretched and foam rolled. I even went to a chiropractor who practiced active-release therapy.
A few months after my fateful 10.5-miler, I was sure my leg had rested long enough. I tested it out during a 1-mile run. My body ached, my feet shuffled but I made it. Progress.
However, that's where the progress stopped. Each time I went out, I only managed 1 mile without pain. I'm sure my long commute and late work nights didn't help my situation. Sitting most of the day made my leg achy and tight.
Eventually, my running stopped entirely. I didn't know what was wrong with my leg—and I was terrified to find out. What if I went to a doctor and she told me I could never run again? Finally, my family persuaded me to see an orthopedic surgeon. My X-rays came back clear, but the MRI diagnosed me with the same thing Google had: severely inflamed IT band syndrome. The prescription? See a physical therapist. I was still nervous though. What if the PT told me I wouldn't run again?
Therapy Time
When I landed my job as art director for Women's Running magazine, I was thrilled—but seeing my co-workers run at lunch and after work was heart-breaking. I wanted that camaraderie. I pushed my fears aside and began my insurance-approved PT at the local hospital. Through a series of tests, they found that my left side was a bit weaker than my right.
I went to PT three days a week and made massage and strengthening exercises part of my daily life. I was so determined to run again that I did my exercises religiously three times a day, every day.
Honestly, I didn't think it would work. But after several weeks, my glute strength improved. I got up to 4 miles of running on the treadmill! My therapist was thrilled with my progress—but had trouble understanding my drive. She would ask, "What if you don't run? Then you won't have this pain." I told her that wasn't an option.
After two months, my insurance-allotted PT ran dry, but I didn't let that deter me. With the exercise sheets in hand, I stuck with treadmill running and focused on the prescribed movements that seemed to be doing the trick. Feeling strong, I signed up for a half marathon and started to train with a few co-workers. I had to do this race. I had to keep the momentum I was building. I had to prove to them that I was a runner. I had to prove it to myself.
Small Steps
Gradually, I transitioned from the treadmill to outdoor running, but the more I ran outside, the pain, once again, crept back. All of a sudden, everything that had been working wasn't. Why? What was I doing wrong? No matter how often I did my exercises and stretches, my leg still ached.
In San Diego, where I lived at the time, there is a race every weekend. As I would sip my latte at my favorite coffee shop, people would pass by flashing their medals and snapping selfies. It felt like they were rubbing it in my face.
My negative attitude turned into judgment. I would rate every runner that passed me. "That one is knock-kneed, and look at the arms on that one. How do these people run and not have problems? Look at me! I've been a runner my entire life and I can't even run a mile!" Not running was turning me into a person I didn't want to know.
With another half missed, I decided to shell out the big bucks and go to a PT my insurance didn't cover. But to no avail. When he recommended I get another MRI, I almost started to cry.
Reflection
When all you want to do is run and you can't do that, you start asking yourself questions: Did I cross-train enough? Was it my shoes? Did running 10.5 miles in one day really ruin me for life?
When I look back at the time of my injury, I realize I made some mistakes. I'd been lazy with my cross-training. Plus, as I got older, I didn't notice my body was changing too. I had been seeking a cure from others without taking enough personal responsibility for my own recovery. I gave up on PT and decided to do my own thing.
For three months I attended Pure Barre classes and found muscles I didn't know I had. I started to focus on what I could do rather than what I couldn't do. That felt good.
One More Try
Then one day, my boss asked me if I would be up for trying a new procedure equivalent to surgical diagnostic arthroscopy, but more accurate than MRI. I thought, Why not? I have nothing to lose.
The procedure, Vision-Scope Imaging (VSI), is a minimally invasive exam performed through a very small needle endoscope. I was told that it wouldn't hurt and there was little-to-no recovery time. The possibility of finding out what was wrong (plus the needles) made me quite anxious.
So last December, I went to University Orthopedic Associates in Somerset, N.J., to see Dr. Timothy Hosea, former physician for the U.S. Olympic Rowing Team. The entire procedure took 20 minutes, and while I felt a tiny bit of pressure, it didn't hurt.
As they started the procedure, I didn't dare to look, afraid I'd squirm and really mess up my knee. With the scope, Dr. Hosea was able to capture video of the inside of my knee. Surprisingly, he did find something new: Dr. Hosea told me I must have been an active child because there was some "pitting" in my kneecap, probably from a fall I had at a young age.
His diagnosis was Grade II Chondromalacia Medial Femoral Condyle—but what he believed to be the true source of my running pain was familiar. He felt the side of my knee and rubbed his hand along the side of my leg and said, "I'm pretty darn sure it's your IT band. I can feel it. It's inflamed."
Making Peace
Four months have passed since the VSI and while I haven't seen a new PT, I'm back at the gym. I sweat it out on the elliptical and have been strength training with TRX. I won't kid you. It's tough not being able to run. I'm constantly reminded by my job, the race photos from my lucky Facebook friends and the people I pass on the street in their cool new running tights and neon shoes.
It's been nearly four years since my 10.5-mile run. While pictures and medals from my past haunt me, I know I have to keep trying. I stay in shape because I believe that one day I will use that fitness to cross another finish line. I've been a fighter all my life. And while my favorite thing isn't possible right now, I have hope. Hope that I will find a therapy that works for my body, that the moon and the stars will align, and I will run again. I have to—because not running just sucks.