10 Important Things That Running Has Taught Me About Life
Throughout the years, NYC Running Mama has learned many important lessons while on the run about herself and the sport—and life.
Heading out the door? Read this article on the new Outside+ app available now on iOS devices for members! Download the app.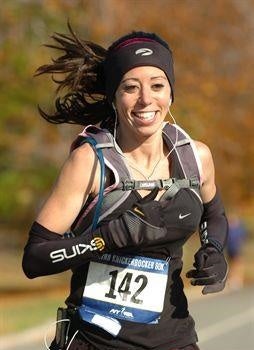 When I first started running, it solely a physical activity. I signed up for my first race as a way to get in the best shape I could before I graduated and went on active duty in the Army. Over the next five years, unit physical training, bi-annual fitness tests and the desire to stay fit meant running was something I "had" to do – it was never something that I chose to do. And thus, I never had the opportunity to develop a relationship with running.
It wasn't until years later, when my relationship with running changed into love, that I began to see how much running was teaching me. It is WAY MORE than just a physical activity. It's an emotional and spiritual one as well. And I find that the more time I spend with running, the more I learn–about myself, others and really, just life in general.
10 Things Running Has Taught Me About Life:
1. There is no secret recipe for success. You get out what you put in. Work hard and results will come.
2. Everything is temporary. There will be low periods in runs just as there are in life. Remind yourself that even the lowest point will eventually pass. Continue to put one foot in front of the other and better miles and days are ahead.
3. Stop comparing yourself to others. There will always be someone faster/better and you'll never be satisfied with your own successes if you are comparing them to others.
4. Take chances and dream big. Step outside of your comfort zone and be okay with failure. There is no shame in it.
5. Problems always look clearer and more manageable after a run. Don't make any big decisions until you've had the time to think about them.
6. Learn to be comfortable with being uncomfortable. Expect it to be difficult and be ready for it. The best views are at the top of the tallest mountains.
7. Don't let your past control you. Learn from the bad experiences, but don't let them weigh you down. Let the good experiences strengthen you, but don't solely rely on them. Focus and live in the moment.
8. Strengthening your mind is just as, if not more, important than strengthening your body. Your mind will be ready to quit before your body.
9. It's about the journey, not the finish line. If you are so focused on the end result, you will miss the experiences along the way. Mile 26.2 of your life is no more important than all the miles leading up to it. Enjoy the steps along the way.
10. No matter how hard you work and how ready you may be, disappointments will still happen.