Nonvital Elements Of Swimming That Still Need Your Attention
Swimming can be a valuable cross-training tool—but there are some elements to which you'll need to pay very close attention.
Heading out the door? Read this article on the new Outside+ app available now on iOS devices for members! Download the app.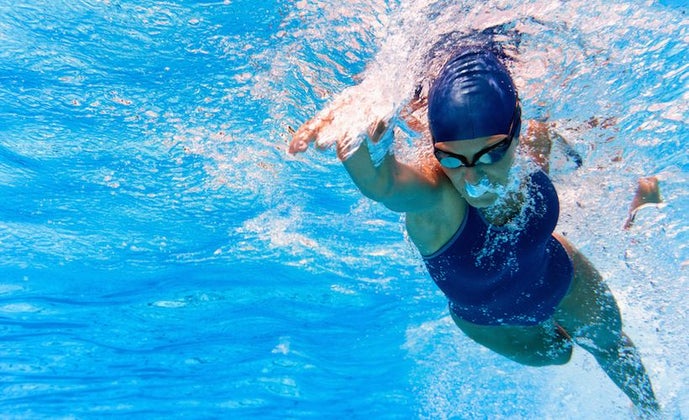 This excerpt is adapted from Swim Speed Secrets by Sheila Taormina with permission from VeloPress. In Swim Speed Secrets, four-time Olympian, gold medalist and triathlon world champion Sheila Taormina reveals the swim technique used by the world's fastest swimmers.
The Other 80 Percent: A Review Of The Nonvital Elements Of Swimming
In my book Swim Speed Secrets, I've made a bold claim that pull mechanics and a feel for the water are the vital elements in our sport. Of the 10 things to work on from a technique standpoint, those two have more impact than anything else in terms of a swimmer reaching his/her full potential.
But what about the other 80 percent of technique elements in the freestyle stroke? What's involved in those, and how much should we focus on them? First, let's name them.
Following is my version of Pareto's 80/20 in swimming:
The Vital Elements: The 20 Percent That Have 80 Percent Impact
The Nonvital Elements: The 80 Percent That Have 20 Percent Impact
Overwater recovery
Entry
Extension
Axis line balance
Stroke timing
Kicking
Breathing
Head and body position
The nonvital elements are labeled as such for one or more of the following reasons:
They do not have the impact on performance that the pull has.
They cannot be properly applied with poor pull mechanics. In other words, the pull is a prerequisite.
They are easier to learn than the pull and thus do not demand as much attention.
Don't get the idea, however, that the nonvital elements can be ignored. They do impact performance and thus require attention. My aim in ranking them as nonvital is to emphasize that you should not forgo a focus on the more challenging vital elements while fixating on other parts of the stroke. These aspects should be understood and addressed in appropriate amounts in training.
In my new, second edition of Swim Speed Secrets, I devote a whole, all-new chapter to examining the other 80 percent more closely.
[velopress cta="See more!" align="center" title="About This Book"]
Related:
Want To Swim Like An Olympian? Here's How.
Learning To Swim As An Adult Marathoner