New Running Industry Diversity Coalition Pushes for Equity and Inclusion
Systemic racism is pervasive, and the running industry is not immune. This group is tackling it head-on.
Heading out the door? Read this article on the new Outside+ app available now on iOS devices for members! Download the app.
The running community says it's welcoming to everybody: All you need is a pair of shoes. Anybody can join us. And runners are diverse in many ways. But some groups are still underrepresented at the starting line, in running clubs, in the media, and in the running industry. And not everybody feels welcome.
Two runner-activists, Verna Volker and Alison Mariella Désir, have been working to make the running community more inclusive, through founding Native Women Running and Harlem Run, respectively, among other efforts. This summer, they saw a way to build something bigger. They teamed up with six others and created the Running Industry Diversity Coalition to fight systemic racism in the running community and running industry.
The coalition also includes representatives from Brooks Running, HOKA ONE ONE, Gazelle Sports, Fleet Feet, Playmakers, and the Running Industry Association, as well as the coalition's advisor, outdoor activist Teresa Baker, who founded the outdoor industry's Outdoor CEO Diversity Pledge. The coalition will launch publicly tomorrow, October 7.
"For many of us Black and brown folk, people with marginalized identities, we have—since our entry into endurance sports—known that the industry was not reflective of our communities," Désir says. "With this coalition, it's finally an opportunity to address the disparity and really make sure that running, specifically a sport that claims to be open to everybody, can live up to
that promise."
Désir and Chris Lampen-Crowell, co-owner of Gazelle Sports, cochair the coalition. "As a collective industry, we admit that we have not acknowledged the barriers that BIPOC [Black, Indigenous, and people of color] have faced, did not make enough effort to understand those barriers when brought to our attention, and have not been motivated enough to remove them. That ends now," the coalition's statement of purpose says. "We come to this coalition knowing that the running industry is rooted in whiteness and systemic racism and that this is no longer something we will stand for."
The coalition lays out specific goals related to access for people of color: diversity in ownership and leadership; accountability; creating opportunities for conversation; educating through diversity, equity, and inclusion and anti-racist training; increasing authentic representation; employing marginalized people; naming systems of racism; and sharing resources.
"There are a lot of Black and brown folk at all levels of the sport," Désir says. "But then we're not represented in the media and the marketing." Companies may intend to be inclusive, she says, "but if you're not actually speaking to that demographic, if you're not featuring folks who look like that, then they don't know it's for them."
Volker uses Native Women Running to celebrate Native women and raise their visibility. She says she has been frustrated with the way Indigenous runners are represented. "The industry will tokenize sometimes," she says. "It's that narrative—it's going to be one runner, we're going to use this person to do everything, and she represents everyone."
Lampen-Crowell points out that a vast majority of C-suite executives in the running industry and running store owners are white—including himself. "It's a very white industry that has white bias and white privilege," he says. "We want to be inclusive. We just were blind to this—that we were not being inclusive to people of color in a way that really shared this space." Even when running events attract diverse participants, the people making money from the events are mostly white, Lampen-Crowell says.
Shannon Woods, senior manager of diversity, equity, and inclusion for Brooks Running, is one of the coalition's leaders. "Brooks really believes that the run is for everybody and that running really has the potential to be the most inclusive sport in the world," she says. "Working together as an industry, we have the power to make positive change, not only by representing those who already run, but also breaking down barriers and inviting more people into the sport of running."
A Turning Point
In this past year, the U.S. has seen heightened public concern about anti-Black violence. In May runners laced up and ran 2.23 miles to honor Ahmaud Arbery, a Black runner who was shot and killed while running nearly three months prior. Many companies posted Black Lives Matter statements.
But issuing a statement isn't enough, Volker says. "You can say Black Lives Matter all you want, and that you care about people of color. If you don't follow through and try to listen, that's meaningless to us."
Two years ago Volker attended the Outdoor Retailer tradeshow where she heard Baker speak about improving diversity in the outdoor industry. This summer, shaken by Arbery's and George Floyd's deaths, Volker wondered if something similar to the diversity pledge could help change the running industry. She connected with Baker and Désir, and meanwhile, a few leaders in the running industry had been talking about what more they could do. Baker connected the runner-activists with the industry leaders, and they figured out how to make it happen.
"[Arbery's murder] challenged me to do something more than run 2.23 miles for him," Lampen-Crowell says. "It challenged white people to do more and get off the sidelines. That's the way I felt."
Now, the coalition is poised to help companies and organizations do more.
Martha Garcia, director of global brand creative and communications at HOKA ONE ONE, is another coalition leader. "We knew that if we wanted to continue to empower a world of athletes, it meant nothing without saying Black Lives Matter and then holding ourselves accountable," she says. Through the coalition, the company is "hoping to inspire and empower other folks within the running industry to come along in that journey."
"I recognize the privilege that I hold, being in a leadership position in the running industry as a woman of color," Garcia says. "And I want to be able to create a pathway where other people of color can potentially see themselves represented in me, and they can come in and work for the running industry as well."
Garcia is an insider, but she has also felt like an outsider in the broader running community. "At times, I did feel excluded, if I'm being really honest, because I just didn't know a lot of people within the running industry outside of the brand," she says. Now, connecting with the other coalition leaders "has really built this unity and trust that I think is needed for us to create progress."
A Time For Difficult Conversations
The coalition's eight leaders include both BIPOC and white people, and talking through these issues has been uncomfortable and emotional, they say.
Volker recalls the first time she, Désir, and Baker—all women of color—met with some of the white leaders. "We voiced our frustration and our concerns, and I remember saying, 'We just want to be included,'" Volker says. "This work is hard. It's frustrating at times."
"White people are scared to get into this and defensive to begin with, even if they're enthusiastic about the concept," Lampen-Crowell says. But this discomfort is necessary, and so is understanding "the pain around what racism has done personally to people of color, but also in our communities, in our industries, and in our nation."
"I want to normalize confrontation and discomfort, because that will be part of the process," Désir says. "I think in business, a lot of times people will want to keep things 'rational and unemotional.' And that's just not possible when you're doing this work."
People may be slow to join the coalition, but that's OK, Désir says. The current polarizing political climate factors in to how people respond to and address racism. "Even our president can't condemn white supremacy," she says, alluding to the first presidential debate that aired on September 29.  "So it will be difficult for people to first acknowledge and recognize it, and then implement plans to move forward."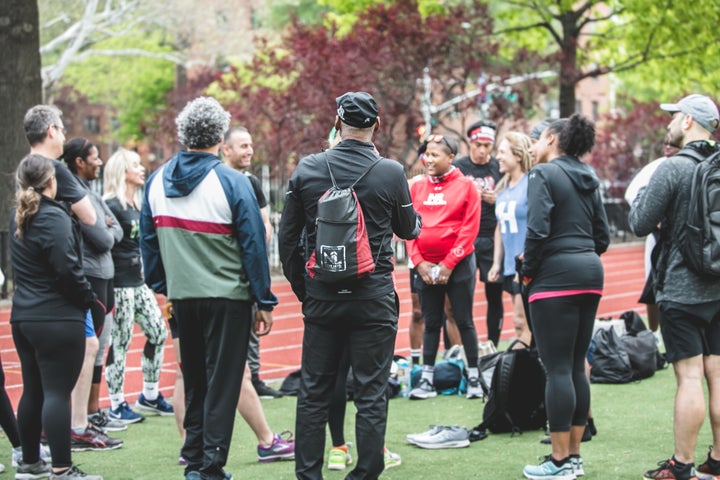 Inclusion and Education
The Running Industry Diversity Coalition seeks diversity beyond race with a vision to "Create a more equitable and inclusive running industry where race, religion, gender identity, sexuality, immigration status, socioeconomic status, and ability do not serve as barriers for full enjoyment."
Along with brands and retailers, the coalition hopes to bring in others, such as race directors and timing companies. "I think this is a real opportunity to shift the entire industry from the top down and the bottom up," Désir says.
"At an industry level, the running industry will be more creative and innovative," Woods says about tapping into a diverse workforce. "I think bringing more diversity and being more welcoming is really just going to enhance the sport of running."
The education component will include events and panels that will be great networking opportunities, Garcia says. "I'm excited about the different sorts of trainings and resources and education that we'll be providing."
Another part of the education goal is Indigenous land acknowledgment at races. Many Indigenous runners feel a strong connection to the land that they run on. "I always tell my Native Women Running, 'This is your land,' and it is," Volker says. But in the running community, it feels like the space "doesn't belong to us unless we look a certain way or we have a certain type of performance"—while it should embrace people at all levels of ability, she says.
"For me, it's not just about today. It's about the future, if any of my children run—so they could feel like they are part of this, too," Volker says.