Atlanta's Local High Schools Will Bring Big Crowd Support to the 2020 U.S. Olympic Marathon Trials
Nearly 30 local schools have been enlisted by Atlanta Track Club to create cheer zones for runners competing in the 2020 Olympic Marathon Trials.
Heading out the door? Read this article on the new Outside+ app available now on iOS devices for members! Download the app.
Bodies painted in red, white and blue and faces plastered with temporary tattoos, Milton High School cross-country and track athletes will line the streets of downtown Atlanta during the U.S. Olympic Marathon Trials on February 29.
Milton's group of 75 teens, alumni, and parents are among more than 100,000 spectators expected to attend the Trials. They will cheer as more than 700 Olympic hopefuls vie for six tickets to the Tokyo Games.
The course is specifically designed with viewers in mind. In fact, the loop course enables onlookers to catch a glimpse of their favored athletes up to six times– from the same spot on the course. 
This configuration also ensures that Milton's thunder-stick-clapping, fathead-sign-waving teens can make an even greater impact.
Milton High School, located 30 miles north of downtown Atlanta, is one of nearly 30 local high schools enlisted to support a male and female runner competing in the Trials, said Jay Holder, the Director of Marketing & Communications for Atlanta Track Club. 
All runners who qualified for the Trials were offered a personal high school cheer squad. High school teams then ranked their top contenders (of the athletes who opted in) during an Olympic Trials Marathon Athlete Draft. Milton's team was assigned Kelsey Bruce and Brogan Austin. 
"Having Milton on my team brings a little home field advantage to Atlanta," said Austin, who won Road to Gold–an 8-mile preview of the Olympic Trials course–held in Atlanta in 2019. "Atlanta Track Club has pulled out all the stops for the Trials, and I'm excited to share the experience with everyone down there."
In the weeks leading up to the 26.2-mile race, Milton athletes have gotten to know Bruce and Austin by posting and messaging them on social media. They also decided to support three-time Trials qualifier Ann Alyanak, whose niece is on the team. Now, in the days leading up to the race, they are making final preparations for their cheer station. 
"All of the kids are fired up for the cheer zone," said Andy Carr, who serves as one of eight coaches for the team. "They get that this is a once-in-a-lifetime deal. They realize they may never be this connected to an event like this again."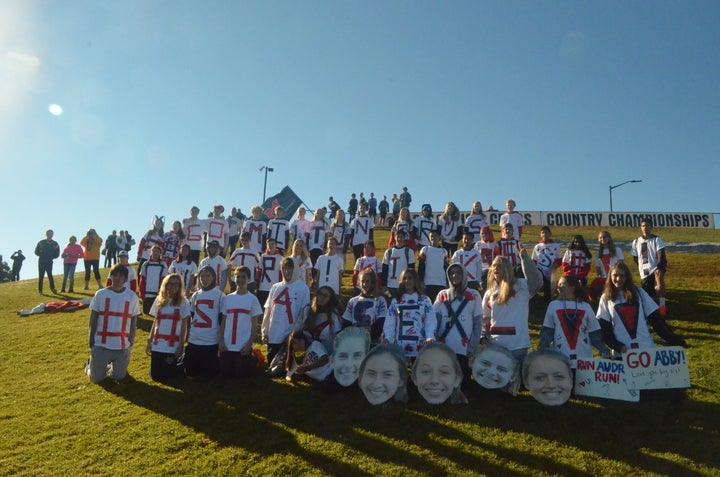 Several students have gotten particularly close to the action. Two even attended the official pre-event athlete press conference on February 27 and got to ask the elite athletes questions. 
"The whole situation has been really neat. It's been really fun getting the whole team together for this. We've all bonded a lot," said Audrey Nichols, a junior and one of six incoming captains for Milton's Cross Country Team.
But the Trials weekend won't just be spent cheering–Milton's high schoolers will also have opportunities to compete. On February 29, just hours before the Olympic Marathon Trials race, the team will participate in a 4 x 1 mile relay on the Trials course, said Carr. The race, a component of the Atlanta Relays, will finish on the same line that Olympic hopefuls will cross only hours later. The team will end with just enough time to make it to their cheer zone.
"This is really meant to bring new fans to the sport of professional distance running and inspire high school runners to keep chasing their athletic goals, no matter what they may be," said Holder.
Athletic aspirations abound at Milton High School, where with a student body population of 2,300, there are nearly 200 runners on the cross-country team.
"It's cool to share what we are doing–nobody wants to do it alone and the more people that want to "ride" with you, the more fun and meaningful it is," said Bruce, 27, who also competed in the 2016 Trials. "It's also particularly cool because it is a high school group, which is where the majority of the competitors started to have realistic dreams. Hopefully I can encourage one of them to fearlessly pursue theirs."