NCAA Star Nia Akins Plots Her Professional Future—in Seattle
The recent Penn Nursing grad has unfinished business on the track and will pursue her pro running career with the Brooks Beasts.
Heading out the door? Read this article on the new Outside+ app available now on iOS devices for members! Download the app.
Nia Akins is ready to let go of all the "what ifs" and get on with the business of training.
A two-time NCAA runner-up in the 800 meters, the recent graduate of the University of Pennsylvania School of Nursing could spend a lot of time wondering if she would have ultimately won that title if only her final track seasons hadn't been canceled. She might also contemplate if she would have broken two minutes before leaving collegiate-level competition. Would she have made her first Olympic team, too?
The COVID-19 pandemic erased any chance of answering those questions this year, but the 21-year-old has a shot of achieving all of these goals and more, now as a professional with the Brooks Beasts training group, under coach Danny Mackey's guidance.
Akins is leaving Philadelphia with a 2:00.71 indoor 800-meter best and what she expects is a lot of untapped potential to explore. But figuring out her next move wasn't as easy—or as quick—as it might have been in a pre-COVID-19 era. Penn required nursing students to report back to campus in case back-up help was needed during the height of coronavirus cases, though clinical rotations and classes were moved online.
"I was stuck in Philly for training and I chose to keep training in the immediate period because I don't think it really set in that everything was gone. I was in really great shape and I wanted to prove that to myself," Akins said on Friday, during a phone interview with Women's Running.
With so much solid training under her belt, Akins wanted to test herself, so she attempted an 800-meter time trial. It didn't live up to her expectations—it was obvious that the upheaval in the season and routines was probably taking a toll. But it also allowed her to turn attention fully to graduating and committing to her post-graduate plans by signing with agent Ray Flynn.
"I took a pretty extensive break and chose to rebuild," she said. "I've been focusing on the basics, like making sure my form is great and reconditioning myself to finish strong. Quarantine has been nice in that respect, in that I can focus on the little things."
As a nursing student at an Ivy League university, Akins, who was also a standout at Rancho Bernardo High School in San Diego, has proven she can handle a rigorous and demanding lifestyle. Many student-athletes who had come before her ended up dropping track by their sophomore year, but Akins aimed to be the exception.
"The reason why I came to Penn was for the nursing school. It was tough and my coach warned me that most people choose one path," she said. "I learned big-time time management skills and how to train on my own, either really early in the morning or at night. That discipline translates to every aspect of life."
Her drive will serve her well as a pro athlete, of course. Mackey said Akins is the type of athlete who thinks through the purpose of all aspects of her training. She's also quick to have honest conversations, indicating that she's confident in herself and genuine, he said.
In fact, Akins recently decided to publicly share an experience she had during a run on her graduation day. At a nearby park, a man yelled racial slurs at her while she was working out. She kept running, but the man persisted, so Akins ran to the police station where an officer helped her. She decided to talk about it on Instagram because it seemed like her social media feed at the time wasn't reflective of the Black Lives Matter and civil rights movement dominating the conversation across the country.
"A huge part of mitigating this problem is listening to Black voices and hearing their perspective and having conversations about racism in general, and where it comes from—from systemic oppression to police brutality to microaggression," Akins said. "Me being vulnerable and me sharing my experience opens the door for other people to do the same. That's extremely important right now."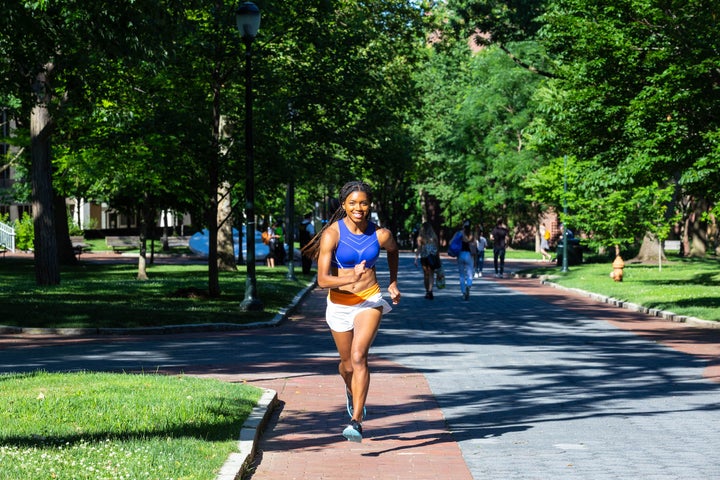 While choosing a new coach and training group, Akins had started to get acquainted with the Brooks Beasts before the pandemic hit. She visited the team in Seattle, which includes Allie Buchalski (runner-up in the 1500 meters at the 2018 NCAA championships) and Allie Ostrander (three-time NCAA steeplechase champion), to get a feel for the group dynamic.
Mackey gave Akins time to mull over what she wanted to do after her final season was canceled, understanding that the circumstances probably stung. Because the Olympic Trials had also been postponed, there was no rush to sign a contract.
"We didn't talk about next steps or recruiting or business for a couple of weeks just because [the NCAA championships] is one of the capstones of your life, and it didn't feel right to ask, 'What are you going to do?'" Mackey said. "It took some time to settle…there was more patience than normal years."
When she arrives in Seattle in the next couple of weeks and settles into her new environment, Mackey plans to gradually increase the intensity of her training, though the biggest shift in her routine will include more focus on drills, biomechanics, and functional weight training—the aspects of training she didn't touch much during her time at Penn.
"There's an evolution to the athlete, especially when you have somebody so good like Nia," he said. "You don't want to squeeze all the juice when they're 21 or 22. That does them a disservice."
Akins is the kind of runner and person that Mackey believes is going to make him a better coach—an opportunity he welcomes.
"Really good athletes push me—when I say that she's intentional, she's super smart and that means she's going to hold me to that standard," he said. "She has a high expectation of herself. When somebody gives you that responsibility, I get really excited about that. It's what keeps me in this job."
As she starts her career, Akins hasn't given up on nursing, either. She likens it to the training she has to sustain to compete—she has to work the nursing muscle, too, she says. She'll continue studying for her board exams and would like to practice nursing in some respect while she trains, too. Long-term, she's interested in psychiatric nursing and in-patient neurological care—stroke patients and patients who have tumors in their head, neck, or ears.
But the priority now is to move across the country, begin training with her new team, and start working toward those goals she left on the table, like breaking two minutes and making the 2021 Tokyo Games next summer in an event that is hotly contested by the likes of U.S. superstars Raevyn Rogers, Ajee' Wilson, Hanna Green, and more. She is eager to get rolling.
"It is kind of the same feeling as when I chose to go to Penn—the people are really special and there's a family aspect to it," Akins said. "I just want to keep entering spaces that have that feel to it. To be 100 percent transparent, a lot of the Brooks people are fairly nerdy. They're very geeky about all the things they know, which is very cool and very refreshing. Everybody brings something unique to the table."