How Running Companies Are Entering the Fight Against COVID-19
The pivot to making PPE can save jobs as well as lives.
Heading out the door? Read this article on the new Outside+ app available now on iOS devices for members! Download the app.
Normally, New Balance's factories are humming along, making running shoes and other athletic wear. But they ground to a halt, along with nearly everything else deemed nonessential, when the dangers of COVID-19 became clear. 
As demand for personal protective equipment (PPE) grew across the U.S., New Balance realized it could meet some of that demand with the materials and production capability it had available. As soon as the idea hatched, the company sprang into action to quickly develop a prototype. They consulted with several local medical and lab institutions and mobilized two of their U.S. factories to produce general-use face masks. The plan is to make 100,000 of them per week once the operation is at full scale. 
But New Balance wasn't the only running brand struck with this idea. If there is one shining lesson to come out of this extremely difficult time, it is seeing what people (and corporations) are capable of. New Balance, Under Armour, Nike, Adidas, Outdoor Research, and Reebok are among many brands pivoting to make PPE. Brooks, Merrell, Keen, and Hoka One One have donated thousands of shoes to the frontline workers who are on their feet fighting the virus.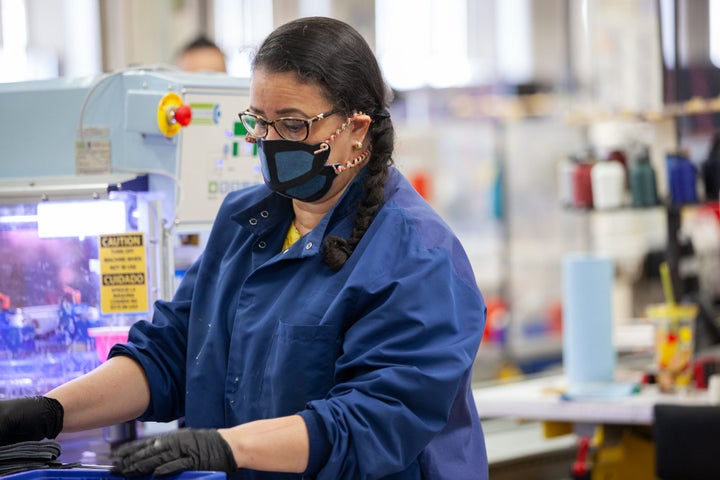 Up and Running
New Balance's factory in Lawrence, Massachusetts, was their first to start making masks with production now expanding to the Norridgewock, Maine, factory.
"Once we're producing at full scale, we will have approximately 150 workers split between our Lawrence and Norridgewock factories, including our [research and development (R&D)], sourcing, and distribution teams," executive vice president of global supply chain, Dave Wheeler told Women's Running in an email. 
The mask production puts some of New Balance's associates back to work, after the company initially closed its factories, corporate offices, and owned retail stores. The associates working in the factories wear the masks themselves.
If some elements of the masks look familiar to New Balance devotees, it's probably because they are. The straps that hold the mask in place, for example, are elastic shoelace material. The masks contain a combination of typical footwear fabrics and other fabrics used for filtration. 
"We are sourcing our materials through our domestic supply chain that we are fortunate to have due to our work to manufacture athletic footwear in the U.S.," Wheeler explained. One of the company's suppliers is Massachusetts-based Dela Incorporated. "Dela manufactures custom lamination, coating, and flexible material converting services and also supplies the medical industry as an ISO9001:2015 certified company, so they have helped us get up to speed quickly on material options."
The masks are intended for single use, and the ones being produced now are headed to medical facilities (for medical workers' general use, not clinical use). The company is not looking to profit from the masks,  pursuing, instead, break-even pricing or donations.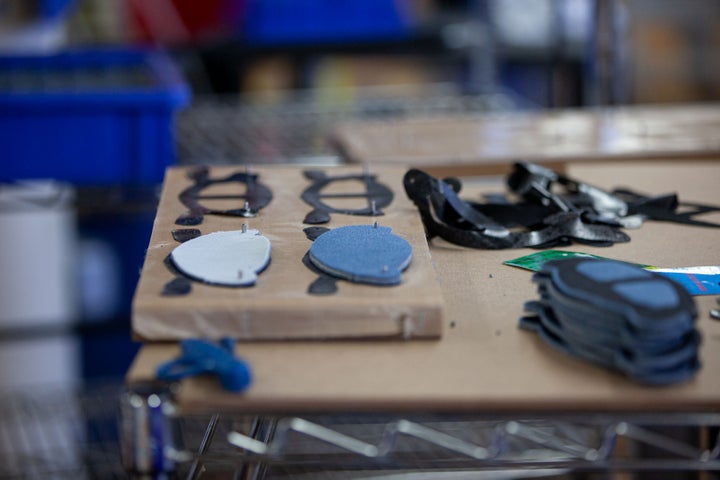 To distribute the face masks, New Balance has been working with medical facilities and Massachusetts and Maine state officials to determine where they can best meet the demand. 
"We are coordinating our efforts with government officials and communicating with local medical institutions as well other U.S. consortiums," Wheeler said. "This includes the hospitals who supported our initial fit testing and R&D work, as well as New England facilities the company has historical relationships with, [and] Massachusetts and Maine state procurement offices."
New Balance is also looking into working with the State of Missouri and a St. Louis medical institution, as the company's e-commerce business is based in the area, and it has a distribution center there. 
Although the masks being produced now are not made for medical use, the company's R&D teams are exploring ways they might be able to produce PPE—such as gowns and foot coverings—that meet FDA criteria and that frontline medical staff can use. This may bring New Balance's 3D printing capabilities to bear.
"We are proud to combine the industrial R&D expertise and innovative thinking of our associates with our domestic manufacturing resources to work to solve new and extraordinary product challenges, reflecting our brand's purpose-driven culture and leveraging our skilled American workers in our New England factories," a company statement notes.
The New Balance Foundation has also contributed to the pandemic response, committing $2 million in nonprofit grants for response efforts and relief funds that support communities.
Running Brands Joining the Fight
Many athletic shoe and apparel brands are donating to causes that aim mitigate COVID-19 and support frontline workers. Here are more companies that are shifting their production to face masks and other PPE or donating gear to frontline workers. 
Under Armour is making face masks and face shields.

Adidas and Nike are producing face shields.
Outdoor Research is making surgical, N95, and fabric face masks.
Insole maker Superfeet is making face masks.
La Sportiva is making masks.
Athleta parent company Gap Inc. is supplying hospitals with masks and gowns.
Reebok is working to create masks, gowns, and other PPE.
Keen donated 100,000 pairs of shoes to frontline workers and others in need.
Brooks donated 10,000 pairs of shoes to frontline health care workers.
Merrell donated 1,200 pairs of shoes and boots to local hospitals.
Hoka One One is donating 5,000 pairs of shoes to health care workers.
Oofos has donated more than 1,200 antimicrobial, washable shoes to hospitals.
Feetures and Fleet Feet are donating up to 20,000 pairs of socks to medical professionals.