Ethiopia's Tigist Assefa Blazes to Berlin Win, D'Amato Winds up 6th
Assefa, shocked the running world by running a 19-minute personal best and finishing with the third-fastest women's marathon time in history.
Heading out the door? Read this article on the new Outside+ app available now on iOS devices for members! Download the app.
Keira D'Amato put herself in position to break her American record early Sunday morning at the Berlin Marathon, but she experienced some mid-race cramps and couldn't maintain the hot pace over the second half of the race and wound up running the second-fastest time of her career.
On a day when Kenyan legend Eliud Kipchoge set a new men's world record of 2:01:09, the women's race started off at a blazing fast pace, too. D'Amato, a 37-year-old mother of two from Virginia, gave it a valiant effort, but she ultimately had to settle for a sixth-place, 2:21:48 showing in the wake of Ethiopia's Tigist Assefa's surprise victory in 2:15:37.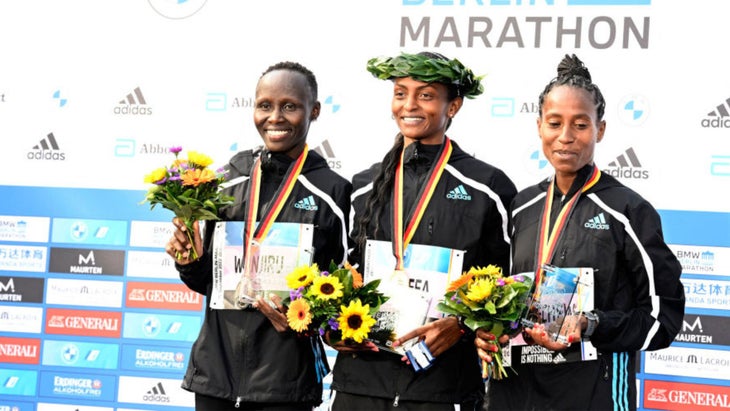 When the lead women's pack went out at an extremely fast pace, D'Amato ran slightly more conservatively but still ahead of the American record pace through the first half of the race. At the 5km mark, she was already 3 seconds behind the frontrunners who came through in 16:22 and was 7 seconds back of Assefa's 32:36 10km split.
Running her own race and averaging between 5:16-5:17 per mile, D'Amato was still ahead of the pace she ran at the Houston Marathon last January, when she ran 2:19:12 to break Deena Kastor's U.S. mark of 2:19:37 that had been on the books since 2006. Although she was 76 seconds off the lead and in 13th place at the halfway mark, D'Amato's 1:09:27 split about what she would have needed to be able to dip under 2:19.
But she fell slightly off that pace over the second half of the race and could only manage a 1:12:21 split (5:31 pace) over the second half. D'Amato said she felt some cramping coming on that forced her to slow down and briefly walk near the 21-mile mark.
"You know today wasn't my best day ever, but it was the best I could do today," D'Amato told Race Results Weekly through a text message sent by her manager, Ray Flynn. "I'm proud of myself that I fought despite not feeling super great. But you know, sixth place in Berlin (is) my second-fastest time ever. You know I'm pretty good with that."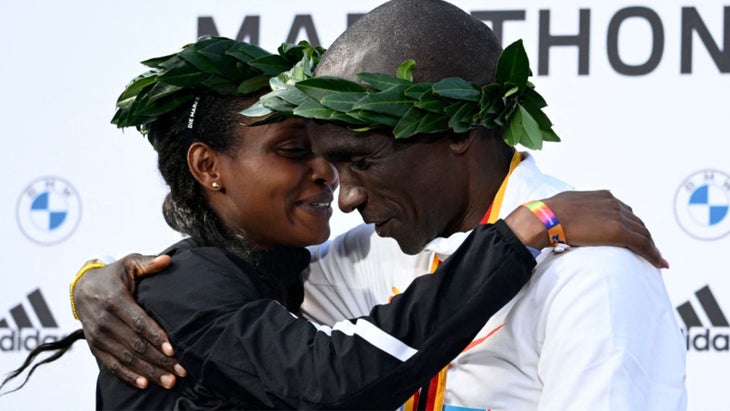 Assefa was bolstered by a strong pack of her Ethiopian countrywomen and Kenya's Rosemary Wanjiru maintaining the hot pace up front. After coming through the halfway mark in 1:08:13, Assefa ran an almost unfathomably fast second half of the race and finished in a 1:07:25 negative split after surging away from Wanjiru to seal the win.
Assefa, a 28-year-old Olympic 800-meter semifinalist on the track in 2016, shocked the running world by running a 19-minute personal best and finishing with the third-fastest women's marathon time in history. Only Brigid Kosgei's 2019 world record of 2:14:04 and Paula Radcliffe's 2003 record of 2:15:25 are ahead of Assefa on the all-time list. Assefa also broke the women's course record in Berlin by outrunning the 2:18:11 mark set by Kenya's Gladys Cherono in 2018.
Wanjiru wound up a distant second in 2:18:00 after running 1:09:43 over the back half of the race. Then it was a trio of Ethiopians — Tigist Abayechew (2:18:03), Workenesh Edesa (2:18:51) and Sisay Meseret Gola (2:20:58) — in third, fourth and fifth, respectively.
View this post on Instagram
D'Amato had been keying on the Berlin Marathon since the spring, but wound up running the marathon for Team USA at the World Athletics Championships in Eugene, Oregon, on July 15 after a last-minute injury to Molly Seidel. Racing on a truncated training schedule, D'Amato ran well enough to place eighth (2:23:34) and, along with Sarah Hall (5th, 2:22:10) and Emma Bates (7th, 2:23:18), helped complete a historic finish for the American women.
D'Amato got back into training for Berlin and looked sharp while winning tune-up races at the 7-mile Falmouth Road Race on August 21 and the U.S. 20km championships on September 5.
In her debut marathon back in March, Assefa finished seventh in 2:34:01 at the Riyadh Marathon in Saudi Arabia. But she also won two fast half marathons in Herzogenaurach, Germany (1:07:28) and Göteborg, Sweden (1:08:20), showing that she was capable of running much faster for 26.2 miles. She spent the summer running 10km races on the track, including a 30:52 win at a race in France in late June before she reverted back to marathon training.
Three other U.S. women finished in the top 30 — Andrea Pomaranski (23rd, 2:33:10), Kaitlyn Peale (25th, 2:35:40) and Erin Gregoire (27th, 2:36:21).
Kastor, meanwhile, also ran in Berlin, finishing 48th overall in 2:45:12 and second in the 45-49 age group. She became just the fourth woman in history to become an "8-star" Abbott World Marathon Majors finisher. Kastor, 49, the 2004 Olympic marathon bronze medalist, has now finished all six majors (Berlin, Boston, Chicago, London, New York, and Tokyo), as well as the Olympic Games and World Athletics Championships marathons.