A New Women's Champion and a New World Record in the Beer Mile
Elizabeth Laseter wins the Beer Mile World Classic championship in Chicago
Heading out the door? Read this article on the new Outside+ app available now on iOS devices for members! Download the app.
Elizabeth Laseter is a fast runner and she can chug beers with relative ease, a dual set of talents that have made her one of the world's best competitors in the quirky discipline of the beer mile.
The Beer Mile World Classic
What does running a beer mile entail? Basically, it's a mile race on a track in which each runner chugs a 12-ounce (or 355ml) beer, runs one 400-meter lap and repeats that three more times, a beer for each lap, as fast as possible–all without having it come back up, which is politely referred to as a "reversal of fortune." The clock stops for each runner after the fourth lap is completed, unless they spew, when an additional fifth 400-meter penalty lap is typically required.
The Beer Mile World Classic—the de facto world championship of this quirky discipline—returned to the United States on July 1 after an eight-year hiatus with the deepest fields ever assembled. The event was hosted by Hope Academy, a private college-preparatory high school with a high-performance track and a view of the Chicago skyline. In the championship races, more than 30 elite beer-chugging runners duked it out for world titles, a variety of records, and, of course, the glory of international bragging rights.
Laseter, who competed collegiately for Johns Hopkins University, runs for the Bat City Track Club running club in Austin, Texas. She owns a 5:11 personal best in an open mile and has run a 2:48:58 marathon. But the 34-year-old food writer and photographer is also an exceptional beer chugger, a critical skill when it comes to running a beer mile for the podium.
She was first across the finish line in the 2022 World Beer Mile Classic championship race in Leuven, Belgium, but was disqualified on a chug zone technicality. This year, she ran a fast, smooth and technically sound race and won this year's women's championship title in 6:03.75. (Watch Laseter win the women's race on YouTube.)
RELATED: U.S. Women Dominate in the 2022 Word Beer Mile Classic
"It always hurts, but it extra hurt this time," Laseter said. "I had a blast. I love this event. I love my teammates. I love the community. I'm so thankful for this event and everyone who puts it on every year. I know a lot of work goes into it and it gets better and better every year. "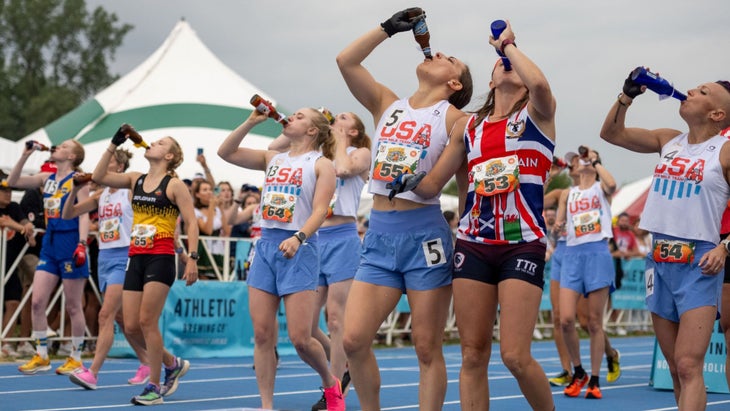 Laura Riches of England set the pace on the first beer and a fast initial lap, but Laseter took command of the race on the second beer and never looked back. She ran away from the field, setting a huge personal best while surpassing Morgan's official world record going into the event. Unlike many runners who try to pound the beers without stopping, Laseter uses a stop-and-start chugging method. Her splits broke down to roughly 72 seconds of beer chugging time (or an average of 18 seconds per beer) and running a 4:51 mile.
Allison Grace Morgan, 40, a three-time Beer Mile World Classic, finished as the runner-up in a new masters (40+) world record of 6:19:07, while Melanie Pozdol, last year's champion and a local Chicago-area runner, rounded out the podium in third (6:34.58) and American Kassandra Marin took fourth (6:39.27), making it a clean sweep for Team USA of the top four spots and securing another team world title.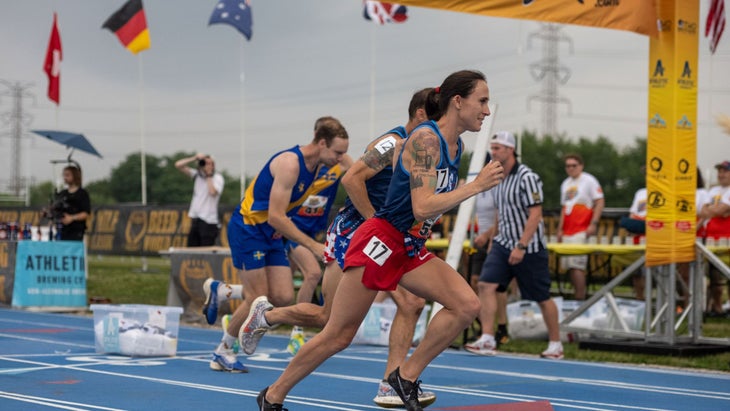 Shelby Houlihan Sets New World Record
In the Legends and Elites division race just prior to the championship races, Team USA's Bud Lightning—yes, that's the name he entered at registration—dominated the race, clocking a 5:00.23 beer mile, a 17-second personal best that would have placed him fourth overall in the men's championship heat.
But it was Shelby Houlihan, a 30-year-old suspended former Nike professional, who stole the headlines. She finished eighth in the race, but became the first woman in history to break the 6-minute barrier by closing with a 63-second last lap to finish in 5:43.81. That's roughly 1:18 of total drinking beer time and running a mile in roughly 4:25.
Houlihan, a 2016 U.S. Olympic in the 5,000-meter run who owns a 4:23.68 personal best in an open mile, is currently about two and half years into a four-year suspension from track and field for a failed drug test in December 2020. Because of that, organizers said she was not eligible for the women's championship race, although the World Beer Mile Classic is still working to develop a formal policy for athletes competing under suspension.
However, race organizers said the official beer mile rules have never required athletes to test in order to have their results ratified. For more than 25 years, beermile.com has relied on video evidence alone to prove legitimacy of a beer mile result and have it marked as 'official' in the database. Thus, organizers said Houlihan's time was world record eligible as she followed all rules outlined. Houlihan did not violate any rules regarding her ban and got pre-approvals ahead of the event by the required governing bodies.
"Honestly, it was really fun," Houlihan said after her first competitive beer mile. "I think running past all the puke spots [from previous heats], though, was a little nerve wracking. I was trying not to look at 'em. I had a great time and I just felt really good and everything kind of was clicking, so it was great."
Bellemore Wins Men's Championship
In the men's championship race, Canadian beer-mile phenom Corey Bellemore won in an impressive 4:30.80 mile despite losing one of his shoes during a collision with other runners near the start. He came up just short of his 2021 world record of 4:28.10.
Bellemore, 28, has been the world's most dominant beer mile runner for several years, having won five world titles since 2016. He owns a 3:57.42 personal best in an open mile and ran a 4:24 at the 2018 Beer Mile World Classic in Vancouver, British Columbia. That would have shattered the world record at the time, but he was disqualified for having slightly too much foam left.
If you break down Bellemore's race in Chicago to drinking each beer in about seven seconds, that means he had 28 seconds of drinking time while also running a 4:02 mile while averaging four 60.5-second 400-meter splits.
"I wish it went a bit better, but that's all right. It is still great showing, and great to be amongst everyone here," said Bellemore after winning his third straight world championship title. "I don't like to reflect too much on what could have been, but I think the potential for the beer mile could go to the low 4:20. When that'll happen, hopefully soon. But, uh, I think the top end would be right under 4:20 or right on 4:20."
The results of this year's competitive waves showed how skilled beer milers are at running very fast with a stomach full of beer.
"The fastest the beer even comes out of the bottle is 5 seconds. Add in the walking through the chug zone and the quickest people can get through a chug zone is about 6 seconds typically if all goes perfectly," said Chris Robertson, one of the organizers for this year's event. "So Corey's Chug zone execution was pretty near perfect. He could have shaved a second or two, but not a ton of room to improve there. Being able to run a 4-minute mile at the same time is what's crazy. And Shelby being right near her peak mile running while chugging four beers. She shattered what anyone thought was possible for a woman in the beer mile."
Celebrity Non-alcoholic Beer Mile
The Celebrity NA Beer Mile heat featured a field of notable personalities all trying their hand at a beer mile for the first time. They drank Athletic Lite, Athletic Brewing's 25-calorie non-alcoholic light brew that contains less than 0.5 percent ABV.
Elite runner and coach Ken Rideout led wire-to-wire, cruising a 6:50.12, less than a week after winning the Gobi March in Mongolia, a 155-mile stage race across the Gobi Desert. U.S. Rugby National Team member Carlin Isles took runner-up in 8:06.20.
There was a close battle for third on the final lap between TV personality Nev Schulman, sports analyst Cynthia Frelund, and comedian Francis Ellis. In a sprint finish down the home stretch, Ellis barely edged out Schulman to finish third in 9:28.43. Schulman finished in 9:29.06, Frelund in 9:36.56, and sports business reporter Darren Rovell closed out the race with a time of 11:37.44.