Aliphine Tuliamuk: Pregnant and Training for the Olympics
When 2020 went sideways, the U.S. Olympic Marathon Trials winner decided to pursue another dream.
Photo: Courtesy of Aliphine Tuliamuk
Heading out the door? Read this article on the new Outside+ app available now on iOS devices for members! Download the app.
Aliphine Tuliamuk, who won the 2020 U.S. Olympic Marathon Trials in February, has big plans for 2021: giving birth to a baby girl in January and competing at the Tokyo Olympics in August.
When the 2020 Olympics were postponed for one year due to the COVID-19 pandemic, Tuliamuk admitted that the turn of events put her pregnancy plans in jeopardy. But when it became clear that all the major racing opportunities in 2020 would also be canceled, she and her partner, Tim Gannon, decided not to delay another life goal—it seemed like the right time to start their family.
"In my mind I knew that if the New York City Marathon was canceled, there was no way I was going to be able to continue to train and focus," Tuliamuk said during a Zoom interview with Women's Running. "When the Olympics were postponed, every day I just had this lump in my throat…then knowing that the rest of the races weren't going to happen, it was just the final straw. Literally, I went from an amazing workout to getting home and saying, 'We are having a baby.'"
The decision was calculated down to the day. As any pro athlete who wants to have a baby can attest, the window is short when a big competition is already on the calendar. And Tuliamuk, 31, also knew that many people can struggle to get pregnant.
"I knew I needed at least five months from when the baby is delivered, so we decided to give it two ovulations—if it didn't happen, I'd go back on birth control," Tuliamuk said. "I feel very fortunate. I feel like I made the best decision that I could've ever made."
Tuliamuk's due date is January 22. The women's Olympic marathon, which is supposed to take place in Sapporo, Japan, is scheduled for August 7. Barring any more pandemic-related interference with the Games, that will give her a little more than six months to recover from giving birth and begin training again—while caring for an infant and adjusting to parenthood.
She isn't naive to the challenges ahead.
"I mean, I love sleeping in. I love staying up late. I'm not going to be able to do that. What's this going to be like?" Tuliamuk said. "We'll see what happens in the next seven months for sure. The good thing is that I'm not afraid to ask for help."
Tuliamuk recently spoke with Women's Running about training during pregnancy, who else was involved in her decision to have a baby (no, the conversation wasn't just between her and Gannon), how she hopes to bounce back after birth, and why she thinks talking openly about her decision might help other professional athletes weigh their family planning options during their careers.
Making a pregnancy plan.
While the decision to start a family of course rested with Tuliamuk and Gannon, it wasn't without considering the implications it might have on Tuliamuk's career. She's at the peak of her performance, it seems, after winning the Trials in February. Prior to that she placed third at the Rotterdam Marathon in her personal best time of 2:26:50.
Tuliamuk confided in her agent, Merhawi Keflezighi, who she says is not just her business manager, but more like an older brother.
"I'm always comfortable to discuss a lot of things with him, so we talked about the pros and the cons," she said. "Originally I had said that we'd wait until next year, but Hawi was 100 percent on board with it. He thought it was perfect timing."
Tuliamuk also let her Northern Arizona Elite coach, Ben Rosario, know that she was considering trying to get pregnant. Rosario was offered a little more caution than Keflezighi did, she said.
"Ben was a little bit hesitant. He said, 'Are you sure you want to do this now?'" Tuliamuk said. "Ben was on board, but he was the cautious one. He also reminded me that if I chose to go this direction, or this route, people will say this and that. That there could be some backlash."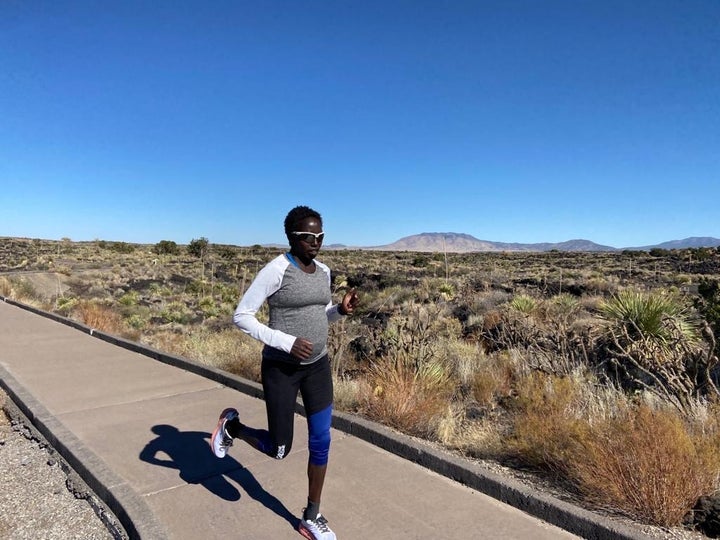 And for his part, Gannon, though ready to become a father, also wanted to be sure it was the right time for Tuliamuk.
"He was worried because I tend to get excited really fast if there's something happening. I get super excited in the moment then a couple days later I sometimes say, 'Oh sorry. That's not what I mean,'" Tuliamuk said, laughing. "He just wanted to be sure. He said, 'Maybe you should give yourself a couple of weeks.' And I was like, 'We don't have a couple of weeks. It has to be now.'"
Spilling the news.
After finding out that she was pregnant, Tuliamuk kept the news mostly private, save for her NAZ Elite teammates and her sponsor Hoka.
"I always enjoy sharing things about myself, but for the first time I realized that with this, I actually wanted to keep it to myself because I was worried that something could go wrong," she said. "I just didn't want to share until I knew that she's okay. And beyond that, I mean, I'm a professional athlete and I think what scares me along those lines is what people might say. It shouldn't matter, but with social media these days, there's so many people with opinions and I've never done well with negative criticism."
Most professional runners make the majority of their income from a major sponsor like Hoka and in 2019 a few athletes including Allyson Felix, Alysia Montaño, and Kara Goucher, came forward in the New York Times to talk about how they were not protected in their contracts during pregnancy. Nike, for one, suspended payment while Goucher, a 10,000-meter world championships silver medalist, was on maternity leave from competition and Felix, a nine-time Olympic medalist and one of the most decorated track and field athletes in U.S. history, was unable to renew her contract with Nike when she asked for maternal protections, she said.
Since then, many running brands, including Nike, have changed their policies or publicly acknowledged how they support athletes who become pregnant during their careers. Hoka has renewed Tuliamuk's contract and she's pleased with her new terms.
"They knew that I was pregnant and they gave me the best deal that I ever imagined in my entire life," she said. "Knowing that I am running for a company that values me, not just when I am winning races, but even when they know that I'm about to have a baby and they still sign me for four more years, I just feel very, very privileged."
Tuliamuk has been spending most of her time in the home she and Gannon reside in Sante Fe, New Mexico, but has traveled back to her training base in Flagstaff, Arizona, several times as well. Although Rosario already knew that she was pregnant, he hadn't told anybody else, she said. The group was suspicious during a team meeting when she didn't have any opinions on making racing plans.
"We were brainstorming possible events—actually trying to figure out socially distanced small races—and I wasn't contributing anything. Everybody's like, 'What's going on? You resting on your laurels or something because you've made it in life now?'" Tuliamuk said. "I said, 'Okay, you guys. I'm not ready to say this, but just so you know, I am pregnant.' And everybody was just shocked."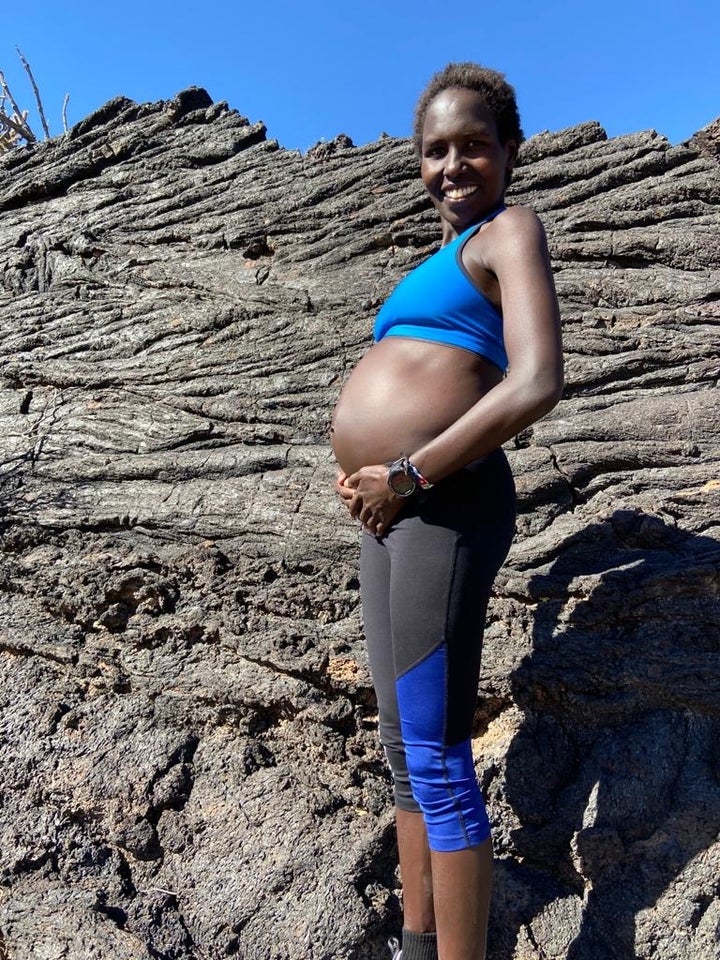 Tuliamuk has also let her U.S. Olympic marathon teammates Molly Seidel and Sally Kipyego, who is mother to three-year-old daughter, Emma, in on her news—as well as Desiree Linden, who placed fourth at the Olympic Trials, which makes her an alternate for the Tokyo Games if anybody is unable to compete. All have expressed support and joy upon hearing about her pregnancy, she said.
Marathon training during—and after—pregnancy.
During her first trimester, Tuliamuk had to take a little more than two weeks off from running due to some pain in her sacroiliac joint, but otherwise she's mostly been able to continue running consistently since the beginning of her pregnancy. In fact, she went on a run with teammate Kellyn Taylor before telling her that she had a baby on board, when she was around 13 weeks pregnant.
"I was feeling so good and she didn't know. We were talking about a lot of things and I told her how out of shape I was and she's like, 'Just wait two weeks and you'll be back,'" Tuliamuk said. "A couple of days later when I told the team, she and Stephanie [Bruce] were like, 'Wait, what? Seriously? How is that even possible?' I was still doing my workouts at that point and going on amazing 20 mile runs."
In the best-case scenario, Tuliamuk wants to run until she's at 38 weeks. She has stopped caring much about her pace and distance, cutting weekly mileage down to about 50 miles per week or whatever she feels is appropriate. Much of the benefit she's getting from movement is psychological, she said.
"I feel so much happiness from running and when I don't do it I feel grumpy," she said.
In the postpartum period, she's already talking to specialists to gradually rebuilding strength in her core and the ligaments that often become loose during pregnancy. She's hoping for a smooth comeback, but understands that it could be challenging physically and mentally, too.
"I am hoping that I will be one of those few people who after having a few weeks to recuperate will be able to come back to training healthy. I know that as long as I'm healthy, I am going to get back to my old self," Tuliamuk said. "I keep telling my coach, 'I'm going to light the world on fire.' But, really, we'll see about that."
The goal is to recover fully and start training for the Olympics in May, which will give her 12 weeks of dedicated preparation.
"Again, you never know. People have struggled and so what's my backup plan? I don't really have a backup plan, but I'm going into this with an open mind knowing that it could go well or it could not go well," she said. "I'm just trying to stay positive. I'm also not ignorant—I just hope and pray that everything goes well."
Looking for support.
Gannon and Tuliamuk plan to stay in their Santa Fe home for the first three months after their daughter arrives, then they'll go back to Flagstaff for the Olympic buildup, where she'll have more support.
Taylor and Bruce, who are currently training for the elite-only Marathon Project on December 20 on the Gila River Indian Reservation near Phoenix, have pledged to help. They have plenty of perspective to share—Taylor is mom to 10-year-old daughter Kylyn, as well as multiple foster children, and Bruce has two young boys, Riley and Hudson, to whom she gave birth mid-career. They have individually gone on to their best performances in parenthood at multiple distances from the 5,000 and 10,000 meters on the track to the marathon (Taylor's best is 2:24:28 and Bruce's is 2:27:47).
"They tell me to just listen to my body and be flexible as my body changes—that some days I might not feel good and other days I'll feel really good," Tuliamuk said. "And they told me, 'When you have the baby, we are ready to help you get through it and get ready for the Olympics.'"
While their love and support is genuine, it doesn't come without a little gentle teasing, too. Tuliamuk has never been one of those training partners who likes to wait when nature calls somebody else—she often just keeps running. Now she's the one who has to go to the bathroom several times on the run.
"I am that horrible teammate who never stopped," she said, giggling. "Stephanie is having a kick out of this, but they're very supportive. When I was back in Flagstaff they would slow down. I am like, 'God, I love you guys. You're too kind. I was horrible to you.' What goes around comes around and it's definitely coming around for me."
Like her teammates, Tuliamuk wants to help other elite athletes who choose to have babies while still pursuing their careers. She thinks that the more that people talk about their experiences, the better.
"I want to be one of those people who would be able to tell fellow female athletes that it's okay to take a break and have a child and still come back," she said. "I think the last thing that I ever want for a woman to do is wait because they're scared of losing a contract…I'm glad that I'm able to do this and want to be a role model. I want to be able to tell my story, because we really do need people to look up to."
A pandemic pregnancy.
The pandemic has been a mixed bag for Tuliamuk. On one hand, she's glad that while she's pregnant, she's not watching a lot of her competitors put in big performances, which she said would probably leave her jealous.
"If I had come back from the Olympics and had a baby It would have been hard to watch races go on and watch people break records," she said.
Of course COVID-19 has been difficult for everybody, in various ways. Going to prenatal doctor appointments without Gannon has been especially hard. When she learned that her baby, though healthy, was skewing to the smaller side, she wished that Gannon had been there to help ask the right questions.
"Going to the hospital by myself has been hard, but I think when I deliver, Tim will be able to be in the room," she said.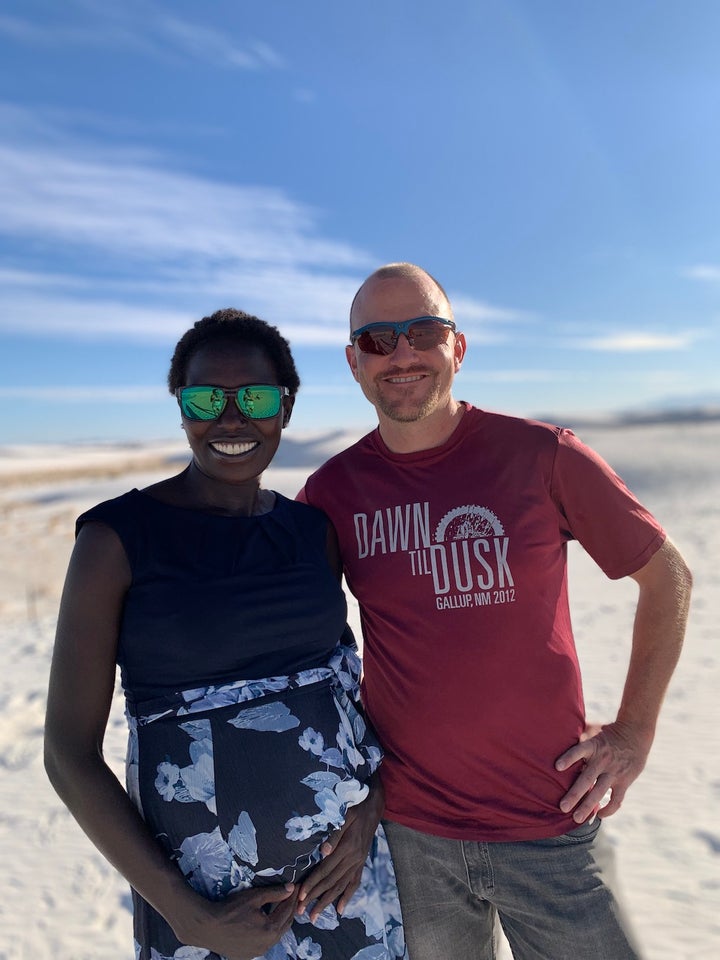 Pregnancy puts Tuliamuk, who earned her degree in public health at Wichita State University, in a high-risk category for COVID-19. She's taking all precautions to avoid contracting it. The studies on how the virus might affect a pregnancy are largely still in progress, so in the meantime, she makes sure to wear a mask, stick close to home most of the time, and she doesn't eat in restaurants.
She also exercises caution while around others.
"I love training with my teammates, but knowing that there's at least 10 of us, and you could run into someone else who ran into someone else and somebody could get the virus but be asymptomatic," she said, "well, it's hard for me to feel comfortable."
The pregnancy and pandemic also meant that Tuliamuk couldn't go back to her native Kenya to see her family after the Trials, which was a big disappointment to her.
"The cases were going up in Kenya and our village doesn't have medical facilities," she said. "So I just had to stay here."
The Olympic finish line.
While the original Olympic dream has always involved having a medal draped over her head while standing on the podium, now Tuliamuk has an additional vision: seeing her child at the finish line.
"If I want to have the best Olympic experience, my daughter has to be there, too," she said. "She's going to inspire me to bring my A-game to every race that I can. I want to inspire my daughter and other little girls. I've always wanted to inspire kids and now that I'm going to have one of my own, I think it's definitely going to propel me into new heights."
Making the Games has been a long-time goal, but Tuliamuk has also wanted to become a mother for as long as she can remember. She's starting to think about what that will be like, beginning in just a few weeks. She's thought about her routines and habits and what kind of influence they'll have after those behaviors are reflected back.
"I know it's not necessarily what I say, but what I do. I'm like, 'Well, I better stop watching too much TV. I've got to start focusing more on cooking because I definitely don't want to be ordering junk food all the time for my kid,'" Tuliamuk said. "I better start being the best version of myself, try my best to be a good person."
More than anything else, Tuliamuk said she can't wait to hold her baby for the first time, after feeling her strong kick for many weeks now. She has a newborn-sized red, white, and blue beanie crocheted and ready for the first family photo, too.
"I'm just looking forward to that moment when she's born and I can see her. I grew up in a culture where women have children when they're younger than me," she said. "My family has been asking me about when I'm going to have kids for at least six years. I am so excited—raising a child is really, really hard, but I can't wait to guide her through everything that life has to offer."