Never Let Fear Hold You Back From Trail Running
Leaving the urban sprawl behind for trail running can be a nerve-wracking experience. Here is why our editor in chief says to do it anyway.
Heading out the door? Read this article on the new Outside+ app available now on iOS devices for members! Download the app.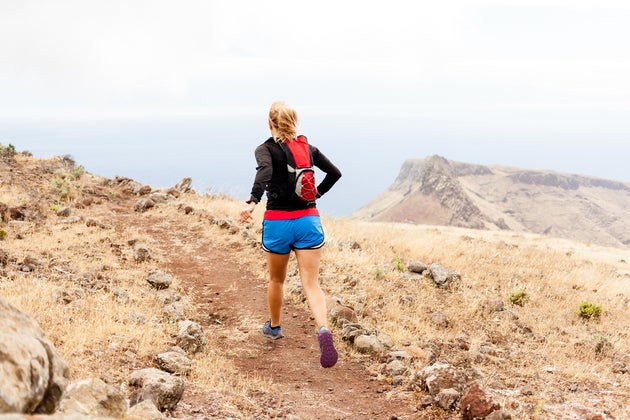 Watch out!" I yelled.
Brian jumped just in time, hurdling the rattlesnake that lay across the trail. I nervously waited for him to sprint away from the reptile—but suddenly, he stopped. "Come on, go!" I urged. Then I saw it. In front of my co-worker, another rattler blocked the narrow, shrub-lined path we frequent at lunch. Standing motionless, Brian looked at me…caught between two snakes.
In my memory, I recommended that he carefully step over the reptile and hurry away to safety. Brian, however, says that I shouted, "What are you going to do?" (So helpful.) Either way, he escaped the situation unharmed. Spooked to the core, we ran back to the office as fast as we could.
I share this story not to scare but to encourage. When I talk about trail running to people who haven't tried it, danger is often top of mind. It can be intimidating to consider all of the risk factors involved in working out in the wilderness through canyons, forests and swamps.
I understand these concerns completely. On the scale from cautious to fearless, I'm a "I ride my bike on the sidewalk" sort of lady. I will only cross-country ski (no downhill). I get nervous about driving my own car. You get the idea.
So when I say that you shouldn't be scared of trail running, I mean it, and I speak from experience. While running off-road for the last 10 years, I have encountered coyotes, tarantulas and porcupines. I've run through poison oak. I've gotten lost. I've fallen more times than I can count. I've even witnessed a friend trapped between poisonous snakes—what could be scarier than that?
But aside from a few skinned knees, I've come out of every scrape no worse for the wear. To put the dangers of off-road running in perspective: About three people die from rattlesnake bites per year in the United States, while the number of annual pedestrian fatalities by cars is 1,000 in the city of Los Angeles alone.
Of course, it's important to take proper precautions during any adventure, whether that's crossing the street or running up a mountain. But the gifts of trail running greatly outweigh the risks a million times over. The tranquility that comes from listening to the sound of your breath alone in nature is unmatched, and the beauty you can witness is without parallel.
That's why the day after the rattler incident, I found myself back on the same trail, soaking in the beauty of the California canyon. The rattlesnakes shouldn't be the only ones who get to go wild.