Motherhood Means You Run Your Race And Nobody Else's
Being a mom is like running—don't compare yourself to the competitor next to you.
Heading out the door? Read this article on the new Outside+ app available now on iOS devices for members! Download the app.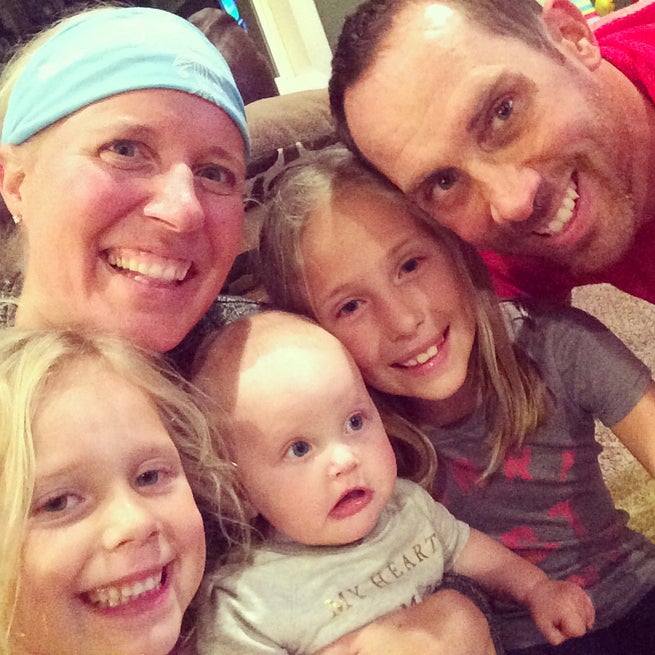 Published with permission of Mel Charbonneau at Fellow Flowers
Do I feel guilty?
That is what was asked of me recently. Amidst running a business and starting another one, reshuffling life on the homefront, training for a half Ironman and making choices that look different than many others, believe me when I say I do just fine wrestling with this question all on my own. But having someone else ask it of me—well, it stung.
Politely, I replied, "Well, I think motherhood is a lot like running, and we all run a different race."
It was short, sweet and admittingly, holding back to what I really wanted to say. Personally, I think keeping score of what we miss— and make—in our child's lives is handcuffing us to a permanent state of guilt, robbing us of our ability to be fully present during the moments that do matter. And let's be honest, guilt doesn't discriminate. It's part of the deal, whether you are the stay-at-home mom, the working mom, the stay-at-home-but-trying-to-work mom, the nanny-knows-my-kid-better-than-me mom, the step-mom, the longing-to-be-a mom, or the if-you-only-knew mom. We are triaging guilt trips and traps all the time. Guilt is a residual side effect of doing your freaking best and making tough but worthy choices. I used to resist the concept of it, and then someone gave me a dose of beautiful perspective. Guilt means you wrestled with it. You paused. You went through a mental process of sorts, and you made a choice. Guilt means you care.
Related: A Reminder Next Time You Want To Quit
Of all the miles I've logged and training I've done, motherhood has always been—and remains—my most important race. And we can prepare, yes, but once the race begins, it becomes a battle of managing and withstanding the elements and conditions that confront us. Master plans go out the window and good intentions get blindsided.
To enjoy the journey, we must run our race, and nobody else's.
If we focus on those next to us, comparing their stride with ours—wow, it looks so easy for them—we lose our focus. We knock ourselves off balance and begin to feel pain in places we've never felt before. Comparison does nothing but derail us from our true path.
We must find our rhythm, even if it looks different.
Some miles are good. And heck, some miles are really good. Damn, look at me GO. During the journey, we'll find ourselves in the middle of the pack—comfortable and protected. I must be making good decisions, because there are a lot of smart people around me right now. And other times, the only sound we'll hear is that of our own footsteps, and those miles are usually the hardest. Yet, despite our fears of being alone and the isolating consequences of doing it our way, the freedom is nothing short of liberating. Suddenly, we can breathe. We realize the only person whose approval we ever truly needed was our own.
Related: 3 Reasons Every Goal Setter Needs A Girl Squad
And throughout, we realize that in order to endure the longest miles, we must take care of ourselves. Listen to our own needs and nurture what needs love. We stretch when we're tight, we fuel when we're tired and when the pain comes (because it WILL come), we miraculously adapt. We find ways to distract ourselves from the hurt, hoping it will release if we just work through it. We evolve in the moment—digging deep into places we didn't know existed. We surprise ourselves. We rally.
Chin up. Shoulders back. Steady feet. We've got this. And as our miles progress, we care less and less about judgments of strangers and those who don't know our story. We get smarter, wiser and more confident as we go. We learn, honor the past, and settle in for the long haul. We stop making ourselves feel guilty for what we didn't do and we celebrate the fact that WE'RE STILL HERE.
And unlike all my other races, this is not one I plan on finishing. I think motherhood is a masterpiece best left unfinished.
So, yeah, do I feel guilty? For taking an hour out of my day to do something that brings me health and happiness? For making time to reconnect with friends? For chasing a dream that requires sacrifice?
To this, I'd say, if we are not fulfilled, we deny our children the chance to see us TRULY alive. And if they watch us constantly give out our love to others without nurturing our own needs, they lose the opportunity to witness self-love from their greatest teachers. And if they do not see us forgive and accept ourselves—for mistakes, doubts and struggles—they will begin to mirror the very qualities we try to keep hidden from them. And if we do not chase our own dreams because they are hard and cripple us with guilt, we do not let them feel safe and loved as they begin to chase theirs.
As moms, we may never escape the guilt, but by running our own beautiful race, we can most certainly take away its power.