What I Learned Pacing A Friend In The New York City Marathon
The Runner Beans learned five important lessons about racing when pacing her friend. Check out her video to see their experience.
Heading out the door? Read this article on the new Outside+ app available now on iOS devices for members! Download the app.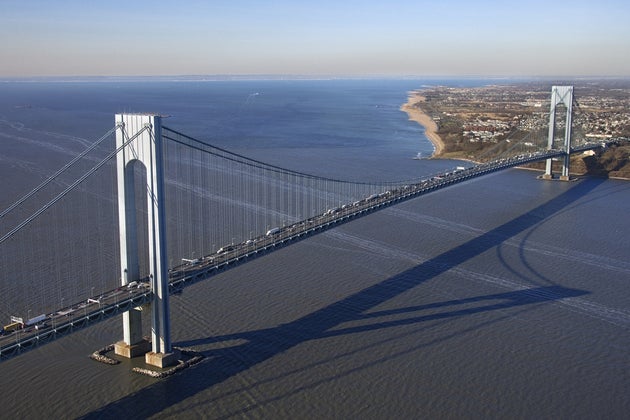 On Sunday, I ran the New York City Marathon, my sixth marathon and second time running New York. It was, however, my first time pacing someone to the finish.
Running can be a selfish sport, with early mornings, countless hours spent away from friends and family on long runs, and, not to mention, times when you might drop someone in a race or run for being too slow. During races you're in your own head, watching the pace, fearing that if you slow even for a second to hug your family that you might miss that PR.
However, pacing seems to be the antithesis of this. You are literally sacrificing your race to help someone else achieve their goal.
My friend Zoe was looking to break 4:30 and I was going to try to help her.
I had a pacing strategy that had us running negative splits, trying to run conservatively in the first half to save our legs during the easier miles before running hard for the second half. It went sort of to plan, and whilst Zoe earned a massive PR, we didn't hit her A goal. I did learn a lot though.
Five things I learned from pacing a friend round the New York City Marathon:
Your focus is on them, but don't forget about yourself.
I was so caught up in getting to the start with my friend and not missing our corral that I didn't listen to my body telling me that I really needed one last bathroom break. Instead of prioritizing a last bathroom stop, as I would have if I was on my own, I surged forward with my friend and started the race…and felt a little miserable for 22 miles until I finally used the portapotty.
While your priority for the day is your friend, if you ignore your own warning signals you could end up jeopardizing your pacing and race time, or worse, hurting yourself.
It is very stressful.
Keeping an eye on your pace, making sure you don't get too far ahead (or behind) and staying together in a massive race like New York is pretty stressful. The course on Sunday was incredibly crowded, and there were times when there simply wasn't room to run the pace we were aiming for—it freaked me out big time to see a couple of 10:30 miles when we were supposed to be running 10 dead. I think I expended a lot of energy on the added stress of pacing (and nearly missing our corrals due to very slow busses from Staten Island Ferry terminal to the start) during the marathon than just running.
Know when to let go.
At mile 22 I knew I wasn't in the shape to push the 9:00-minute pace that we needed for a 4:15-ish finish. My knee was starting to twinge and I needed the bathroom to the point of cramping, so I pushed Zoe on and told her to run with all she had left. It was her race, not mine. I wanted her to finish strong, knowing she'd given it everything she had, not waiting for me! Having the humility to let your friend know that actually you're not feeling quite right is often better than trying to push on.
Running is about so much more than time.
1Of course we were aiming for a specific time, but I hugged friends along the course, took in the sights of New York, high-fived kids, took photos and videos as we ran and tried to enjoy every moment. When you're racing for a new personal best, you often focus solely on the time on your watch and forget to take in your surroundings. Having plenty of other things to consider as I ran through NYC reminded me how little attention I usually pay to the parts that make a marathon special, like the volunteers, the supporters, the friends texting from back home.
Racing together is amazing.
I've joked that my dream would be to run a marathon with my fiance, side-by-side for 26.2 miles, and now I know that I really would truly love it. It's emotional enough crossing the finish line alone, however add a best friend, boyfriend, mom or running buddy, and that emotion is only amplified. Having someone to share the moment with is incredible.
Want a peek at our time on the New York City Marathon? Watch this video to see how it all went down.