What It's Like to Race Through Korea's DMZ
One runner travels to Korea's Demilitarized Zone to participate in the third annual DMZ Trail Run.
Heading out the door? Read this article on the new Outside+ app available now on iOS devices for members! Download the app.
In the Zone
We stand together on the observation deck, where people are using coin-operated binoculars to look out at a gray, steel bridge. The structure, stretching across Korea's Imjin River, is known as the Bridge of Freedom. It was once the place where Korean War soldiers returned from the north, but today it stands as a ghost bridge to nowhere.
I turn to Jason, a 21-year-old student from central South Korea, and ask what he feels when he sees the bridge and the view of North Korea that rises up just beyond it. He pauses. "A little nervous," he says.
We're at the edge of Korea's Demilitarized Zone (DMZ), a 160-mile-long strip that stretches across the peninsula, separating South from North. We've just completed a three-day, 100-kilometer race, the DMZ Trail Run, during which each day has taken us near to or along the security border.
The sights and sounds of this race span the spectrum from entirely familiar—runners snapping selfies, shiny finishers' bling, supportive cheers and high-fives—to uniquely Korean: sweet rice cakes and cherry tomatoes at aid stations, a K-pop band at the start line and, always, the looming shadow of North Korea alongside us.
The DMZ Trail Run is the largest trail race in Korea, with 1,500 participants coming to run the country's rugged, mountainous trails. For those of us from outside Korea, it is not only a beautiful and challenging run but also a unique opportunity to learn about the culture of this divided country.
Now in its third year, the race is the brainchild of DMZ policy officers who organized it in the hope that the buffer zone—a Cold War remnant and place of division—might represent instead a symbol of peace and coexistence.
Race director Byeung-sik Ahn, a seasoned trail runner and the first Korean to finish the iconic European 100-miler, UTMB, says the race serves a greater purpose than simply running. "The DMZ is usually not open to citizens," he says. "Participants have the opportunity to run in this important and unique historical area." More importantly, he says, the stage-race concept gives runners many chances to interact with competitors not only from Korea, but from all over the world, turning an area of discord into a place of unity.
Olivia Luk, an ultrarunner from Hong Kong, enjoys the community aspect most of all: "There is no other way one can meet so many likeminded friends from different backgrounds."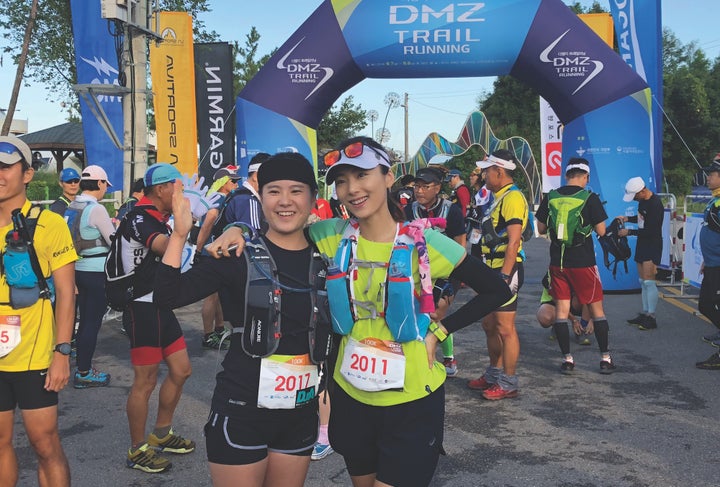 Immersion starts immediately, with a night at a former U.S. military installment once used as a base to patrol the DMZ. We are bused in, but not before stopping at length at a fortified gate, where South Korean soldiers methodically check our passports. Inside the camp, runners bunk eight to a room, sleeping on mats on a wood floor and eating basic Korean fare—rice, soup, kimchee—off of steel trays. I eat my fill of food that's simple but tasty, and also quite spicy, which is a bit risky, given I'm about to run 100K. But I'm in Korea, after all, and part of the reason to be here is to experience the culture, of which food is a large part.
The 100 kilometers are divided into three races: a 30K, a 50K and a 20K. Runs include rugged and technical mountain climbs; dirt paths through dense, verdant forest; country roads wending through lush lowland rice paddies; and long stretches on the river, alongside the barbed-wire fencing that demarcates the DMZ.
Runners race, bunk and dine together, finding common ground—if not in spoken languages, then in running's communal language. Perhaps paradoxically, given where we are, it feels peaceful and connecting, with thoughts of discord and war far from mind.
We wrap up the race in Imjingak, a sprawling urban park built to commemorate the war and to spawn healing and hope for reunification. It's a surprisingly festive spot, with the observation deck offering a bird's-eye view of North Korea, as well as several war memorials and a small amusement park. 
Today's terrain is smooth and flat, and although my legs are fatigued from two days of mountain grinds, it feels fantastic to run fast along the river. I look up at the barbed wire and feel gratitude for the community, freedom and empowerment that running offers.
If You Go
The Race
Registration and other information can be found on the race website. The site offers an English-language translation button.
The Date
Sept. 6–8, 2019
The Details
Seoul's Incheon Airport offers many international flight options with direct flights from U.S. cities such as Los Angeles, San Francisco, Chicago, New York and Seattle. The event begins at Camp Greaves, a former DMZ base for U.S. troops. Runners are shuttled into the camp from Munsan Station, which is an hour-long train ride from Seoul.