#JourneyWithSteph: The Year Of Two Worlds Colliding
Steph looks back at her year of running and becoming a new mom.
Heading out the door? Read this article on the new Outside+ app available now on iOS devices for members! Download the app.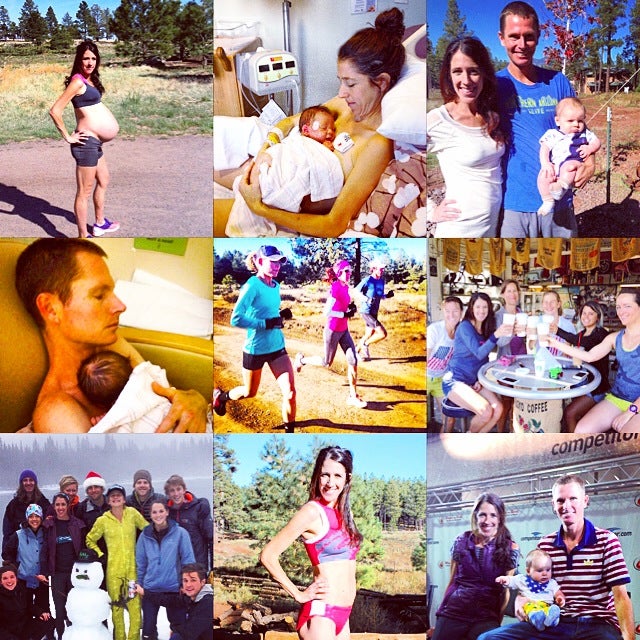 2014 was a year of change and essentially two worlds colliding. The world of professional distance running in which Ben and I lived—flexibility, last-minute trips, weeks away from home racing overseas, nine solid hours of sleep—was colliding with the selfless and overwhelming demands of parenthood.
I started the year four months pregnant and celebrated my 30th birthday. Flagstaff was flooded with elite runners from all over the country who came to put in a solid altitude stint. I was able to keep up on many of the group runs until the pace heated up to 7:30, then I signed off. I remember one particular run with Shalane Flanagan and Bowerman Track Club where Jerry Schumacher's daughter ran with us. She and I turned around together, and she was grabbing a side stitch. I said, "Don't worry, we can stop and take a break." She mustered, breathing heavily, "I'm ok."  (Note: She's 13.) Secretly I was hoping she would need a break because at 22 weeks pregnant I was in dire need of one myself. I often took many "pee" breaks during runs, which really meant I wanted a minute to catch my breath. Two pros (really fast guys) from Bowerman TC, Chris Solinsky and Chris Derrick, assured me this girl was no joke and often pushed the pace on them, so my ego felt much better.
I ran two fun "races" while pregnant. Those remain as Riley's PRs. Mile: 5:45, 5k: 19:10. In March Lauren Fleshman, Jude and I took on the great task of traveling to Australia with an 8 month old. Not to brag, but we nailed it. I returned to the states and began nesting…HARD. I lived on Pinterest looking for inspiration on nursery ideas and ways to declutter my entire house. Meanwhile the professional running world was still rolling along, and I did my best to pretend I wasn't interested. That was the biggest lie I told myself. I desperately wanted to be out there, mixing it up, feeling the burn. I tried to keep myself busy by diving head first in the other passions of my life. Our coaching business, Running with the Bruces, took off, and through generous word of mouth we now have a full team of athletes—and the inquiries haven't stopped. I watched as my NAZ teammates crushed their races, won national titles and took risks. For the first time in my life I understood what it felt like to be a huge fan of the sport I normally just competed in. It made me realize I want more from running than just the the competition aspect. I want to go to post-run, sweaty coffee dates, to meet crazy fans introducing themselves in person, to change the way sponsors use their athletes, to help races provide a better experience for the runner and to share my opinion on what issues matter the most to me. All these emotions were building up inside of me and looking for a way out. I realize now most of this was probably due to elevating pregnancy hormones. So what did I do? I went a little crazy in the last month leading up to my due date. Was I prepared for what lie ahead? Could I selfishly pursue my dreams in running and be a selfless parent? I thought so, but you can never really prepare for something you've never experienced.
I became a mom in June and wasn't prepared for how much love I could feel within a second of meeting someone. Once that bliss wore off, I hit rock bottom physically and emotionally in July and got the wind knocked out of me once more in August. The world I once lived in was gone. I was sleep deprived, blaming Ben for anything I could and withdrawing from all my responsibilities. Go for a run? Ha! I barely had energy to cook myself a meal, let alone train. I felt sorry for myself. I needed to snap out of it. So with 3/4 of the year gone I took control and made an effort to start living life again. Ben had races set up all fall so I decided we would tag along. We took trips to New York, England, Santa Cruz and Boston and exposed Riley to the life of professional runner-parents. You know how he reacted? He rolled with time change, jet lag, long layovers, and constant travel like a pro. I envy his adaptability, and I know he inherited it from his dad.
The last few months of 2014 I felt the wind back in my sail. I resumed a somewhat normal training load of 50-60 miles a week, and my insides felt alive again. I ran 2 low-key races as part of appearance-based events—a 5k in in Santa Barbara and a 10-miler in England. They gave me such a boost in confidence. I rolled the dice and put my first "real" race on the schedule in 2014. The New York Road Runners are among my favorite race organizations, and with New York being my birthplace it just felt right to return to racing in Central Park. Tickets were booked, plans were made, fitness was progressing and then, just like Megan in "Bridesmaids": "I fell off a cruise ship. Took a hard, violent fall, kinda pin-balled down there. Hit a lot of railings, broke a lot of shit! I'm not saying I survived, but I thrived." I started my #JourneyWithSteph fully prepared for setbacks to happen. Some have been more challenging than others, but I've surrounded myself with a supportive team of people and I'm happy to say "I'm on the mend."
Ben and I are getting the hang of being parents, but it's a constant learning process. Riley has brought more joy, laughter and balance to our life than I was prepared for. I'm on a high running for Oiselle and am itching to represent them in the way I know best: through my legs. I have hope for the future, although its contents are always unpredictable. My heart is mostly full of excitement, anticipation and love because I ended 2014 hungry and healthy. The two worlds that collided have given me more fulfillment and happiness than I could have imagined. When you are fulfilled, it's scary what is possible.
-Dream Big
Steph