Jen Golbeck's Golden Ratio For Running
Professor Jennifer Golbeck uses running to balance a full roster of work, travel and her pack of famous pups.
Heading out the door? Read this article on the new Outside+ app available now on iOS devices for members! Download the app.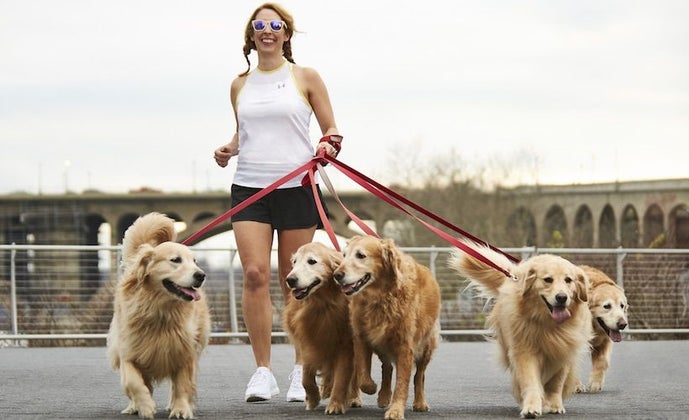 Gold Rush
Jen Golbeck's boundless energy is palpable when you meet her. The professor of computer science has the ability to be both welcoming and incredibly discerning at the same time. Make no mistake, Golbeck's keen intellect and intensity are equally matched by her warmth and good humor. All of these traits are on display in the social media accounts she runs under the name TheGoldenRatio4. While the focus of these accounts is her pack of five (!) Golden Retrievers, Golbeck's day-to-day routine provides an entertaining and surprisingly educational background to the adorable dog antics. Golden Ratio followers regularly see Golbeck take her dogs out for runs and cook food for both humans and canines on her YouTube and Snapchat platforms. The recipes are presented in a step-by-step format to help the large number of high school– and college-aged followers learn how to cook easy and nutritious meals. The cooking segments are so popular that Golbeck created a downloadable cookbook full of fan-favorite recipes.
Regular viewers of the accounts will know that Golbeck is an avid runner, but they may not know she hasn't been running her whole life. "In 1999, I watched part of the Chicago Marathon and was totally inspired," Golbeck explains. "I decided I would do it the next year; I started running that fall—just 2 miles at a time—and finished the 2000 Chicago Marathon."
Just like everything else Golbeck does, she runs with determination and intensity: "I run pretty much every day. I have to force myself to take a day off every week to 10 days." On average, she runs 10 marathons each year plus two ultras (50K and 50-milers) and a couple of half marathons.
For Golbeck, running is intertwined with every part of her life, from her work to her downtime to playing a part in keeping her dogs healthy and happy. "I do a lot of research along with teaching—it's easy to spend a full day sitting, analyzing data and being entirely in my head. Running does so much to balance out my life. I've had some of my best work ideas pop into my head on a run, but the time to just let my brain go into neutral is also really important. If I go a couple days without a run, I start to get irritable."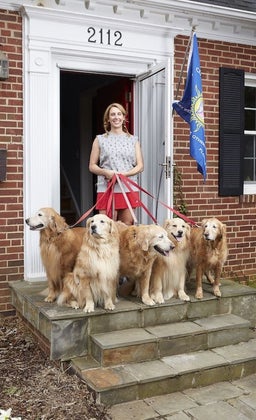 And, of course, she runs with her beloved dogs on a regular basis as well. Hopper is the strongest runner of the pack. She is named after Grace Hopper, a pioneer of computer programming. Hopper goes on most of Golbeck's shorter runs, averaging 3 to 4 miles. Venkman's namesake is Peter Venkman from Ghostbusters. His character made a big impact on Golbeck when she was a child and played a part in forming her career ambitions. Venkman (who is Hopper's half sister) typically runs about 2 miles with Golbeck. The dogs are great running partners for longer distances as well. "I also use them to break up long [runs]. If I have an 18-miler, I'll run 2 miles with Venkman, then go run 5 or 6 on my own, come home and get Hopper for another 4 and then finish by myself. They love it, and it makes nice manageable chunks—with bathroom breaks—for me." Golbeck has had Hopper and Venkman since they were puppies, and they are the youngest members of the Golden Ratio (ages 4 and 3, respectively). Jasmine, Maggie and the newest addition to the pack, Queso, are all senior-aged rescue dogs that Golbeck adopted after initially fostering them. The "senior squad" pups go on regular walks and short runs with Golbeck.
Golbeck's work as a professor and a renowned social media expert means she spends a significant amount of time traveling for work (her husband takes care of the dogs and posts photos on her behalf while she's gone). Being a frequent traveler has made her adept at getting her miles in on the road. "Pretty much every week I'm flying somewhere or another. I always bring my running gear—I actually keep a pair of shoes stuffed with running clothes in my suitcase, which never gets put away. Most hotel front desks have maps of good running routes or can suggest them. I also scout out some options before I leave, and in the worst case, I'll put in an hour on the gym treadmill. It's so much better than just watching hotel TV all night," says Golbeck.
If you were to look for a way to describe how Golbeck manages her many varied intellectual, artistic and athletic pursuits, I'm certain it could be expressed perfectly by the golden ratio.
Related:
Jen Golbeck's Running And Recipe Tips For Dog Owners
Sneak Peek: Our June 2018 Travel Issue