In Her Debut Marathon, Lauren Goss Will Race For Herself
In her marathon debut at the California International Marathon, Lauren Goss aims to unlock her potential as she races for herself.
Heading out the door? Read this article on the new Outside+ app available now on iOS devices for members! Download the app.
Former professional triathlete Lauren Goss's transition to elite running has been anything but conventional. Goss retired from competing professionally in 2019, after accepting a six-month suspension for an anti-doping violation after testing positive for THC (the psychoactive component found in marijuana, which she claimed was due to a cannabidiol, or CBD, salve she was using to treat an injury before competing). The next three years were somewhat of a whirlwind, with Goss, now 34, getting married, giving birth to her first child (son Wilder, now two) and dipping her toe into competitive running after qualifying for the 2020 U.S. Olympic Track & Field Trials in the 10,000 meters, where she finished 18th in a time of 32:52. 
Goss recently celebrated a win in a time of 1:09:46 at her debut half marathon at the Indianapolis Monumental Half Marathon on Nov. 5, which was no easy feat considering it was an unseasonably warm and humid day, complete with strong winds and rain. Goss, who is based in Boulder, Colorado, is now gearing up for her first professional marathon at the California International Marathon, which is also playing host to the USATF Marathon Championships, on Dec. 4. 
Less than a week after her win in Indianapolis, Goss chatted with Women's Running about the different vision she has for herself as an elite runner versus an elite triathlete, how she balances running at a high level with now being a single mom and owning a triathlon coaching business, and what she hopes to accomplish in Sacramento and beyond as she looks toward the 2024 U.S. Olympic Marathon Trials.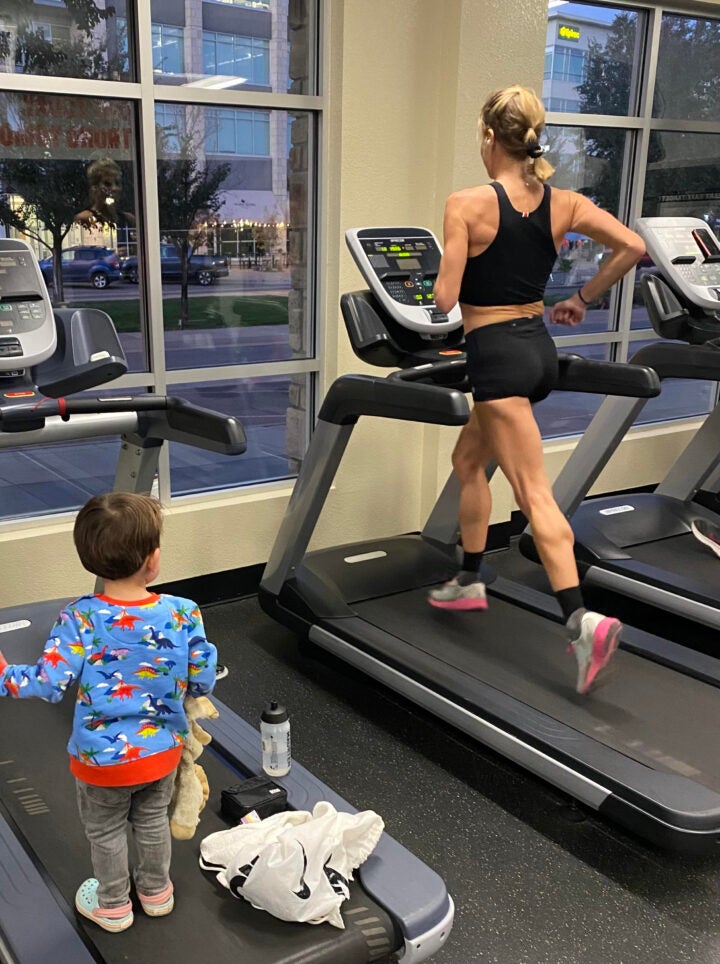 Women's Running: Congratulations on your recent win in your half-marathon debut in Indianapolis. You dealt with a few obstacles surrounding the race, including less-than-ideal racing conditions and the fact that the course was revealed to have been short after the fact, stripping you of the course record. How are you feeling about your race and performance a few days after the fact?
Lauren Goss: I'm happy with it, especially with how awful the weather was. I was really just trying to hit a certain pace to use the effort as an indicator of what I can do in the marathon. I chose the race because it's supposed to be a fast race and I really wanted an event that I could time-trial versus racing other women and just lock into my goal pace of 5:15 per mile to finish around 1:09. 
However, with the conditions, I ended up deciding to run off power with a Stryd power meter (which helps you to run at the right intensity based on lower body stress) and didn't look at the pace on my watch the entire race. I do think I could have run about a minute faster if it hadn't been windy or raining. But in the end, I did negative-split and it worked out well for me. The race director also called to say they're adjusting my time and that I'm still getting paid as though I ran the record, which is nice. 
What made you choose CIM for your marathon debut and what are you hoping to run there?
I chose CIM for the same reasons as Indy – I didn't want to debut at a major marathon; I want to time-trial the race and go for a specific goal, which is around 2:27. I just want to run a very conservative marathon where I'm in the mix and I don't feel pressured to go with the lead girls. I ran the USATF 10-Mile Championships in Minneapolis in October and I went out with the front pack and just blew up. I just don't want that to even be an option at the marathon; I just want to run controlled and run my own race. 
Looking at the start list that just came out, I don't think anyone will be running faster than 2:27 or will go out faster than 74 minutes for the first half. I also think the course record (Sara Vaughn's 2:26:53 from the 2021 race) is achievable. Lastly, the timing was also really good for me because I only decided I wanted to do a marathon in August, so this was really the only one I had time to build for and get ready for.
Did you also choose CIM knowing it's the U.S. Championships for the marathon? If you say you don't think anyone else can run your goal time, is it fair to say you also want to win? 
Yes, I did know that, and I definitely want to win; that's one of my goals for sure. I do still think it will be competitive; I'm looking forward to racing against Paige Stoner, Bria Wetsch (who I sometimes train with here in Boulder), and Diane Nukuri.
I'm also doing it because there's pretty good prize money with it being the U.S. Championships. If anybody knows me, they know I'm always looking for the prize money. I say that because I'm a mom, I have a kid, and I just can't justify all the time I'm putting into this to go run with no sponsors unless I'm making some money for my family. 
When Sara Vaughn debuted at CIM last year and got the course record, she also ended up with a shoe contract. Are you hoping for a similar outcome?
I did triathlon for 12 years and found that when I have sponsors, I don't perform as well because there's more pressure. When I got my suspension from triathlon after testing positive for THC, I lost every single sponsor I had. At the time, I was making over $150,000 from sponsorships and around $200,000 a year from racing. I lost everything and I felt so lost because triathlon was my whole life and I had no idea what else to do. So I'm honestly pretty jaded from my triathlon career with sponsorships and I just don't know if I'm ready to open that door again. 
Right now I'm just racing for me and it's fun. I think as soon as you start putting in contracts with obligations to podium, post on social media and do appearances, it just takes the fun out of it for me. I also deal with performance anxiety, which affects my ability to sleep, especially before races. So I still don't know if that's the route I want to take or what the future of my running career will look like if I have a great day at CIM. I'm planning to just get through this season and then decide what is best for my family, and for me and my mental health. That might mean not having a contract and instead just running for myself and seeing how far I can go.
After accepting the doping sanction, you retired from triathlon and have said you had no desire to compete again after that. But you came back and pivoted in the last couple of years after having your son, eventually competing in the U.S. Olympic Track and Field Trials in the 10,000 meters and later shifting to competing in longer distances on the roads. What changed that led you to want to compete at this level again, this time in running?
After getting the suspension from triathlon, I was really upset with the sport and felt that I wanted no part in it anymore. But then I took one year where I just ran trails every single day without a watch, and I found that I just fell in love with running.
After giving birth to my son in 2020, I was running pretty high mileage and my then-husband warned me that I was going to get injured if I didn't hire a coach. I first worked with Tom Schwartz, who was then the head coach of Tinman Elite, and eventually, I started competing for myself. I competed at the Trials, I found that I still didn't enjoy racing and the pressure that came with it. I later ran and won Emma Coburn's Elk Run 5K in Crested Butte, which I only committed to doing after getting a bib from my good friend and fellow former pro triathlete Gwen Jorgensen, who was injured and couldn't run herself. 
Then while working with Ric Rojas and RISE Boulder, I did a full track season and ran a 5K PR of 15:16 and a 10K PR of 31:49. Even then, I found that I still didn't love racing on the track and that I kept getting injured after racing in spikes. That's when I decided to shift to the roads, and specifically the marathon, because that's where the money ultimately really is.
How did you end up deciding to work with your current coach, Arild Tveiten?
Arild is the head coach for the Norwegian Triathlon Federation and has coached the 2020 Olympic triathlon champion, Kristian Blummenfelt, and the Kona IRONMAN champion, Gustav Iden. In my opinion, Norway is doing endurance sports the best right now. They have some of the best triathletes, cross-country skiers, and even some really good track and field stars. 
Arild has a lot of experience and I knew I wanted a very scientific approach, as I'm similarly very data-driven with the triathletes I coach. I knew I now wanted to do all my training alone, and he wanted to make sure I would be doing his training rather than changing things up if I were to go do a long run with a group. His approach involves a lot of lactate and VO2 max training in the lab, and I just love the numbers and the confidence the data gives me. It's also very high-volume – mileage-wise, I've been running about 100 miles per week, plus one swim session. 
I also think determining the right level of intensity based on this data has helped me stay injury-free. I haven't missed one workout in the last 10 weeks that we've been working together. Arild has also helped me finetune my carbohydrate intake in training and in racing. Maurten has been sending all my nutrition for training and racing and I took three Maurten Gels during the half in Indy, when I used to not take anything in workouts. Working with Arild has really pulled me out of my comfort zone and has made me believe in him and myself.
Have you met him in person yet?
I have met him in person at a few triathlons, but not while he's been coaching me. I've also worked with him as a triathlon coaching consultant, where I've asked him triathlon coaching questions relevant to my coaching business, where I primarily work with athletes targeting the 70.3 distance, which is what I specialized in when I was competing. I plan on going out to Sierra Nevada, Spain, where his athletes train in the winter, right before I run the Rotterdam Marathon in April, for a short training camp.
How do you balance such high-intensity training with managing your coaching business and being a single mom?
I would say, in my life, my kid comes first, my business comes second, and running comes third. I currently have a full roster of 25 athletes through my triathlon coaching business, BlackSheep Endurance, and my business and relationship with my athletes are also very important to me. 
I currently do all my weekday training in the mornings when my son is at school. I'll then do my work related to my triathlon coaching business while he's napping. When he wakes up, I'm off everything and not running; I'm 100% focused on him. My son's dad currently takes him on the weekends, which is great because that's when I can do my long run. I also sometimes rely on the gym daycare to do some training runs on the treadmill, as well as some generous neighbors who will watch Wilder on the baby monitor while he's napping if I need to do a double, or they'll all come sit at the track and watch me work out. It's definitely taken a village and it's a very non-traditional way to run and prepare for a marathon, but it keeps me so distracted that I just don't have time to over-analyze everything, which is a blessing for me. 
The training is all alone and is really boring, so I think it helps that my life is chaotic, with owning a business and being a single mom with a two-year-old. Back when I did triathlon, I would have anxiety going into workouts because it was the hardest part of my day. Now, when I get to do these workouts, it's like a reward. I look at it like it's when I get to play and I really love it. 
For now, this type of training works for me, but I don't think it would work for everybody, especially people who thrive in group environments. It's very intensity-controlled, but I think it's exactly what I need for the marathon. I think if you want something enough, you'll just make it work.
What else do you have planned for the future, racing-wise, after CIM?
This could all change, but right now I plan to take a week down after CIM and then race the Houston Half Marathon in January with the goal to run 1:07 or 1:08 and then Rotterdam in April and Berlin next September, hopefully running around 2:23 at one of those races, which will be much more competitive than CIM. I also plan to do the 2023 USATF road running circuit in between, wherever those races end up being. 
Like most elite marathoners, I'm also looking ahead to the 2024 U.S. Olympic Marathon Trials, which were recently announced to be in Orlando and should be flat and fast. Being 34 years old already, I just want to maximize the next two years. I don't really want to take any breaks; I'm going full Keira D'Amato-style when it comes to racing. I don't know what the future will hold beyond that. I'm kind of just living day-to-day, or race-to-race, right now, and figuring it out as I go.