In Celebrating Local Olympic Hopefuls, We Lift Up Our Communities
Heading out the door? Read this article on the new Outside+ app available now on iOS devices for members! Download the app.
Stephanie Bruce read an article not long ago that said she had a 5 percent chance of making the 2020 U.S. Olympic marathon team. And while she doesn't put a lot of thought into such analysis, the prediction still lingered with her for a moment.
Days later, Bruce headed out the door for her second run on Lake Mary Road—a popular place to log miles and workouts in her hometown (and mine) of Flagstaff, Arizona—and saw a woman running toward her. The woman stopped momentarily, took off her glove, gave Bruce a handshake, and said, "Five percent is better than zero percent. We're rooting for you."
Then she continued on her way.
"It was a really great moment that I think sums up the community," Bruce said. "I've always felt like I've had Flagstaff in my back pocket and the pride of this town and this running community."
When she arrived here 10 years ago, she was Stephanie Rothstein, dating another talented runner named Ben Bruce, and she was new to marathon training. Then came her first sub-2:30 race, a wedding, and a house. Then a baby. Then another baby—and a bigger house. And as Bruce introduced herself on Wednesday to a crowd of more than 100 Flagstaff residents who had come to celebrate 17 (of the two dozen) local athletes who have qualified to compete on February 29, at the U.S. Olympic Marathon Trials in Atlanta, it was probable she needed no introduction at all.
Sure, she's now a national champion in the half marathon, with a 2:27:47 best for 26.2 miles. But she's also a mom who shows up to swimming and baseball practice. She chaperones kindergarten field trips and helps coach our local running group, Team Run Flagstaff. She's a friend to many, who also happens to run a lot faster and farther than 99 percent of the  population.
Then there's Kellyn Taylor, also nearly a decade into her Flagstaff residency. She's a trained firefighter and a soccer mom who darts away from a 24-mile workout to make it to her daughter's games on time. She has the fifth-fastest time heading into the Trials (2:24:29) and with her husband, Kyle, she's a foster parent who welcomes newborns and toddlers into her home at a moment's notice, with extraordinary love and care.
The 17 runners sitting before us on Wednesday shared training tips, goals, and how they got into running. Some, like Taylor and her Northern Arizona Elite teammate Scott Fauble, want to win the Olympic Trials. Others are like Lindsay Nelson, who wants to better her time (2:40:13) and have some fun. Ultra-running star Jim Walmsley? He wants to "take a swing" at the top three to make the Olympic team. And while always impressive, their records and national rankings and Olympic marathon dreams mean less to this community in comparison to the people they've become, the contributions they make, and the inspiration they stoke in a town full of kids and adults who love running just as passionately as they do.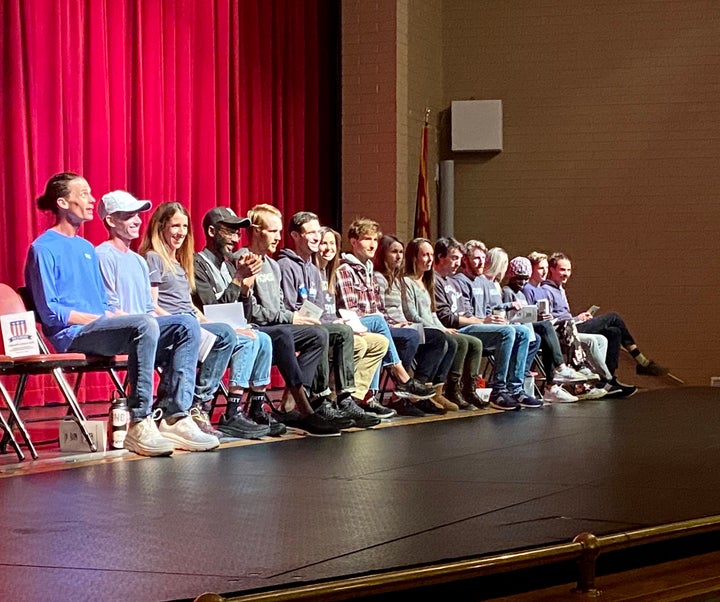 When I walked away from our celebration last week, I felt refreshed—almost rejuvenated. It took me a moment to figured out why that was—but when it came to me, it made perfect sense.
For two hours, we didn't talk about  shoe controversies, doping violations, or coaching bans. We weren't speculating on brand and team allegiances or judging the talent of one athlete versus the other. We were just talking about running in a way that could spark the imaginations of the dozens of children in the audience or the recent college graduate who thought such ambition was impossible in the "real world," or even the masters athlete who had given up on ever setting meaningful goals again (it me…).
At its best, this is what a running community does and what the sport is—it comes together to support, motivate, and inspire all its members, regardless of whether they run for fun, fitness, competition, or to make the Olympic marathon team. And when the nucleus of a city can recognize the power in something so simple, it can slowly change the health and wellbeing of an entire region.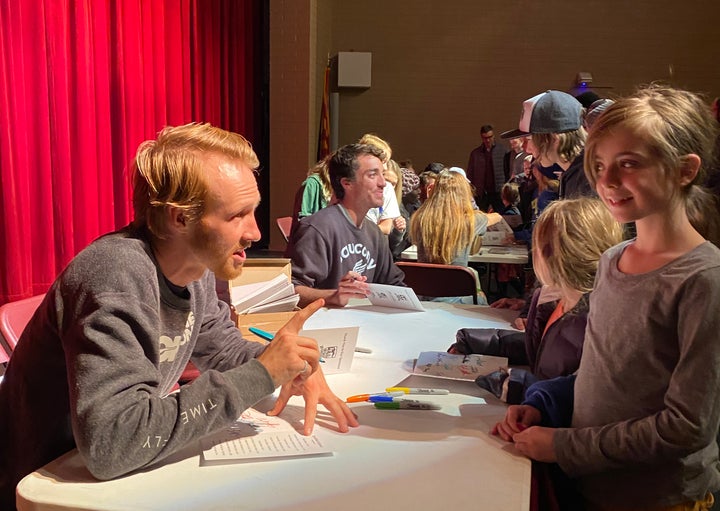 "Really it's your joy in the sport that I think matters," Georgia Porter told us that night. She qualified with a 2:36:52 and her goal at the Trials isn't to make the Olympics—it's to run a "smart and brave race."
"Don't lose that joy," Porter said, "because it's really the highest achievement you can have in the sport."
More athletes than ever before—almost 800 of them—have qualified for the Olympic Trials this year and it's a moment to remember how much of a wider impact that can have in towns of all sizes, across the country, if everybody took the time to harness the potential. Imagine, for example, if a Georgia Porter in every community encouraged joy through running, 100 people at a time? What might that ripple effect look like?
We all know that running gives us a platform for the greater good. I see in my own community what it can do to uplift the quality of life for all kinds of people. In its most inclusive moments, I've witnessed how it's staved off loneliness, helped beginners overcome self-doubt and fear, and continually offered a sliver of common ground in a society with decreasing opportunities for genuine connection. And during moments like our event on Wednesday, it's easy to envision what a better world it might be if we got together more often to celebrate each other's achievements and tell each other, "you can do this, too," no matter what your "this" might be.
There's more than a 5 percent chance that Flagstaff will welcome an Olympian home this year. Maybe even more than one. This town will react with as much jubilation for 50th place as it will for first. The person who competes at the Games is also going to show up at our local summer races to hand out cups of water at an aid station or sit on the sidelines to cheer at little league or come to our track practice to yell out our splits.
Flagstaff didn't end up with a running community so spirited by accident. It takes effort, leadership, and the willingness to show up for each other consistently. It's not perfect—it never will be—but I am fortunate that no matter the odds or outcome for any of us, I live in a place where somebody will take a second on a run to reach out a hand and say, "We're rooting for you."