The One Huge Lesson I Learned From Running
While writing a pre-race pep talk to a friend, Paria Hassouri realized the most important lesson that she has learned from running.
Heading out the door? Read this article on the new Outside+ app available now on iOS devices for members! Download the app.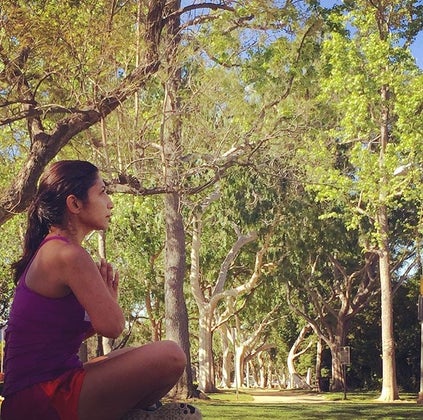 I have been running for over four years now and writing about running for two years, but it wasn't until just recently—while I was writing a pre-first-marathon pep talk e-mail to a friend—that I realized what the greatest lesson that running has taught me is. What I wrote to my friend in that e-mail was that although she has already evolved significantly in the process of marathon training, she would change even more after she crosses that finish line.
I wrote, "You will see that you actually have all the answers yourself."
That's it. That is the most important lesson running has taught me. I have all the answers to the questions in my life, but I need to make the time to run with the questions to answer them. No matter what emotion or question has been plaguing me over the last few years, the answer has always been to run with it.
If I have an argument with a friend, before making that phone call or sending that text, I run with it.
When I'm asked to consider a position change at work, I run with it.
When I'm too tired to get off the couch and am wasting the day away, the answer is to run.
When I'm happy and bursting with emotion, it feels even better to run, or rather fly, with it.
When I receive an upsetting e-mail, before hitting reply, run with it.
When I'm overwhelmed with a mile-long to-do list and don't won't where to start, I run first. Suddenly the list puts itself in order and doesn't seem unmanageable.
When I am wallowing in grief, then I let the heaving sobs pass through me on the run, unconcerned about the tears and snot that are running down my face.
My favorite yoga instructor, Jake, often starts the class by saying "set an intention for your practice today." I often set an intention for my run. What answer am I seeking on my run today? And on the days when I don't set an intention, one often comes to me after about 3 miles, when my body is warmed up and my mind has transcended to another state. Sometimes it comes in a whisper, like quiet footsteps and breathing of someone who is running slowly besides me and then stays with me, guiding me through the rest of my run. Sometimes the intention comes like a typhoon, almost knocking me over as it swirls and passes right through me.
Some questions are easily answered over one run. Other questions may get slowly answered over several runs or even take an entire marathon season. Once in a while, I don't even know the question, but I just have this feeling of unease and when I take that uneasiness on the run, the question suddenly reveals itself. Sometimes when the answer comes in one run but the question is a life-changing one, I still take it for a couple more runs before finalizing the decision, trying it on for size and making sure it's still in stride with what I want.
Indeed, the greatest lesson that running has taught me, and the greatest gift it has given me, is the knowledge that I hold all the answers, if I make the time to run with them. Try setting an intention for your next run and see if your answer comes in as a breeze or a windstorm.