The Craziest Moments You've Missed At The World Championships
There has been drama, good and bad.
Heading out the door? Read this article on the new Outside+ app available now on iOS devices for members! Download the app.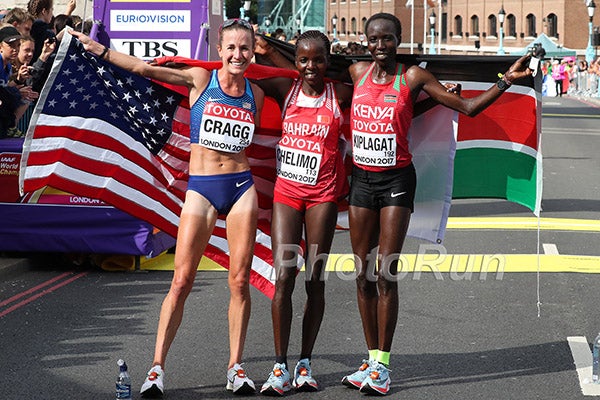 Streakers aside, this IAAF Track and Field World Championships has been anything but boring. There have been happy and sad tears, upsets that were very upsetting, performances that raised eyebrows and victories that inspired everyone. And we still have a handful of days to go. If you haven't tuned in to any of the action so far, here's what you missed straight from London…
Amy Cragg stormed to a bronze medal in the marathon and everyone cheered.
Eighteen months after winning the Olympic Trials Marathon, Amy Cragg had America cheering again when she finished third in the world marathon. She was the first American woman to medal in the event since the championships began in 1983. Cragg finished in 2:27:18 in a crazy sprint finish in the last 400 meters after leading a good chunk of the race. The first four didn't make a break from a deep pack of more than 10 until the final 5K, and Cragg made her final game-changing move in that last quarter mile, passing the fourth place finisher to win bronze…and she almost got silver at the line too. Athletes on social media erupted in cheers for Cragg, including Sara Vaughn and her two-year-old daughter on Instagram.
Kara Goucher received her silver medal 10 years after the 2007 world championships, in London.
Along with Great Britain's Jo Pavey, Kara Goucher finally got what she rightfully earned a decade ago in the 10,000 meters. And if you follow her on Instagram, the excitement she shared with husband Adam Goucher and son Colt was heartwarming.
An awards ceremony was held in London to award Goucher her medal upgrade after a runner in front of her tested positive for performance-enhancing drugs. She wrote about the notification and her feelings about it on Oiselle's website. The track nation applauded Goucher in her very delayed moment of glory and voiced their support for her hard work on Twitter. And while it was a big step in the right direction for putting an end to cheaters in track and field, another event that happened on the same day had everyone still questioning the system and the people in charge…
…Almaz Ayana lapped basically everyone in the 10,000 meters to win by an insane margin.
After a slow first 5K, Ethiopian Almaz Ayana, who won gold in this event in Rio last summer, completely blew away the field in the second 5K, clocking a massive negative split (14:24.96 for her second 5K) and winning by more than 46 seconds. She lapped the majority of her competitors, including all three Americans. Emily Infeld finished sixth with a personal best time, followed by Molly Huddle in eighth and Emily Sisson in ninth. She was well off the world record she set last year at the Olympics, another performance that raised a lot of speculation on Twitter. Track fans and other professional athletes, in London and watching at home, voiced their fair concern about how clean Ayana is, given the ongoing, massive doping issue in track and field.
Perhaps it would not have been such an extreme amount of skepticism had Ayana a) not stormed to an Olympic gold in a similar fashion and b) not be coming from a mediocre steeplechase background and suddenly be destroying the 10,000 meters and c) not won the world championship gold on the same day that Kara Goucher received her upgrade. People fell on both sides of the fence, however, with regard to Ayana—many diehard fans defended her, saying maybe she's just that good.
Usain Bolt did not win his final 100-meter race.
Yet another event that upset a lot of fans, the 100-meter final was arguably the most anticipated at this world championships—it was GOAT Usain Bolt's swan song. Many people were busy discussing 21-year-old American Christian Coleman's ability to potentially take the Jamaican down in his final individual event. Coleman is the next big thing in American sprinting, and with a lane next to Bolt, all eyes were on the duo…so basically no one noticed American Justin Gatlin sticking his lean in there in the final steps to nab gold in a photo finish. Coleman finished second with Bolt nabbing the bronze. Gatlin was visibly elated and emotional about his victory, one that came more than 10 years after his 100-200 victorious double. However, track fans heavily condemned him due to his previous four-year ban due to doping. For many, it was upsetting for him to win at all and even more unspeakable for him to be the one to beat Bolt.
Tori Bowie had the golden lean in the 100-meter final.
In a race as quick at the 100 meters, getting your torso across the line first sometimes means the difference between victory and defeat. And an epic forward push by American Tori Bowie is what got her the gold in falling fashion. It was so close that the second-place finisher started celebrating her victory before the true results revealed Bowie had actually won. Her efforts, which probably left a bruise, made a one-hundredth second difference to land her at the top of the podium ahead of the Olympic champion, Elaine Thompson. She plans to go for the 100-200 double later this week.
Update as of August 7:
Jenny Simpson gets silver with an inside lane pass in final steps.
Now a four-time "global" medalist between worlds and Olympics, Jenny Simpson did what she does best: remains patients, relaxed, then kicks the crap out of the final lap of the 1,500 meters. For a moment, it looked as though she would finish fourth…but never underestimate that woman. She not only made a pass to get into third, but she also kept going to pass another runner—on the inside!—to get second. She. Is. The. Greatest.
Update as of August 10:
Steeplechaser Colleen Quigley DQ'ed after stepping on the white line.
Fans fells on both sides of the fence when the Bowerman Track Club athlete was disqualified in the prelims after stepping on the white line twice coming out of the water pit. The line separates lane one from the infield. People on Twitter demanded a review and contest to the call, but video playback seemed to show that it was clear she stepped onto the line. However, Letsrun.com later shared an aerial shot suggesting that IAAF staff misplaced one of the cones slightly inside the white line instead of on top, suggesting that the entire situation needs to be reviewed again. The cones are meant to deter runners from grazing the line, so it could be valid grounds to get Quigley re-instated into the finals to join Americans Emma Coburn and Courtney Frerichs.
Molly Huddle makes 5,000-meter final on time after great lead.
Fellow Americans Shelby Houlihan and Shannon Rowbury both automatically qualified for the 5,000-meter final based on their finishing places in the heats. Following an interesting 10,000 meters days ago, Huddle put herself into a commanding lead with less than 1 mile to go, before the chase pack caught up to her and made an intense pass during the final lap. To double in events like the 10,000 and 5,000 meters—let alone get a lead like that one—isn't an easy task. Huddle seemed unimpressed with herself and how she ran a "stupid" race, but she's through to Sunday's final, rounding out all three Americans who will compete during one of the world championships' final track events.
Isaac Makwala from Botswana qualified for 200-meter semi-finals after not being allowed into the stadium.
The athlete was one of more than 30 athletes and staff who were affected by a norovirus in London, calling for a quarantine that made him miss the 400-meter finals. #FreeMakwala circulated on Twitter, and the sprinter got his chance to qualify literally solo on the track for the 200-meter semi-finals. Based on the finish times of the athletes who raced in the heats, Makwala raced against the designated qualifying time to get his opportunity to compete in the semis. He qualified for the finals after being denied entry into the stadium due to his quarantine.
Update as of August 11: 
Emma Coburn and Courtney Frerichs shock the world with 1-2 finish in steeplechase final.
The two Americans stormed off the last water jump to an American record for Emma Coburn and personal best for Courtney Frerichs to finish first and second in a positively shocking steeplechase final. Twitter completely freaked out about the duo's performance, and everyone cried as they embraced in a sweaty, teary pile on the track.