Whoa! She Broke A Record For Hula Hooping While Running
There's running a 10K, then there's running a 10K while hula hooping the entire time.
Heading out the door? Read this article on the new Outside+ app available now on iOS devices for members! Download the app.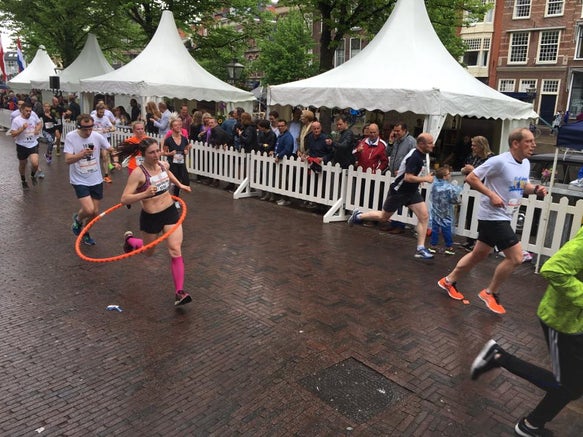 Since the first day I put on my running shoes, I began cultivating an amazing talent for multi-tasking while running. Like most runners, running is where we chronicle our lives. We listen to our music and podcasts, we snap photos, we mentally compile to-do lists, we de-stress by reflecting on past days' events, and we daydream about the future. This is nothing new to the runner.
Such multi-tasking while running was present even before I started juggling a husband; toddler; two dogs; doctoral studies; and a foreign culture, language and country. In law school, my solo runs were reserved to practice oral argument or recite key case precedents. While I was pregnant, running helped me focus on my birthing affirmations (it is no wonder my son loves to run!). During my graduate studies, my running has become an essential part of the development and organization of my dissertation. In more than 25 years of running, I have run for charity, my community, a varsity cross-country team, for myself and now—for a world record.
I recently decided to take this multi-tasking while running to a next level by adding a hula-hoop to the mix. The inkling desire to be the fastest hula-hoop runner arose in the midst of neon windbreakers, Umbro shorts and Reebok pumps. It was the early 90's and I had received my first Guinness Book of World Records book. I remember flipping though the pages and dog-earing all the world records I could possibly train for—longest time walking on hands, longest time to keep eyes open without blinking, longest distance on a unicycle, etc. My dream, however, to become a world-record holder did not materialize that summer or even that decade. It would take me another 20 years to find a record that I could beat.
My dream was realized on May 22, 2016 in Leiden, Netherlands, at the Leiden Marathon. Racing under my hoop name, "Tragically Hip," a tribute to my Canadian roots and play on a Canadian rock band's name, I simultaneously hula-hooped and ran a 10K in 52:27 and became the world's fastest hula-hoop runner. Even though the race organizers were incredibly supportive and the spectators super encouraging, the race did not go exactly as planned. I underestimated how crowded 3,600-plus runners would be on the narrow Leiden streets. Thankfully, with the help of my entourage (five fellow runners), I was able to weave through the crowd and finish well below the official female record of 1:27, the unofficial female record of 1:05, and the official fastest (male) record of 1:25.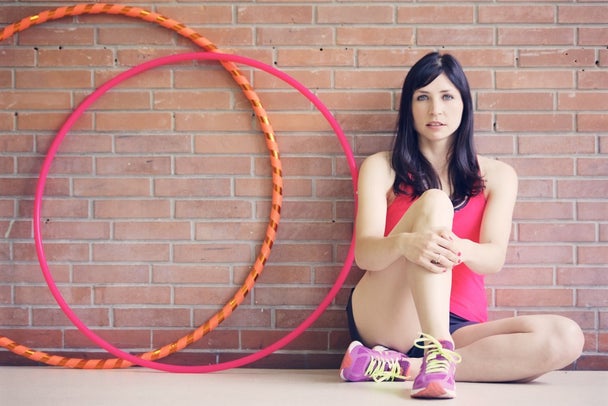 After five months of concentrated training (and very sore hips) I had achieved my childhood dream and took my talent of multi-tasking while running to a whole new level. (The cardio and abdominal workout was a great combination to eliminate post-baby belly too). While I am happy to hold the world record, my hula-hoop running is not over. I will make one final attempt at the world record (trying to beat my own record). This time I will race in a controlled environment, on a racetrack, and with the goal of a sub-50-minute 10K. Once I see my name in the Guinness Book, I will reserve for the dance studio my hula-hoop and the pavement my running shoes.