You Can Get Heat Exhaustion Even In Cold Weather
NYC Running Mama had a scary situation when her sister suffered from heat exhaustion during a race. It can happen any time of year.
Heading out the door? Read this article on the new Outside+ app available now on iOS devices for members! Download the app.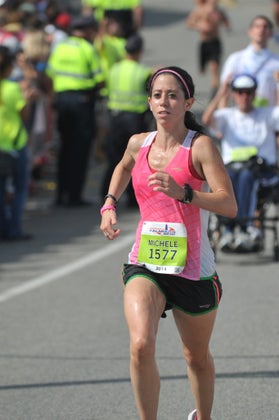 Last weekend, my sister and I stood at the starting line of the Rock 'n' Roll Philly Half Marathon. It was her first half marathon. I was ecstatic to have the opportunity to run it with her for support and memories! Having run multiple 10- and 12-milers leading up to the race, she was completely trained for the distance and was ready to celebrate her months of hard work with our family, who would be waiting at the finish line.
We started off at her normal pace for long runs and the miles began ticking by. Everything was on track…until it wasn't.
By mile 4, she told me that she was feeling nauseous.
By mile 5, her pace had slowed down about 30-45 seconds per mile.
By mile 7, she told me she had cramping in her legs and calves.
By mile 9, we had slowed another 30 seconds per mile.
By mile 10, I noticed that she looked pale and her lips were discolored.
At mile 11.6, her legs cramped up and she stopped running. We sat down for about a minute, had a pep talk and began walking to the finish.
And at mile 11.7, she passed out in my arms.
The next few hours were some of the scariest in my entire life. The doctors at the medical tent diagnosed my sister with heat exhaustion. She vomited, passed out twice and had a fever of 102.4. Thankfully after four hours of receiving fluids (IV and oral) and cold compresses, and having her vitals monitored, she was released and allowed to go home.
I am incredibly frustrated with myself for not seeing the warning signs of heat exhaustion that WERE there. However it was the last thing on my mind. It was overcast and not terribly warm out—maybe mid-70s by the time we stopped—so I never connected the dots. But it was extremely humid—between 90-95% for most of the morning, which played a major role in causing her body temperature to sky rocket.
There is a lot of discussion about heat injuries when the warmer weather begins to approach in the late spring/early summer. I think we are all pretty good with being on the lookout for the telltale signs. But if you are like me, it's hard to imagine suffering from a heat injury when it's cloudy, cool or even freezing out. However, heat injuries can happen year round—regardless of the season and temperature outside.
Heat injuries (heat cramping, heat exhaustion and heat stroke) occur when you cannot sweat enough to cool your body. This results in your core body temperature rising. It most commonly happens when exercising intensely in hot, humid conditions but it can also happen in the cooler winter months, when you are bundled up and perspiring more than you may realize.
While air temperature does play a large part in heat injuries, there are other factors that should be taken into account including humidity, direct and reflected (off the pavement) radiation of the sun, exposure to heat/humidity the previous two days as well as individual risk factors (medications, illness, age are just a few).
Common Signs Of Heat Injuries:
Confusion
Dark-colored urine (a sign of dehydration)
Dizziness
Fainting
Fatigue
Headache
Muscle cramps
Nausea
Pale skin
Profuse sweating
Rapid heartbeat
There are ways to reduce your risk for heat injury:
Clothing:

Wear clothes that are light colored (dark colors absorb the heat from the sun) and loose fitting – and try to limit them to one layer

Hydration:

Drink before, during (drink about 4 to 8 ounces of water and/or sports drink every 15 to 20 minutes), and after your workout or race.

Alter pace as necessary and add in walk breaks:

A hot or humid day might mean you should scale back your goals for that day. Slow down and take walk breaks if necessary. There will always be another race.

Salt Intake:

Increase salt in the days leading up to the race

Weigh Yourself:

Step on a scale before and after your workout to monitor water loss. Make sure you have replaced enough fluids before your next workout

Monitor the color of your urine:

The darker your urine, the less hydrated you are. Increase your fluids to bring your urine to a light color before your next workout.

Listen to your body:

Keep an eye out for the common signs and seek medical attention if you think you are experiencing any of them