What I Learned From Guiding A Deaf, Mute And Legally Blind Athlete
Talk about a life-changing experience.
Heading out the door? Read this article on the new Outside+ app available now on iOS devices for members! Download the app.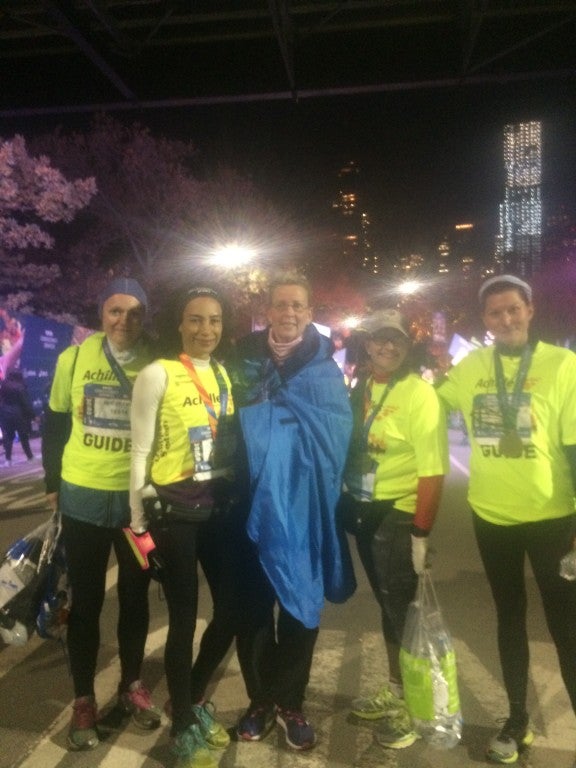 What struck me about Sissel when we first met was that she that was glowing. This was despite the numerous challenges she was facing and the fact that she had been in the hotel lobby for over two hours waiting to get her room after a 10-hour flight from Norway. Though she is a deaf, mute and a legally blind 56-year old-woman and I was to be her guide, she actually guided me over the course of our five days together.
I am an eight-time marathoner with three NYC Marathons under my belt. I first began running in 2011 at 52 years old and started pursuing the NYC marathon by 2013. Wanting to help someone experience the same ecstasy I had upon finishing, I became an Achilles Guide.
My introduction to Achilles International was a pleasant Tuesday evening in Central Park. Achilles has chapters in many countries and cities, including New York. A non-profit organization, Achilles provides services to challenged athletes who participate in running races and triathlons. On this morning, roughly 30 Achilles athletes and Guides showed up to run or walk. I began training to become a Guide and was introduced to the tether, a rope that links one runner's arm to another. I ran alongside a more experienced Guide, watching how he skillfully maneuvered the tether attached to a visually impaired Achilles runner's arm. Soon after, I was the one using a tether as lead Guide.
The first time I was an Achilles Guide was during the 2016 NYC marathon. I was paired with an Achilles-Norway athlete, first-time marathoner Sissel Markhus—and getting to know Sissel was life-changing for me. Born deaf and mute, Sissel is now also legally blind. Injuries she sustained during childbirth prevented her from running for 25 years.
Sissel started run/walking two years ago with Achilles and this summer began training for her seemingly unattainable goal, the NYC marathon. Her training was disrupted when she fractured her ribs last month. Sissel resumed training two weeks before the marathon and was recovering from a shoulder infection and a horrendous cold before the flight to New York. Sissel travelled to NYC with two interpreters who have, for the last 10 years, assisted with her daily life. The interpreters were also first-time marathoners and new to New York.
What struck me about Sissel when we first met was that she that was glowing. This was despite the numerous challenges she was facing—and the fact that she waited int the hotel lobby for more than two hours for her room after a 10-hour flight from Norway. Though she is a deaf, mute and a legally blind 56-year old-woman and I was technically her guide, she was the one that actually guided me over the course of our five days together.
Running clubs completely embrace other runners
At dinner Sissel shared her marathon training and concerns. She did not feel ready to run the full marathon and suggested that I run ahead after the first mile.
"We are Team Sissel and will cross the finish line together," I said, declaring, "We will have a strategy to walk the course and at any point you want to jog, we will." My confident voice masked my fears. I thought it would take 8 or 9 hours to walk the course. I had no experience ultra-marathoning. Sissel held one of her interpreter's arms to move, leaving her arms free to sign. Constantly translating from English, to Norwegian, to sign language takes a lot of work and the interpreters took turns with each task.
For extra support, I turned to the running community for help. I shared Sissel's pending arrival first with my then-running club of nine months, the NY Flyers, then several others. It was a board decision to invite Sissel to the club dinner as a guest, so one member spoke to the club president. However, no invitation followed, and I was completely caught off-guard by their lack of enthusiasm in providing a genuine welcome to this extraordinary woman. I am an African American woman born in the south where all people are generally provided an unconditional welcome, and I could not imagine that this lack of empathy was typical of running clubs.
I quickly found out that it most definitely is not.
Other New York running clubs immediately welcomed Sissel upon learning about her, invited her as a guest their dinners and offered her club T-shirts and assistance on the course. Olympian Shalane Flanagan asked to meet her. She wrote 'Carpe Diem' as she autographed Run Fast, Eat Slow for Sissel.
Team Sissel would not have finished the marathon together without the support of the New York running community. Veteran runners provided a revised marathon strategy, ultra-marathon and nutrition tips as well as nutritional support on the course in addition to the warm support provided by the spectators.
You must adapt to race conditions
By marathon day, Sissel called me Captain. I guided her, with one of her interpreters next to us and the other behind us. We had a couple of clear plastic bags of extra running socks and sneakers, Advil, body glide and OxyRub. We also carried food for our team: bagels, peanut butter, protein bars, trail mix and Shalane Flanagan's sweet potato cookies. I was in constant contact with two runners by cell phone; one planned to provide chicken soup on the course and the other monitored Sissel's movements, constantly modifying our strategy. Another Achilles Guide from Boston joined us on the course to help. We surrounded Sissel like a donut to protect her from faster participants. She is unsteady in crowds, and I advised our team to use elbows to alert other runners of our presence if they didn't immediately see us.
Around mile 14, Sissel's feet began to swell. We took more sitting breaks, elevated her feet and stopped for a foot massage. At mile 17, Sissel said she wanted me to guide her the last 400 meters and cross the finish line together. My eyes welled with tears. We pushed forward. Sissel's courage and uncompromising strength had guided us. We crossed the finish line in 8 hours, 9 minutes.
Marathoning is really a journey of self-awareness and -reliance.
Sissel always visualized that she was a NYC Marathon finisher. Against seemingly insurmountable odds, and with her will to succeed, she became one. It was an honor to be Team Sissel's "Captain" and to form a bond of friendship and trust.
Meeting Sissel has forever changed my life and added a new layer to my passion for running. Sissel and I are about the same age, both single moms and relatively new runners. That's the bulk of our similarities. I do not always face life's challenges with grace or remember to live graciously. But now, I have vowed to remember to do so, motivated by the invaluable lessons that I learned from Sissel during our time together.
Running embodies mental and physical fitness. I believe Sissel was born a marathoner. I saw a radiant, physically fit woman who never succumbed to any obstacle. Sissel revealed to me her innate ability to guide everyone into embracing the present moment, visualizing 'impossible' dreams, having the will and fortitude to train, as well as the guts, focus and perseverance to finish.