How One Runner Learned To Pick Herself Up After A Bad Race
In every running career there comes a bad race. Here is how one runner learned to cope when things just don't go as planned.
Heading out the door? Read this article on the new Outside+ app available now on iOS devices for members! Download the app.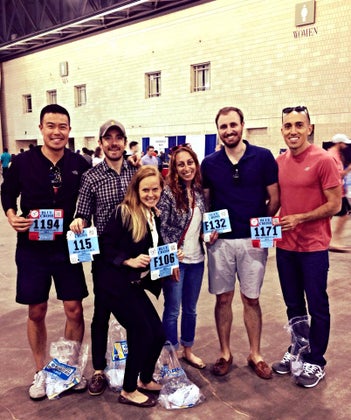 This was supposed to be a story about finding success in racing and overcoming disappointment. At least that is what I thought on my warm up before the Broad Street 10 Mile Run. But unfortunately, you can't write a happy ending before the story has even taken place.
Over the past year, I've had a fraught relationship with racing. I love lacing up my shoes everyday to train. That love does not extend to toeing a starting line. After layoffs from injuries and life changes, racing became stressful and anxiety-ridden. Personal bests were out of the question. But most upsetting of all, I couldn't find any fun in the experience.
Apparently an intervention was needed. In a group email discussing Broad Street, my friend Katie singled me out, stating, "You've been training and you need a spring goal race." Couldn't I just continue to train without racing? Despite hesitation, a flat 10-miler in a nearby city with close friends, along with 40,000 others, seemed like it could be enjoyable.
My goal for the weekend was to be worry-free and have fun. Sure, I had a time goal in mind, but feeling strong and happy was the priority. Before the race, things couldn't have gone smoother. On train car to the start was empty, allowing all of us to have a valuable seat. We found port-a-johns with no line. Warming up in a pack with my friends made me miss the team atmosphere I had avoided during my race furlough. I reached the starting line with an optimistic attitude.
Unfortunately any positivity had decided to flee by mile 3. Around that time, a worst-case scenario started to unfold. I developed the dreaded mid-race stomachache. My insides began to churn and my legs felt heavy. I could feel my pace slowing. After suffering through 3 miles, I thought, "Time to jettison the cargo to save the ship" and ran off the course to a port-a-john. While I was able to leave my stomachache behind, I also left 2 minutes off the race, any sort of time goal, and a little bit of my dignity.
After the stop, it was tough to get moving again. I was way behind my time goal and any enjoyment I had gotten from racing was gone. Upon seeing my husband at mile 7, I told him to tell me not to quit.  The little bit of encouragement helped me to focus. I began to take in the incredible crowd support of those lining Broad Street. I stopped paying attention to splits. I made a new goal- don't get passed. Eventually I made it to the finish line.
This was not the happy ending I imagined. At the finish line, I enthusiastically congratulated friends who ran amazing races. I made plans to get my first cheesesteak. But eventually, tears were shed as the disappointment sunk in. I felt so disheartened.
So how was I going to write the ending to my story now? This is the question I asked my coach after trying not to go into every detail of my mid-race stomachache. As usual, he was able to show me the lessons of a bad situation.
Even if you do everything correctly leading up to a race, making it to the starting line is only half the battle. Within the race, there will be scenarios that are beyond our control. When bad races happen, it is best not to dwell. I had to look for the positive outcomes of that run.
My positives: I made it through a race. I didn't quit. Most importantly, I had friends and family supporting me along the way. I think l will make it to a starting line again soon, and hopefully I'll be happy to be there.
How do you pick yourself up after a disappointing race? Tweet me your story @womensrunning.