Girl Talk: 14 Running Resolutions for 2014
Follow this easy advice for setting running resolutions this year!
Heading out the door? Read this article on the new Outside+ app available now on iOS devices for members! Download the app.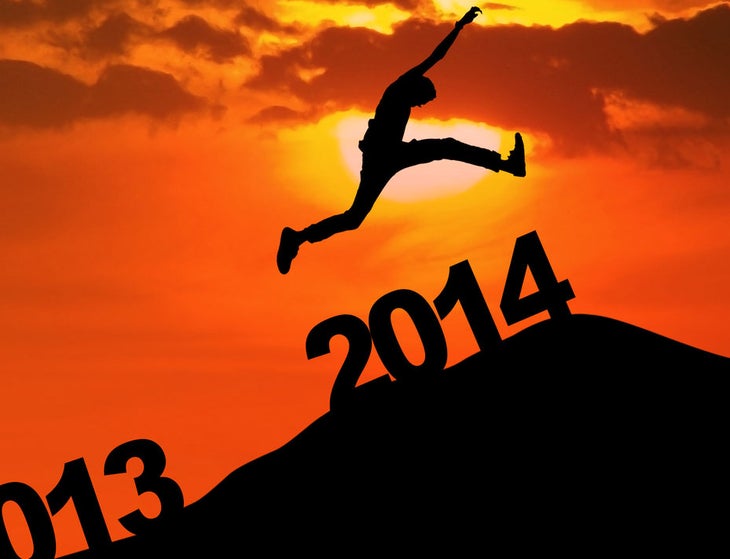 I've always loved the idea of New Year's Resolutions, but I've not always been the best about keeping them. For the first couple of weeks my motivation is soaring sky-high and then reality settles in. Work gets busy, demands at home heighten and before I know it – my good intentions fall by the wayside. Not this year. I'm determined to make 2014 my best year yet by setting meaningful goals using these top tips from the experts:
1. Set realistic goals. I'd love to score a new 5K PR, but I need to be reasonable with the target. My current PR is 22:58 (and that came after A LOT of speed work). Setting a goal of earning an 18:00 5K time isn't realistic with the lifestyle I live, but shaving a minute off my PR time might be. A good goal is one that stretches you just beyond your comfort zone, but isn't so far off that it's unreasonable.
2. Develop a plan. I can't expect to magically meet my resolutions without putting in the work. If I'm going to shave a minute off my 5K PR, having a focused training plan that emphasizes speed will be necessary to reach my goal. A road map to success also helps hold me accountable and eliminates temptation to skip a work-out.
3. Celebrate success. Positive reinforcement is beautiful thing. Find something that motivates you and use it as a reward when you meet your goal. I don't often treat myself to pedicures, but love how indulgent they feel. When I score that new PR – a spa appointment will be waiting!
Using the resolution tips, I've set 14 Running Resolutions for 2014:
1. Earn a new 5K PR – preferably one that starts with a 21:XX.
2. Track my mileage. I love seeing how many miles other runners cover over the course of a month.  Recording my mileage will help my realize the work I'm putting in.  Since I prefer the old-fashioned paper/pencil method – I plan to track my daily miles on my calendar.
3. Recovery rolling. Though I'm a proponent of telling everyone else to use a foam roller after a hard work-out, I often don't follow the advice myself. If I want to achieve my running goals, I need to pay better attention to recovering right – and foam rolling sessions will be key!
4. Drink more water. Bottom line – I feel better when I'm properly hydrated with water. I've made a lot of progress in eliminating soda from my diet and want to continue along that path by replacing it with more water.
5. Run the 2014 Boston Marathon. This year will mark my 3rd time running Boston and I'm hoping to go out on a high note. I've been lucky to run the race for the past two years on a media invite, but haven't had the best results.  I'm looking forward to being a part of the historic event this year and reclaiming the run with the community I adore.
6. And then run the 2014 Big Sur Marathon. This year may be the last I run Boston and if that's the case, why not go for the Boston to Big Sur Challenge? I'll hopefully fulfill my go-big-or-go-home theory and cross both finish lines!
7. Integrate cross-training. Being married to an IRONMAN means I have all of the tools at hand to bike or swim anytime, but I don't often use them. This year, I want to bike or swim at least once a week (an who knows, maybe I'll give triathlon another try).
8. Volunteer at a local race. It's so tempting to run races that I often forget about the amazing feeling volunteering at one ignites. Being part of someone else's journey to the finish line can be just as rewarding as crossing it with my own feet.
9. Find a running buddy. I love my husband and I'm lucky he enjoys running too, but between his busy travel schedule and our differing paces, one of us usually has to compromise when we train together.  This year, I'm going to try out a couple of local run groups in hopes of meeting some new friends. I'll still run with the hubs, but recruiting a new run buddy will give us both some variety.
10. Run my sixth Women's Running Series Half Marathon. I run this race every fall and love the girl-power atmosphere.
11. Inspire someone else to run. There's a teenage girl who lives down the street from me and I often see her running around our block. She's asked me a few questions about running when I've been out, and I think she's curious to find out more. I think I'll invite her on a run this year. If I can have a part in fostering a lifelong love of running for someone – I'm in!
12. Plan post-race pampering. Whether it's a pedicure or a relaxing massage, I want to take better care of my body while celebrating my accomplishments. The allure of a massage might make mile 26 of those marathons a little more bearable!
13. Follow my coach's training plan. Running two marathons in 6 days is a physical feat that will require proper planning. Though I've loosely followed plans before, with my big aspirations this year, I'll need to stick to a plan to ensure I accomplish my goals (injury-free!).
14. Be grateful for each run. I'm a perfectionist and want to see progress after each run, but this just isn't realistic. Instead of focusing on immediate results, I'm vowing to find the positive in each run I enjoy. Even a bad run is a run – which is better than nothing at all. So this year, I'm going to be grateful for the ability to run.
What running resolutions do you have for 2014? Let me know here or tweet me @WomensRunning!