What Fasting During Ramadan Looks Like For A Runner
Cover runner Rahaf Khatib shares how she continues to exercise during 30 nights of fasting during Ramadan.
Heading out the door? Read this article on the new Outside+ app available now on iOS devices for members! Download the app.
The Holy month of Ramadan runs through most of June, which means I will be fasting while continuing my running routine. I realized that there really aren't any rules you must abide by to keep active during Ramadan; most of it is personal preference. You do what your body can do during this time, but I recommend to not start working out or running during this month if you're not already used to a certain workout schedule.
Libyan runner and fellow Michigan resident Mo Hrezi trained for the Olympics during Ramadan last year. He trained twice a day; his first run was right before breaking fast, and the second was during the middle of the night! Its astonishing but doable for a pro runner.
History of Ramadan
The ninth month of the Muslim Lunar Calendar, Ramadan is a special month for more than 1.5 billion Muslims around the world. It is a time for inner reflection, devotion to God and self-control. During Ramadan, Muslims abstain from food, water, sex and smoking from sunrise until sunset. This fasting is intended to bring the faithful closer to God and to remind them of the suffering of those less fortunate. Ramadan is a time where we reassess our lives and re-prioritize where necessary.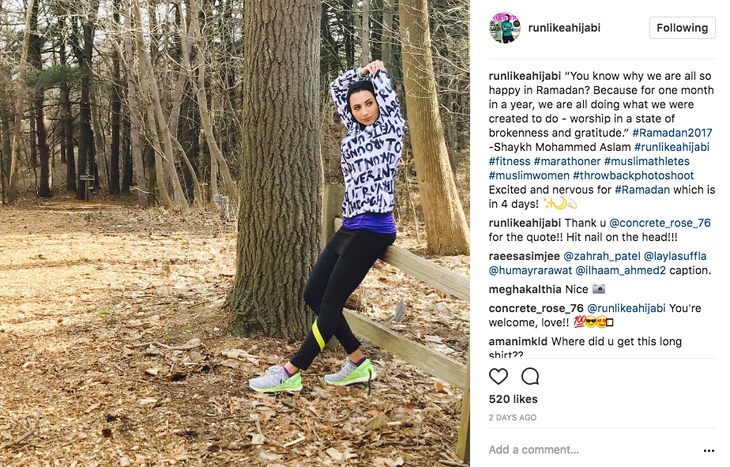 How running and fasting is doable
Many ask how I continue my running routine and workouts during Ramadan after fasting 17 hours a day. This will be my fourth Ramadan as a runner; I have trained for the Detroit Marathon in 2014 and the Chicago Marathon in 2015. In 2016, I was in between training cycles but felt like I had a very strong month of keeping active while fasting—and I definitely felt it in a good way! I've never felt more alive, more rejuvenated and more refreshed in my life than when I was training for a marathon during this time. It helped me fight off the sluggish feeling you get while fasting because I had a goal. I would feel tired and hungry, as to be expected when fasting, but I would take naps when and if I could.
Related: She's Running The Boston Marathon For Syrian Refugees
"The idea behind fasting before the occasional run is to teach your body to burn fat more efficiently. At any given time, we have a lot more available fuel in our bodies in the form of fat, so training the body to use that fuel helps immensely with endurance and aerobic performance," explains Caleb Masland, a coach based out of Boone, N.C., who is a 2:34 marathoner. Sports dietitian and nutritionist Katie Davis adds: "The best time to do these fasted runs is on slow, easy recovery days and sometimes longer, relaxed runs. Workouts need to be chosen carefully. Run fasted during low to moderate-intensity training, when the body's reliance on glycogen is low and the ability to use fat as fuel is high."
Here's what not to do during fasting and running
It's best to avoid hardcore training. Ramadan is not a time for gains but rather to maintain what you've worked on throughout the year. So anything that gets your heart pumping too much is not recommended. Things I avoid while fasting are spinning classes, high-intensity boot camp classes, Vinyasa yoga and speed or tempo runs. These will fatigue you, wear you down and dehydrate you.
Workouts to focus on during fasting
I get my run in before breaking my fast—aka Iftar. This is the best time for me to run, as it's right before dinnertime and I can run for about 30 to 50 minutes, then drink and break my fast when it's Maghrib (sunset) time. Most days though, when I'm preparing dinner, it's not feasible to get my run in. So instead I might run after Taraweh prayers around 1 a.m. at night. This actually works great because I can eat Suhoor (our very early breakfast around 3:30 a.m. before starting our fast for the day at sunrise), then pray Fajir (early morning sunrise prayers anywhere around 4:30 a.m.).
During the day, if I feel I have the energy, I'll join a Pilates or Barre class. Those are low impact, low-intensity workouts that still work the core and major muscle groups but don't cause major sweating.
If I'm feeling worn out, I'll take my kids swimming and swim some laps in pool myself. This is actually quite refreshing; I found this to be a great low-impact workout while fasting. Critics will ask me how is it that you're swimming when you can swallow water during fasting and swimming? But I tend to tell them to chill, I'm not drinking the water to fuel myself or get hydrated, so there is nothing wrong with it.
Running alone at night is something I'm hesitant about, even with a headlight. So I use the treadmill 80 percent of the time during Ramadan, especially since runs can fall around 1 a.m. or 2 a.m. as mentioned. That's how I was able to train for my marathons during Ramadan! Luckily, the long runs during this time were only eight to 10 miles. I personally wouldn't run more than 10 miles during Ramadan.
Fuel to focus on during fasting
I take in as much whole foods, smoothies and electrolyte drinks as I can during Suhoor and throughout the night. I avoid fried and proceed foods, and your metabolism will slow down to compensate for lack of foods and the long fasting days during the summer. You'll take in about 25 percent less food during the last 10 days of Ramadan compared to start. Your body needs less, especially as your body slows down.
Ramadan is time of intense prayer, opening of hearts and deep devotion to God. Our stomachs are empty during the day and our arteries are detoxed from wasteful foods. Its a lot like running a marathon; the last 10K you feel the most depleted. This is like the last 10 of the 30 nights during Ramadan. The energy is low, but the hearts are strong and passionate, filled with determination and longing to cross that finish line. Fasting 17 hours a day makes some people scared, nervous and intimidated even. But it's one of the most humbling act of worship my body has ever experienced. I can't believe how little I actually need, both figuratively and physically.
The first week is definitely a struggle, but our bodies quickly adopt to the decreases in food intake. I do find myself at a better spiritual connection when keeping active.