Doping Allegations Rattle The Running World
A Q&A with David Epstein, reporter who shared allegations against the Oregon Project training group.
Heading out the door? Read this article on the new Outside+ app available now on iOS devices for members! Download the app.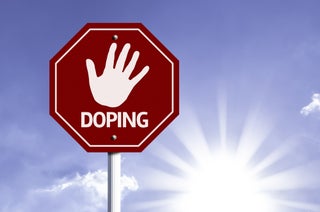 Last week, the running world was stunned when Pro Publica released doping accusations against coach Alberto Salazar. The barn burner of a story reported that Salazar, arguably the most important coach in distance running, had encouraged the use of performance enhancers to help his athletes cheat. Former Nike runners once coached by Salazar came forward, including Kara Goucher, who attested that the man who was formerly "like a father figure" had pressured her to take prescription thyroid medication she didn't need in order to lose weight.
Reporter David Epstein, who collaborated with BBC investigative reporter Mark Daly on the piece, interviewed Goucher for the piece and she told him:
"For years, he was a super important person in my life. I mean, I literally loved him. I loved him," adding that she hadn't come forward previously because, "I was afraid to say anything."
Epstein has shared that he started reporting this story in late 2014. We spoke with him to find out more about his findings—and what he learned from connecting with Goucher.
As you were reporting on this story and researching the athletes who had chosen to speak out against Salazar, were you surprised to see Kara Goucher on the list?
I wouldn't say surprised, as I've pursued investigative stories in a number of sports and I've talked to a lot of athletes about difficult topics, but I do think it's a pretty rare occurrence to have an athlete who is as prominent in her sport as Kara Goucher speak on the record about any highly controversial situation at all when there really was no particular need to do so. It's a personal risk, which is of course why a lot of stories on controversial topics have only anonymous sources. I mean, you can look at reports from sports media outlets about which player might be traded to what team or who got upset in the locker room yesterday, and it's all anonymously sourced. So here you have a much more consequential topic, and the Gouchers can't control the outcome once Kara says what she has to say. It really is a risk, but if we were going to report what she had to say, it was going to have to be on the record.
Related: Doping And Drugs In Women's Endurance Sports
Your reporting mentioned Kara's pain in deciding to speak out against her former program. She also seems frightened by consequences. Do you think there may be any 'consequences' on the horizon?
I think without a doubt there are consequences at least in terms of her public image. I don't recall her ever having said anything particularly negative about anyone publicly before, so it has to have some impact on how people view her, whether for better or worse. Professional athletes are obviously public performers, and in running an athlete's image off the track or roads can be a pretty important—even dominant in some cases—source of their living. So just from looking at reaction from running enthusiasts right away, you could see a pretty heated mix of hearty support with others who were offended that she would say anything negative about a team she was part of and chalk it up to jealousy. But there was far more support from what I saw. Compared to other investigative stories I've done, in or out of sports, there has seemed to be a lot less 'shoot the messenger' so far on this one. So I think that's really good. But there's always some of it. There are always accusations that anyone who talks has an agenda. I suppose that's kind of true. Everyone tells their story for a reason, but sometimes the reason is just getting an important truth out for public judgement. As to whether there will be long-lasting career consequences for Kara, I really don't know, and neither does she.
Kara specifically mentions that having her son played an indirect role in her discomfort. Was there anything else you discovered, besides the mentions to take Cytomel, that may have put pressure on Kara—either while pregnant or in the time shortly after?
We reported what we felt was strongly corroborated and relevant to the current story.
You are no stranger to pieces that carry a bit of controversy (highlighted by the former lawsuit threat you received from Lance Armstrong). How was reporting this doping story different?
I've reported controversial doping stories in baseball, pro and college football, hockey, golf, and a number of Olympic sports. But I have never experienced the level of outrage over doping and aggressive medicine from the athletes themselves as I have recently talking with runners. I think the athletes have reached some sort of boiling point. Whether that's because of the damage done to the sport, their sense of fairness, or not wanting to have to experiment on themselves with drugs they don't need, there's just a groundswell of anti-doping and even anti-aggressive medicine sentiment. The women's European 10K champion openly called for thyroid hormone to be banned. I can't ever remember an athlete in any sport asking for a drug that isn't currently to be put on the banned list because of how it's being abused. Maybe it's happened, but if so it must be incredibly rare since I can't think of another instance right now. That's kind of amazing. For most of sports history, omertà has been the rule among athletes when it came to doping. So something is going on here, and I think it deserves recognition.
Did you have any hesitation about doing this reporting? What do you hope this will do for the sport overall?
I don't find it enjoyable, if that's what you mean. I love the sport of running. Obviously, so do people who spoke both on the record and on background for the story. I can't say I have a particular hope for the sport as far as what comes from this. But I think it's important to have the community of people who have a stake in the sport discuss difficult issues and decide how to feel or what to do, if anything. There's an absolutely tremendous amount of discussion in the running community about doping in distance running every single day, and nearly all of it stems from anonymous online rumors. I think it's better to attempt to corroborate facts and also to allow people who are affected to respond to them.