Don't Sell Your Workout Short Based On Your Mom Schedule
We commend mother-runners working with those mom schedules, especially those hitting the training grind to make it to that goal race.
Heading out the door? Read this article on the new Outside+ app available now on iOS devices for members! Download the app.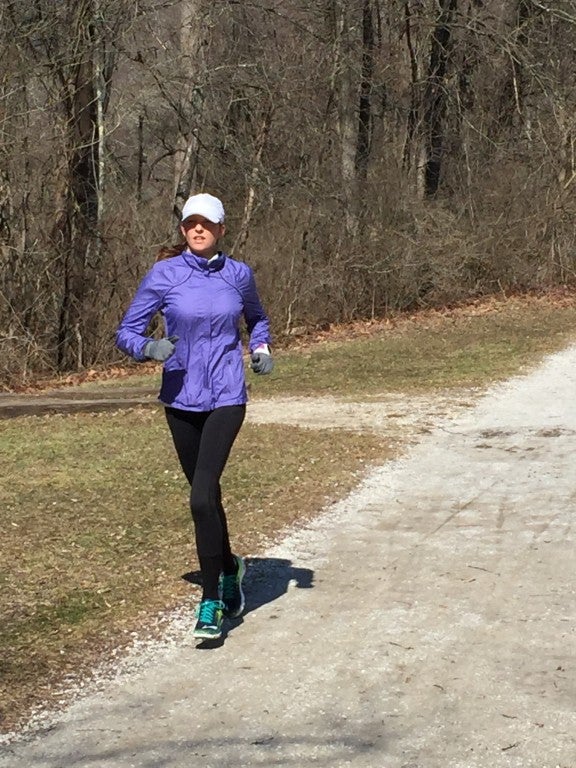 This is part of an ongoing blog on Womensrunning.com from Kim McDevitt, who previously posted on training to run the Boston Marathon postpartum.
Sleep.
At this point in my life the subject matter is laughable. My four-and-a-half-month old little girl is still not sleeping through the night and I'm fairly certain that between being extremely uncomfortably pregnant followed by having an infant, I haven't had a good night's sleep in close to half a year. It gets better right?
Sleep IS Important!
Sleep is one of those topics that, when reading about it now, completely stresses me out. Because while I know ALL the benefits of a good night's sleep, from relieving stress, to your skin, to weight management, I also know that at this point in my life getting the recommended amount just isn't happening.
Sleep is also really important for muscle repair and recovery. In fact, adequate rest in general is what allows us runners to ramp up our training and push ourselves harder, faster and stronger in subsequent workouts.
That said, I think there's an unwritten rule for moms. The universe knows that for a set amount of time in our lives we have to operate on less sleep, and thus allows us to find energy elsewhere and carry on our busy schedules with only a slight hiccup here or there.
Don't get me wrong, I'm not trying to diminish the importance of rest or sleep, especially when marathon training. And if you're a nursing mom, you need to remind yourself that your body is working even harder. But if I told myself that I would only be able to hit certain times or make certain workouts after a good night's rest, then training for a marathon would be laughable, forget about qualifying for Boston.
Related: The Dramatic Effect Of No Sleep On Running
Don't Sell Your Run-Potential Short
After a particularly challenging week of family and travel, I woke up with a lot of doubt between me and my Wednesday workout. But as I got out there, I actually found myself with more energy and a little fire lit under my butt. And I realized that while sleep is undoubtedly important, sometimes our minds trick us into thinking we're limited more than we are just because we didn't get a solid, uninterrupted eight hours of it.
Related: 5 Ways To Deal With Mental Demons
So, not all the time, but on those particularly sleepless nights and challenging weeks, think about your workouts like this:
Acknowledge your exhaustion.

If you're feeling slightly sick or just can't handle the thought of running, allow yourself to push your workout back a day. That is okay too.

Shift your mental focus

. Tell yourself this run is time for YOU. It's a run that won't make you more tired but actually give you the energy you need to face what happens the rest of your day.



Don't sell yourself short.

It's so easy to look at run times and convince ourselves that we are too tired to hit them. Just get out there and give it your all. Sure, sometimes you won't hit them but a lot of times you will.



Be proud of your badass mom-self who is running races and chasing dreams and raising babies all at the same time.
Kim McDevitt is National Educator for Vega and a Registered Dietitian, specializing in sports nutrition and lifestyle optimization. Work with her at kimmcdevittrd.com or  find daily support through social @foodierunnergrl.