Scientists Call Running Terrible Exercise For A Surprising Reason
If they studied 1,000,000 runners, does it still have to be true?
Heading out the door? Read this article on the new Outside+ app available now on iOS devices for members! Download the app.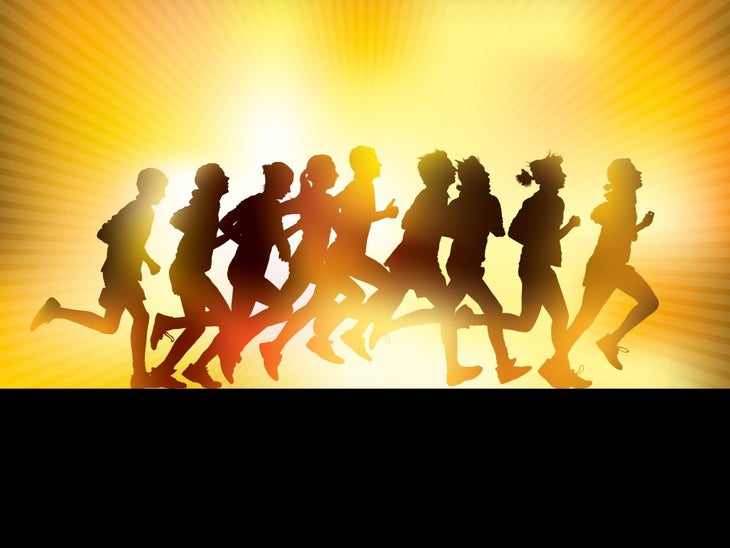 Just when running seemed to be booming for its third time, scientists at Tempos University discovered the striding down the street, wind in your hair, smile on your face, is actually the worst possible exercise you can do for your body and mind.
What? But why?
"Our study of 1,000,000 runners worldwide found that the act of running creates the same chemical feelings in the brain as doing certain illegal drugs and substances," explains Dr. Fartlek M. Speedplay at Tempos in Sweden. "It makes you feel high—the 'runner's high' that most called it—and we worry about the fact that 80 percent of our subjects did not return from their high. They just kept running and wanting more."
Related: 35 Thoughts Every Runner Has During Her First Race
Speedplay and his team of scientists say that, since the sport is being encouraged more and more at an earlier age through PE and youth programs, it will become harder to break adults of this bad habit. His main concern was the staggering amounts of happiness it provides, saying that "people should not be this happy when doing any activity. It's unrealistic and not an accurate depiction of how life should be."
Another concern that the group of scientists, none of whom have ever run themselves, shared was that running creates an obsession with the idea of numbers, whether it be pacing or time spent running. "Some of the greatest brains in history became sickly obsessed with numbers, and they literally went insane over them. The likelihood of this happening to runners is extremely heightened every time they step out for a run."
Speedplay was inspired to do this study after he watched his sister finish a marathon and appear extremely satisfied and overjoyed with her accomplishment. Having studied human behavior and having taught sociology classes at Tempos for 20 years, he could not fathom how this level of euphoria should or could be possible after running for four-plus hours, for that far of a distance.
Related: 5 Ways My First Marathon Changed Me
"It doesn't make sense. The general public is ignoring the fact that millions of runners are making this same mistake and celebrating it. If one does it, they all do it."
Speedplay is definitely aware of what he's up against, making such brash claims against a sport that is more widespread and popular than ever. However, he knows in his heart that the brain simply cannot handle this level of endorphins and elevated dopamine for an extended period of time.
"The false interpretation of satisfaction and happiness is blocking the normal human process of feeling and acknowledging physical or emotional pain," expresses the scientist. "People are so misled every time a friend encourages them to run. They even warn friends that, 'It's addicting,' which is the main problem here! But for some reason, people still hop on the bandwagon and start running. I guess if running is legal, narcotics should be too."
Subjects of the study encouraged Speedplay and his team to give running a shot, even offering to purchase their shoes and accompany them for a 2-mile jog around the lab. Speedplay declined, saying that he prefers to "be drug-free in every aspect of his life." The subjects also attempted to argue that the happiness from running doesn't replace the physical pain, but rather overrides it and makes it less taxing, to which Speedplay responded: "That's impossible."
While it remains to be seen how this massive study will impact the running economy, it's definitely something to consider. Mega races, like the Rock 'n' Roll Marathon Series, however, have a slightly different interpretation of the findings.
"This study proves what we've known all along, that the experience of crossing a finish line is a toxic elixir of elation and achievement," said Dan Cruz, spokesman for the Rock 'n' Roll Marathon Series, who says the races actually celebrate this elated state and suggests that runners can actually enjoy themselves and still live a proper life afterward. "This study confirms it—the 'runner's high' is real. We must continue to provide a comfortable—yet rockin'—atmosphere for our finishers to come down from their off-the-charts runner's high."
This study was published on April 1, 2016 and still holds true as of April 1, 2017.