Dear Runner—You've Got This, And Here's The Letter To Prove It
Why one runner writes herself a love letter before her big races.
Heading out the door? Read this article on the new Outside+ app available now on iOS devices for members! Download the app.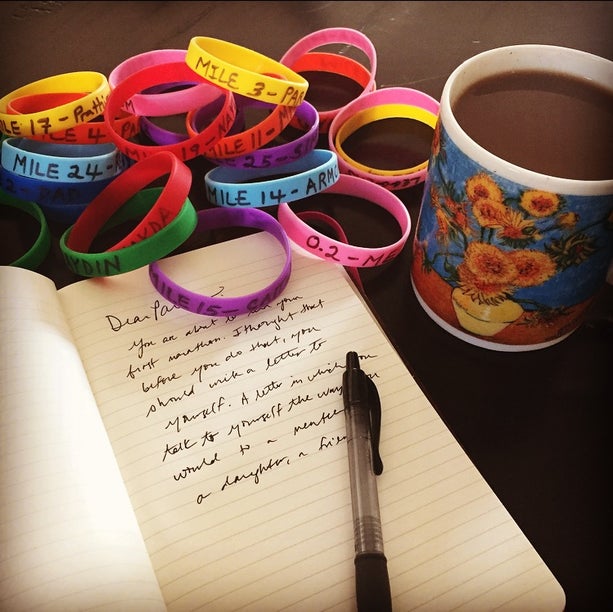 When I entered the taper period just before running my first full marathon, I decided to write a kindness letter to myself in which I spoke to myself the way I would to a friend. Whenever someone close to us is facing a new challenge or a new stress, we are always full of encouragement for them. Yet for many of us, when it comes to ourselves, we are quick to engage in negative self-talk and be critical at the first sign of what we consider a failure.
Related: If You Had A Marathon Shower, This Is Your Registry List
What if we gave ourselves the same words of reassurance we would if we were talking to a sister, daughter, friend or a partner? Writing myself that letter took the pressure off of any expectations that I had for race day, and so today, I'd like to write a kindness letter to you as well:
Dear Fellow Runner,
You are about to run your first 5K, 10K, half marathon, full marathon or your first Boston Marathon. You have invested a lot of time and miles into this venture, and I'm here to let you know that no matter what happens on race day, you have already succeeded. I am proud of what you have done. The real work behind any race is not the race itself, but all that you have done to get yourself ready for the starting line.
In getting yourself from couch to whatever point you are at now, you have made so many sacrifices. You've woken up well before the crack of dawn to get your run in before going to work or taking care of your kids. You've missed social events and happy hours to be hydrated and rested for your runs. You've cross-trained when you didn't want to. You got out there in weather that was either too cold, too hot, too wet, too humid; or you logged countless miles on that dreaded treadmill.  You spent so much time getting to know your foam roller that you transformed that weapon of torture into your best friend. You swallowed every flavor of sticky, salty sports gel until you figured out which one won't lead you to immediately hurl. And you read every race training- and prep-related article to the point that you could now write a PhD dissertation on it. You didn't just have the time to get ready for this race, but you made the time for it.
On race day, there will be factors that you will not be able to control, but you have done everything that you possibly could to get yourself prepared for the big day. In this final taper period, don't question yourself or the training that you have done. Trust in yourself and your preparation, because I certainly have trust in you. You have accomplished what most people do not have the discipline or the commitment to do, so just know that you have succeeded. Getting yourself ready to be at that starting line is the main event, and you have already accomplished it. If you just show up to the starting line, and run with your heart instead of your legs, then I already know the outcome, and it has nothing to do with whether you meet your A, B, or C goal, or whether I see you at the finish line. Showing up each and every day, that is all I expect from you.
So do me and yourself one last favor…one last preparatory step…..before you pin your number on your chest, before you double knot your laces….grab a piece of paper and pen, and write a letter of kindness to yourself.  I'll see you and at the starting line.
Your fellow running friend.
Related: Dedicating My Marathon, Mile By Mile