Was The Run A Commitment To My Daughter—Or Myself?
Was the commitment to run an 8K to herself or her daughter?
Heading out the door? Read this article on the new Outside+ app available now on iOS devices for members! Download the app.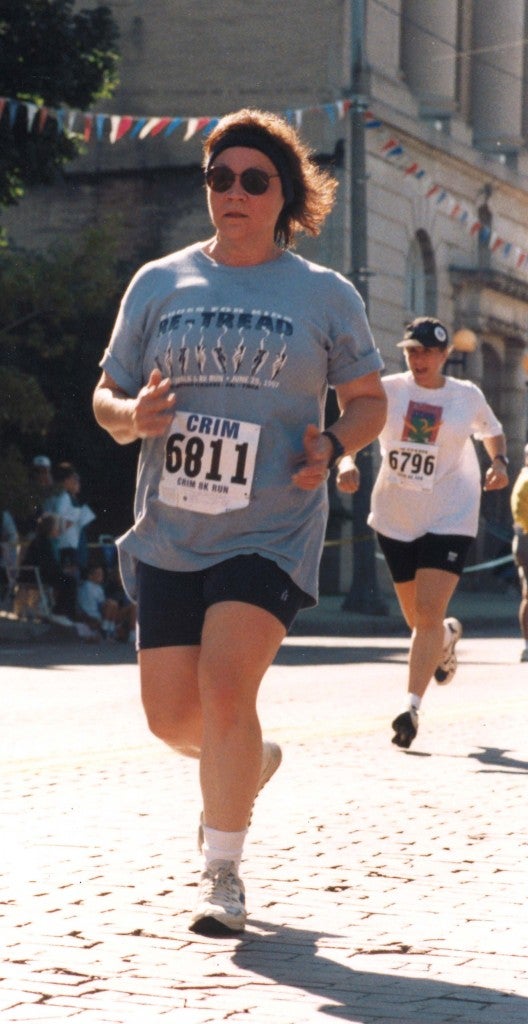 I was determined to make a positive lifestyle change and shed my extra pounds forever.  So my teenage daughter, Laura, challenged me to run in the Crim Festival of Races with her the following summer.
"Sure," I said, immediately followed by the thoughts "Oh, no—now, I have to do it."
The Crim Festival of Races, now called the HealthPlus Crim Festival of Races (Crim), is an annual event with several races and walking events in Flint, Mich.  This event attracts more than 14,000 participants from around the world, which includes Kenya, Russia and the Ukraine.  The racing events are the one mile, 5K, 8K, 10-mile and the Teddy Bear Trot.
Laura, who ran on the high school track and cross-country teams, suggested we run in the 5K race. She challenged me in October; the Crim takes place in August; so I planned to start training in June.
Related: This Runner Qualified For Boston With Her Daughter By Her Side
In the meantime, I told anyone who was willing to listen about my plans to run in the Crim. I figured the more people I told about it, the better my chances to make good on my challenge. Laura was embarrassed because she witnessed the rise and fall of my many diet and exercise programs. She believed my plans to run in a Crim race wouldn't materialize.
Determined to keep my word, I started my version of training earlier than expected: in December. Originally, I put my time in on the treadmill for 30 minutes, four times a week. My sedentary, overweight body refused to do anything that resembled a jog. Remembering my promise to Laura, and the running news I told friends and family, I swallowed my pride and settled into a comfortable walk.
I pushed myself to move faster and farther every week. Eventually, I spent 1 hour on the treadmill, five times a week. Before long, my walk grew into a sweaty, delicious jog. After the weather warmed, I ran outside—6 miles a pop, five days a week. It took me 50-55 minutes.  And I actually enjoyed it!
Five months ahead of schedule, I joined the crowds and ran in weekend races that were sponsored by local businesses. By this time, my commitment changed. I ran for me and my consistently improving running marks—not Laura.
The weekend races proved to be a lot of fun. There was excitement in the air—a positive energy. Who knows, maybe that came from me?  I saw familiar faces from previous races. One woman, new to running, arrived each week with more family and friends to participate in the race.
Related: 35 Thoughts Runners Have During Their First Race
Regular race participants included a man holding a black and white POW flag, a man dribbled a ball while running, and another man ran while wearing a prosthetic leg. Then there was the woman, who was excited to return to running after finishing chemotherapy treatments.
The races weren't just about running and racing times. The atmosphere seemed to celebrate life, community and health. The races were fun, weekly social events. It felt like being in a stress-free zone, except for some minor disappointment at the end of the race. That's when some runners looked at their race times and said they could have done better if only…
By the time the Crim Festival of Races arrived, I had run in eight weekend races and accumulated eight running bibs and official race shirts. I subscribed to a running magazine, wore out my first pair of running shoes, and I enjoyed an unexpected surprise. While doing my training run at a junior high school track, some members of the U.S. Army Reserve joined me.
But running in the Crim was the high point of the summer. After all, that's why I started running. As agreed, Laura ran in the 5K race, and I ran in the 8K race.
Lining up at the starting line with hundreds, maybe thousands, of running enthusiasts felt exhilarating. Family, friends and enthusiastic spectators lined the streets to cheer us on. And some thoughtful people ran their lawn sprinklers on the curb to provide us opportunities to run through water sprinkles on that hot, August day.
Related: 6 Tips to Make Running in the Heat (Much!) Easier
That day ended on an high emotional note.  Me—a non-athlete—regularly ran 6 miles at a time and considered weekend running races fun. I achieved my goal of running in the Crim and have an official 8K Crim racing shirt to commemorate that day.
I continued running in the weekend races through October. When the Michigan weather cooled, the days shortened, and I retreated indoors to run on the treadmill.
Then Laura invited me to join her in the Jingle Bell Run for Arthritis, which takes place at the end of November.
"But it'll be cold," I whined. "What if it's raining, or worse yet—snowing?"
"You'll be fine," Laura said.  "The worse that will happen is you'll be a little numb."
Reluctantly, I submitted our registrations forms, thankful that Laura isn't interested in running marathons.
Michele Sprague is the author of the book, Single Again 101, and wrote hundreds of stories for corporate magazines and newsletters.  Michele earned a bachelor's degree in Communications from the UM-Flint, and lives in southeastern Michigan.