What It's Really Like Dating All Types Of Runners
One runner experimented with dating runners and non-runners and learned what to expect from athletic and non-athletic personality types.
Heading out the door? Read this article on the new Outside+ app available now on iOS devices for members! Download the app.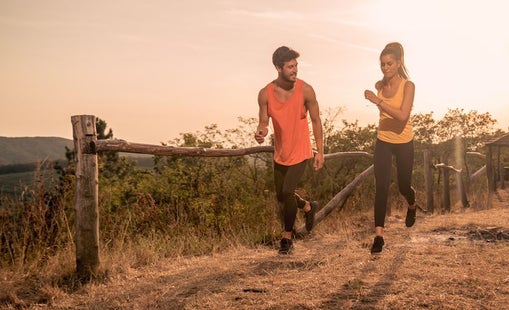 Over the last year, I have experimented in my single-dom by dating throughout the spectrum between fellow runners and non-runners. I would even say that I have dated "anti" runners. Here are some of the pros and cons on the wide variety of humans I've encountered.
Related: Should I Go On A Run–As A First Date?
"If You Can Do It, I Can Do It"
I always try to encourage the people I date to join me for 3- to 4-mile runs. I figure this distance offers the perfect amount of time to enjoy each other's company, not hit the pain cave or smack them with too much sweat, and trot along at a conversational pace. I had successfully convinced one prospect to go for these short runs with me on weekends when he decided that he could do more. He promptly signed up for a half marathon (one that I had already signed up for). Our longer runs became painful for me, as the complaining became incessant. He also made comments that indicated he was planning to run with me. That is so sweet…in theory. I found it to be a huge con, as he basically assumed that, with very little training, he could be just as fast as me. I'm always down for a pacer, but don't forget how much effort I put into my training!
The "Fit" Man Or Woman
These people run occasionally, just to stay in shape. They might throw your alarm off the bedside table when it goes off before sunrise 80 percent of the time; the other 20 percent, they're down for a good old fashioned morning sweat session. Pro: If they're into other sports, lifting or cross training, this could be a welcome change of pace. And hey, hitting snooze isn't the worst thing. I've gotten great lifting and ab routines out of this and I've consistently kept at it…until the relationship ends, of course. (Clap pushups? No, thank you.) Con: There are too many snoozes that get you out of the routine you love. Adding cross training into your routine and cutting back on running can be awesome, but make sure you stay true to what makes you happy. Partners may come and go, but your run crew will always have your back!
The Marathoner
With this person, the dates are mostly runs…and long runs, at that. In my case, a third date turned into a 20-mile run. This takes a lot of trust in someone to 1) go at a sustainable pace, 2) watch you snot rocket, spit or accidentally fart, and 3) listen to you complain and/or sugar crash and still want to grab food afterwards. When your dates start to just be about morning runs, this eliminates opportunities to grab beer or dinner later. If the runs take place in the evenings, you have to be okay with grabbing drinks after the run while still sweating or smelling badly. In my case, this has only resulted in a case of the dreaded "friend zone." I don't know that I'd want to run for three hours with anyone I'm seriously trying to date. I also learned that my long runs are not for early dates, as I tend not to filter a darn thing.
The Non-Runner
On the first few dates with anyone new, I like to probe to see if there is even the possibility of being that couple that does fun 5Ks together–but mostly for the free beer and dancing after the race. I have learned that most guys will not say no to this because 1) they are trying to impress me and 2) I said the words "FREE beer." These romantic interests become "anti" runners when months have gone by and, though they've let me help them pick out running shoes, they still haven't signed up for the race we've been preparing to run. I actually find these people super valuable, because they allow me to keep running for myself. They also may think that any time you run (whether you PR or not) is ridiculously impressive. If this non-runner never showed up to a race or failed to acknowledge how hungry and tired I tend to be after long runs, I'd be waving #BoyBye very quickly.
My Conclusions 
I don't think one type of romantic prospect is better than the other—it's all a matter of personal preference. Are you looking for a new running buddy, or do you already have a solid sunrise crew to tackle the miles with? Are you super competitive, or would your ego be impacted by a side-stepper? Either way, your partner should be able to support your passions. That may mean holding a sign at mile 20 of a marathon, buying your beer after a race or running alongside you from one day to the next. In the meantime, I'll keep stalking and idolizing Desi and Ryan Linden on Instagram.
Related:
9 Things To Know Before You Date A Runner
5 Runners Share Stories Of Run Dates Gone Really Wrong