Cover Model: Olympian Sanya Richards-Ross
Forget Ryan Lochte. Sanya Richards-Ross was the first Olympian to land her own reality show. Read our interview with the elite runner here!
Heading out the door? Read this article on the new Outside+ app available now on iOS devices for members! Download the app.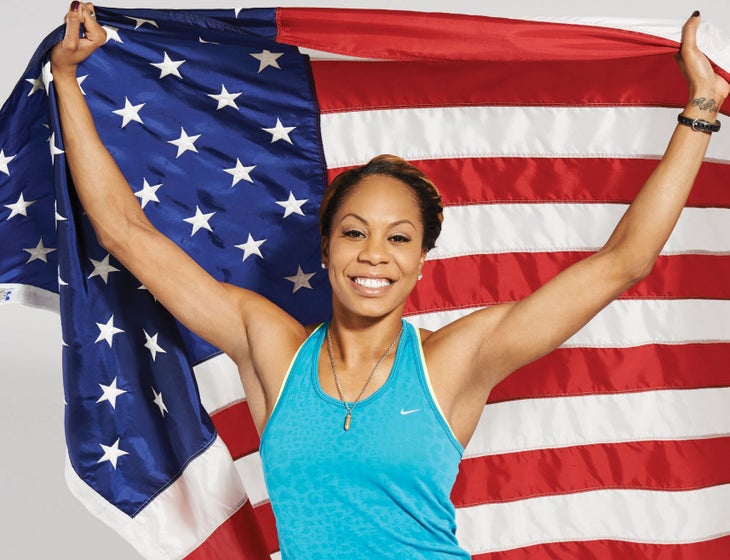 Forget Ryan Lochte. Sanya Richards-Ross was the first Olympian to land her own reality show. WE tv picked up a show about the 28-year-old track star and her NFL cornerback husband, Aaron Ross, before the 2012 Olympics had even ended. While it was a bit of a struggle for Richards-Ross to persuade Aaron to go down the Lamar Odom path and submit his life to the cameras, she says her whole family ended up loving the chance to become their own version of the Kardashians.
Reality TV isn't the only place the Jamaican-born runner is breaking ground. Richards-Ross is the current American record holder in the 400 meters (she moved to the United States at age 12) and the second U.S. woman in history to win Olympic gold in this distance. Add that to the many medals she's already won (three golds from relays and one bronze from  a solo effort) and you have one blinged-out sprinting career.
But Richards-Ross shows no signs of slowing down, on the track or otherwise. She now runs a beauty business with her sister, travels the country for appearances and manages bi-coastal relationship with her husband— all while gearing up for the next round of races, including the 2016 Olympics in Rio. Despite a crazy schedule, the stylish star is known for keeping her hair, clothes and makeup in check. "If you are a female that loves beauty, loves fashion, likes to get your nails done and your hair done, that doesn't mean you can't be a great athlete!" she says.
Here's how she gets it done while looking fresh every step of the way . . .
What are you training for now?
This year we have our World Track & Field Championships in Moscow and then in 2015 we'll have [another] World Championship and in 2016 we have the Olympic games again. Between that, we have competitions all over Europe, so there's always something to be training for, something to look forward to! This year I had a surgery on my toe so I'm a little behind on my usual competition schedule, but I'm still gearing up and getting ready.
Why did you have surgery on your toe?
I've had an injury to my right big toe for about four years that has progressively gotten worse. I don't have as much space as you should in between the bones and so it would rub and cause excruciating pain every time I would run. They went in and shaved the bone down so I could have more range of motion, but it's been a long journey of recovery.
What's your training schedule like now?
I wasn't able to run on the track for the first few months [post-surgery]. So I've just recently been back on the track training and preparing. I do weights three to four times a week, and then I do my core work, rest and eat well. It's a full-time job!
What do you think about while you're running around the track?
I don't think about a lot during a race. We have about a 45-minute lead-up to our competition when we're going through the process of checking in, putting our numbers on, and being moved from station to station. I think about a lot of things then, about executing a race, what my coach told me and all of the work I've done. But when I get on the blocks and the gun goes off, I'm really just trying to stay present and in the moment and to give my best.
Do you have superstitions?
Just one. I have a bullet necklace that my mom gave me when I was in the seventh grade. She told me I was faster than a speeding bullet and so I wear it to all of my competitions as kind of my good-luck charm.
What do you do on days when you just don't feel like running?
On days when I'm not motivated or inspired, I have my dad and my mom, they're my managers, and my dad comes to every workout with me. So if I'm a little bit down, he can always say something to inspire me in that moment to dig deep and give my best.
What's the biggest running challenge you've overcome?
The first one would be, I struggled with a rare autoimmune disease for almost eight years. I started to have really severe mouth ulcers and skin lesions and joint pain and fatigue. It was a really tough time because I went to seven different doctors before I was finally diagnosed. Then, the disappointment of the Beijing Olympics. I was touted to win the gold medal there and when I won bronze. It was a really hard pill to swallow because I had worked so hard and won every race that year except for that one. That was a really difficult time in my career to bounce back, and still believe that I could win Olympic gold eventually.
How did you overcome those challenges?
I have strong faith, and I believe in God and I believe in His plan. Even though it's hard sometimes in the moment when you don't understand, you try to stay prayerful. Also, my family, they were there the whole time lifting me up and encouraging me.
Do you think there are added challenges to being a female runner?
There is still a difference for sure in the pay scale. We don't always get paid as much as our male counterparts. But I've never felt discriminated against in any other way. I've always been received well by the companies I work with and with the fans. I'm just so happy for the women that came before me. Those women really allowed us to benefit because they went through a whole lot.
You've said being an athlete doesn't mean you have to sacrifice your beauty as a woman. What do you mean by that?
Growing up, I always felt that in order to be taken seriously as an athlete, I had to be a tomboy. It was like, there were the pretty girls and then there were the athletes. As I've gotten older, I've felt like that's not true. If you are a female who likes to get your nails done and your hair done, that doesn't mean you can't be a great athlete! And so, I've just embraced that part of my personality. I put my makeup on before I go out to run and I feel good, look good, run good—that's kind of my mantra.
What's your style like while running?
I don't have a full face on, but I wear my eyeliner, some mascara, a light shadow and lip gloss. I always have my hair nicely done. My sister and  I have our own line of hair extensions. I experiment with different looks.
Do you think it's easier or harder to be married to another athlete?
I think it's easier. He really understands the commitment and the dedication it takes to be the best. If I had been married to a man who wasn't an athlete, maybe he wouldn't understand why I need to get to bed early, or why I need to do 1,000 sit-ups, or why I choose my vegetables. But my husband totally gets it.
Do you ever train together?
We have periods of time where we train together, especially in the weight room. My husband doesn't really like to run on the track with me [laughs].
Because you're faster than him?
After 150 meters I'm probably faster than my husband, but I think it's just because he has no desire to run further than that [laughs]. But he is definitely quicker than I am, I just have better speed endurance.
Do you think about having children?
Yeah, we defi nitely want to have kids. We said maybe after this Olympics, and now it's maybe after the next one, but I'm just going to go with the fl ow and see what God has for me. Whether it's next year or if it's 2017, we're going to be excited.
Will you continue to run after you have kids?
If I were to have a child next year, I would want to run [professionally] after. But if we wait until after the next Olympics, I'm pretty sure I'd just start my family and hang up my spikes. It all depends on timing.
Tell us about your reality show.
It's called Sanya's Glam & Gold. The show is really focused on my life, how I work with my family. My mom and my dad are my managers, my cousin Yolanda is my publicist, and my sister and I have a salon together. Then of course there's my husband. I push my family really hard to keep up. I'm hoping that everyone will enjoy it as much as we enjoyed making it.
How did the idea for it come about?
I wanted to do a reality show probably for about four years. After watching shows like the Kardashians and Run's House, I thought that we could bring something unique, having a Jamaican background, and my husband and I both being professional athletes.
Was it ever hard to have cameras around?
Not for me! I enjoyed it, but I'm a little bit different I guess. I wanted it for so long, and I enjoyed the process of opening up my life and sharing what makes me successful and what drives me crazy. ■