Cover Model: Jennifer Love Hewitt!
Jennifer Love Hewitt, star of The Client List, dishes about body image, ba-donk-a-donks and running a half marathon with bum knees.
Heading out the door? Read this article on the new Outside+ app available now on iOS devices for members! Download the app.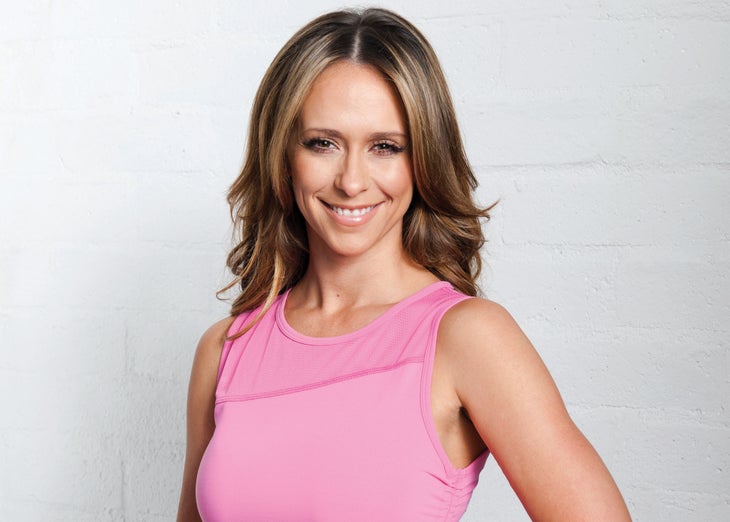 Jennifer Love Hewitt, star of Lifetime's The Client List, dishes about body image, ba-donk-a-donks and finishing a half marathon with two bum knees.
It's only 8 a.m. and I have already seen Jennifer Love Hewitt in her underwear. Five times to be exact. On my way to meet the actress at a photo studio in Los Angeles, I pass by nearly half a dozen billboards on which the actress is reclining, larger than life, in no more than a bra and knickers.
The sultry signs are promoting the second season of Hewitt's Lifetime show, The Client List, but they clearly also provide some workout motivation that's tough to beat. And when I finally meet her in person (fully clothed of course), I soon discover Hewitt is highly motivated.
The 34-year-old actress and half-marathon finisher finds time to run despite starring in her show about a single mom who takes a job as a "happy endings" massage therapist. On the morning of our interview, she has already been up for hours talking with radio stations and was next off to record music for upcoming Client List episodes. On top of that, she's squashing Internet rumors—for the record, she doesn't have plans to either freeze her eggs or insure her breasts—and keeping in touch with her nearly half a million Twitter followers.
Exercising is crucial for Hewitt, and not just because the majority of her Client List wardrobe consists of lingerie (although that helps, too). She has been criticized for her body in the past, so the actress says taking time for herself to keep in shape is essential to feeling comfortable in her own skin.
You're in some pretty daring billboards for The Client List. Did you do anything special to get in shape for those?
Jennifer Love Hewitt: When it's billboard time, I kick it up a notch. I try to mix up my workout routine a little bit. The more that you can surprise the muscles every day with different movement, the better the results.
What do you do to mix it up?
JLH: I do yoga, a little bit of Pilates and obviously running on an incline is great. So I try to go back and forth between all those things.
The show itself is steamy. How did you decide you wanted to do it?
JLH: I did the movie The Client List for Lifetime three years ago, and the story seemed to hit home for people. We thought it was really interesting, and thought it would be a fun thing to play around with that storyline and see how far we can push it—what the double life of a mom and a happy endings specialist would look like. It seemed economically to be relevant for where we were and the situations that people find themselves in. So we just thought, we'll give it a try and see how it goes and people have really responded to it.
How do you fit in running while filming?
JLH: It proves to be difficult on some days, but I have to do it because lingerie is my primary wardrobe on the  show! We have a gym trailer at the set, which helps a little bit for breaks. And then it's doing it when I get home. So you just have to find pockets of time.
Why did you start running?
JLH: My mom was a runner. I enjoy running, but she was a runner. She loved it and was able to go miles and miles and miles, you know, was crazy about it. The first time I did a big run was the Rock 'n' Roll Half Marathon Los Angeles [in 2010]. It was a blast—I absolutely loved it. What you put your body through is incredible, how sore you are the next day is quite crazy. But the benefits of it, cardiovascular-wise, body-wise, toning-wise, all of that, there's nothing really that gets you in shape like [a race].
So did you run as a kid?
JLH: Oh no, I only started a few years ago. I've always been a dancer, but I started running as I started getting a little bit older and needed to kick it up a notch.
How did you decide to do that first half marathon?
JLH: I'd read about it and my mom had done marathons so I thought, Okay I'll give this a try and see how it goes. I did absolutely no training for it. On the run, people were like, "So how long have you been training?" And I'm like, "I haven't trained. I just wanna try it!" And they're like, "You're an absolute crazy person." I blew out both of my knees in the fifth mile, and had to keep continuing because I didn't want to give up. But I loved it and learned a lot—the importance of how to train properly, getting the right shoes, all of that stuff.
Do you run outside or on a treadmill?
JLH: I usually am on a treadmill, honestly. I just find it's harder on my knees to run on the pavement, so I'm more of a treadmill girl.
Where do you like to run when you go outside?
JLH: I'm sort of weird. I think I would do well in New York because it's usually on a city street. I'm not a big go run by the ocean kind of person, which I probably should be, given the fact that I live in Los Angeles. But I like to be distracted and see life happening around me.
Do you run by yourself or with other people?
JLH: Usually by myself with my iPod on. It's my time to not be with people. Also, then when I'm winded and have to stop, no one's there to judge me. (Laughs.)
What's your favorite running outfit?
JLH: Just leggings and a t-shirt. I always pick a really soft t-shirt and Nike leggings and shoes. Nothing fancy. I'm not a big "let me put on my cutest running outfit" kind of person.
You said in the half marathon you learned about getting the right shoes. Have you done that now?
JLH: I did, I went and did the whole proper thing where they watch you run and tell you what kind of shoes that you need. When I did the marathon, I wore horrible shoes because they were cute and I blew out both my knees! (Laughs.) So after that I was like, Okay, maybe there's something to the whole shoe thing.
Who's an actor you'd love to run with?
JLH: Naomi Watts. She's so fit and she just seems like a cool chick. She seems like she's the kind of chick who'd be like, "Okay, we did really good on our run. Now let's go somewhere and have an awesome snack and drink a mimosa."
You've been criticized at times for being too curvy. Does running impact how you feel about your body?
JLH: Yes, definitely. I do find that as a curvy girl, as I guess I've sort of been deemed, I don't think you want to run your curves off, because then you're just not yourself. But it definitely helps your butt, that's for sure. It helps with the ba-donk-a-donk!
Do you ever use running purely to burn calories or is it more than that?
JLH: I mean mentally it's a great thing to do, it definitely allows your head to get in a different space. I totally get what people say when they say they get a high from it. It's different than other workouts in that way.
Do you still feel pressure about your body?
JLH: I mean sure. I'm an actress, I live in L.A., I work in Hollywood. But I've learned that if you're too skinny, they'll say something about it. If you're not skinny enough, they'll say something about it. I just try to feel good in my own skin as much as I can.