Brooke Watch: How Brooke Burns Fuels and Runs
She gained fame on "Baywatch," but for Brooke Burns, running is anything but a slow-mo jog down the beach.
Heading out the door? Read this article on the new Outside+ app available now on iOS devices for members! Download the app.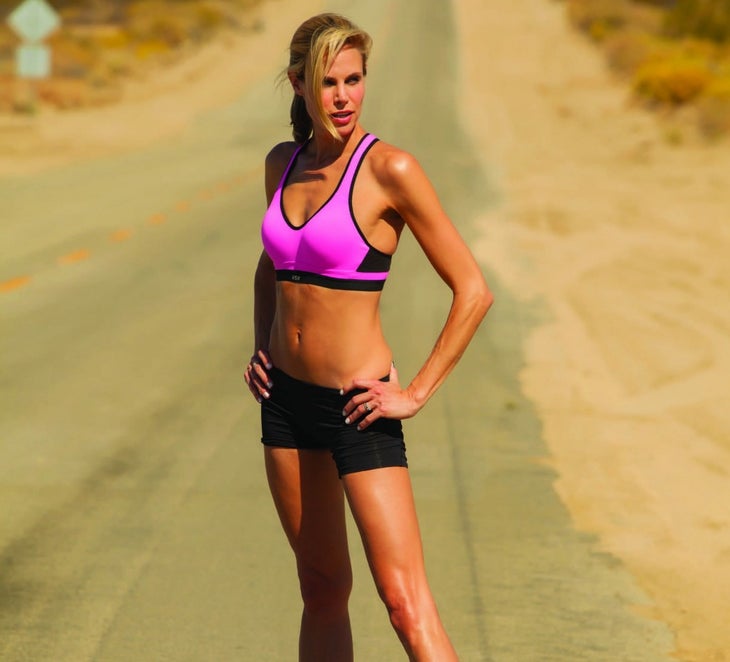 She gained fame as a lifeguard on "Baywatch," but for Brooke Burns, running is anything but  a slow-mo jog down  the beach. 
Brooke Burns starts each morning with a run-hike up the mountain near her home in Los Angeles. If she's short on time, she'll go for about 45 minutes. If the 36-year-old actress is feeling indulgent, she'll spend more than an hour in the hills.
"I love getting outside in the morning," says Burns, who gained fame for her role on "Baywatch." "It helps me start my day with a really healthy outlook and with a great endorphin rush. Selfishly, I love getting up and getting it done."
She explains that she's maintained a longtime love of running because she sees exercise not as a burden to shoulder, but as a pleasure to protect. Burns first developed that attitude growing up in Texas. As a young girl, she practiced ballet and dreamed of becoming a professional dancer. Her dad, a former national-champion swimmer, started every day with a run, and her mom was an avid tennis player.
"I grew up in a fit family, and my parents set a really great example for me," Burns says. "I never thought, 'Oh, I have to go work out.' It was more of a lifestyle."
A knee injury sidelined Burns from the stage, but after giving up dance, she looked for other ways to be active. This was especially true when she joined the cast of "Baywatch." Although the show is better known for silly running, Burns says the fitness regimen on the set was no joke. The show's co-producer Greg Bonann was a lifeguard himself, and he created workouts for the actors that mimicked the ones he and other guards did in real life.
The cast started the day with a long pool swim and would then move to the shore, where they would run in and out of the waves, perform relays as they sprinted while carrying a boulder and do punishing core workouts in the water.
"We did a lot of egg-beatering in the ocean while trying to hold some sort of object over our heads," Burns says. "By the end of the day, you'd think: 'I think we just worked out for five hours straight.' But you got in amazing shape, and you were having a blast at the same time."
These days, Burns' goals are more moderate: Rather than aiming to train like a professional lifeguard, she simply wants to add years to her life by staying healthy.
"I'm all about the idea of elongating my life by doing little things," Burns says. "If it's a busy week, I'd rather carve out 10 or 15 minutes to exercise rather than wait for the timing to be perfect."
And, of course, she also aims to take as many "guilty pleasure" runs as she can. "That time on the mountain is precious to me, and I guard it selfishly," Burns says. "It's a time for me to be alone with myself and to center myself."
What Brooke Really Eats
Through the day, Burns gets her caffeine fix: I'm a coffee addict. I'll have a hot latte in the morning, but then, when it reaches room temperature, I'll pop it in the fridge and have the rest as iced coffee in the afternoon.
Breakfast: I'm a big smoothie girl. My go-to is a green smoothie with banana and almonds. I also eat a lot of oatmeal, especially when it gets cold outside. I like to get creative with my oatmeal by sneaking in a little vanilla and cinnamon and brown sugar, in moderation.
Lunch: The other day, I had a Chinese chicken salad for lunch. Something else I do a lot is mixing up a salad with quinoa, chicken, arugula, corn and other vegetables.
Snack: I'm a big snacker, and I buy as many kinds of fruit as possible. I also make my own trail mix to keep in my car, which keeps me out of the french fry line in McDonald's. I mix cherries, macadamia nuts, pistachios and other fruits and nuts.
Dinner: I'm from Texas, so if I could eat steak, mashed potatoes and green beans every night, I would.