No, I Didn't Run The Boston Marathon As A Disabled Athlete
Heading out the door? Read this article on the new Outside+ app available now on iOS devices for members! Download the app.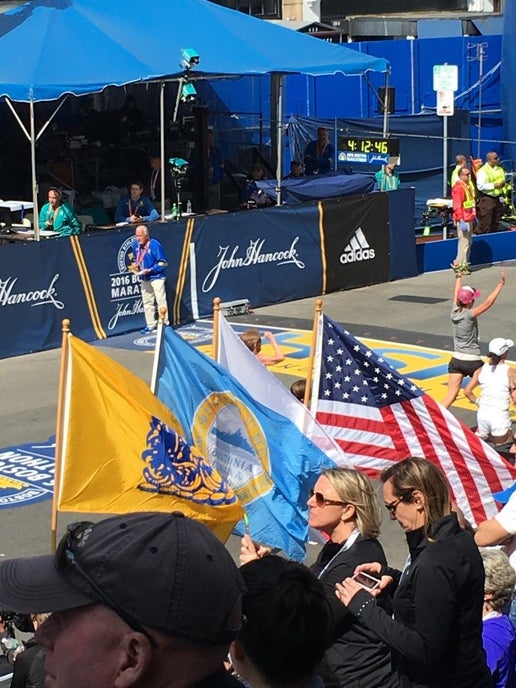 In 2016, I crossed the greatest finish line in the world at the Boston Marathon. My journey of qualifying, then getting into the race, then finishing my second 26.2-mile journey ever was filled with ups and downs and all-arounds—just like anyone's marathon story is. I had a lot of people say how inspiring I was for doing it while also managing my ulcerative colitis, something I constantly strive to be very open and honest about when it comes to my running. I'm fortunate to only deal with a mild case. Still, I have those days where the fatigue sets in, the bathroom trips quadruple and running just doesn't happen. These are all things that happen to all runners, of course, so I do my best to be realistic with this sometimes added challenge, while also not forgetting the fact that many of my issues are just plain side effects of being a runner. I don't blame every little gut ailment on the disease—people just get stomachaches sometimes.
I've never considered myself a 'disabled' or 'specially abled' athlete. I've considered myself, perhaps, a runner with a few added obstacles, but nothing serious enough in my case to require any additional accommodations when it comes to racing. I have plenty of friends dealing with much, much, much worse cases of inflammatory bowel disease who are out there killing it in their age-group categories…and no one knows just how depleted they are inside. I have other friends who do make special requests due to their situation, and I applaud them every time for being real and honest about their abilities and their needs…and still not letting those needs get in the way of their goals. Anyone—ANYONE—who shoots for a goal is such a badass for simply starting the journey at all, let alone seeing it through to the finish. Women's Running has had some tremendous 'specially abled' people on our covers—from cover runner contest winner Kiley Lyall to paralympian Tatyana McFadden—and I share in that message of inclusion and celebrating that anyone can be a competitor at any level, on any stage, in any race, in any situation. Period.
Related: 10 Things I Have To Say About The Boston Marathon
When someone asked me recently if I competed in the Boston Marathon as a 'disabled athlete,' I was disappointed that my immediate reaction was to get offended and defend my accomplishment. What? No—I qualified against the regular age-group time. My colitis doesn't even qualify me for that, I don't think. Why am I even being asked this question? I'm not disabled. What…the…
My thoughts had such an annoying, judge-y tone to them that I went for a run right after reading the email; I needed to get some perspective on why I was allowing myself to feel so offended about a valid question—and why it was a valid question.
To address the first one, for me it goes back to what's already been said here, and what I've said about running with inflammatory bowel disease all along: it's hard, often harder, but it's not impossible. It's not easy, but it's not always a struggle either. I've stuffed that into my head on my worst days. I've pounded it into the heads of my IBD friends when they ask for my "secret"—there is no secret for me. Sometimes it sucks, sometimes it doesn't. When I decided to run my first marathon, qualifying for Boston was what was going to happen—for me, there wasn't a negotiation. Running a marathon wasn't enough for me; I wanted to shoot for the BQ to prove that any self-doubt I had was a load of shit. And I did. And now I felt like a complete you-know-what for feeling like someone might assume I got some corners cut to get there. The truth is, it wasn't about this race or that person or that question at all; it was me striding down the street, realizing that I had lost sight of the fact that inflammatory bowel disease can be the most debilitating thing out there. I've been so busy singing my own story when asked that I had forgotten to take a step back and admire these people who have their own big dreams…and also their own bigger-than-mine health situations that need to also be honored and acknowledged.
So to any runners who may utilize the B.A.A.'s disabled athlete program to achieve their own dreams of running this race, I apologize for not being sensitive enough in my reaction. (I also contacted the B.A.A. regarding a quote and more information on their program specifically regarding inflammatory bowel disease, and they did not have any specific statistics as to how many IBD runners may or may not have used the program.)
And to address the second—why that was a valid question—I think the proof is in the pudding. I often get distracted from the fact that IBD, like the hundreds of other conditions that ail runners, is a very real daily struggle for so many, and the fight for accommodations, whether it be at a race, in school, at work, in social settings or anywhere else, is often an uphill battle. I've been fortunate to have had very little bowel issues while on the run (mine tend to really flare immediately following). Imagining someone so dedicated to their training during a flare and constantly having to stop along the course—thus adding precious minutes to their finish time—makes me reverse any offense or cringe I may have taken or made to this runner's very legitimate question. The bottom line is, whether you qualify for Boston as a "regular" runner or not, or cross a finish line of your goal race or drop out, or step outside to run 10 miles or for 10 minutes, or simply celebrate making it to the bathroom and back, it's all worthy of the same exact feeling: triumph over your obstacles, no matter how you got there.
Feel free to tweet @caitpilk with your thoughts and feedback!