Editors' Corner: Don't Judge Body Image Issues By Their Cover
Just because I look a certain way doesn't mean I don't have body image issues.
Heading out the door? Read this article on the new Outside+ app available now on iOS devices for members! Download the app.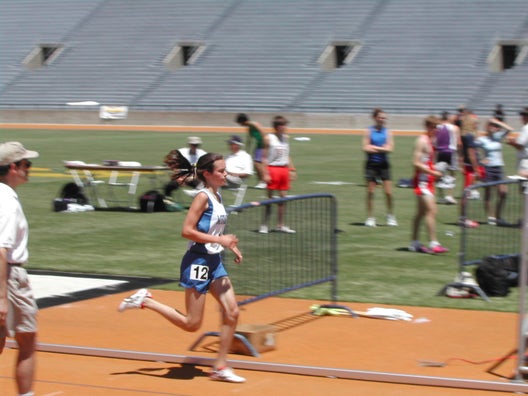 "But you're skinny."
"Whatever, you can't gain weight."
"Yeah, but you're built like a runner, so it's easier."
These statements from my well-meaning friends squash my confidence like a million terrible races. On the one hand, I nod to myself and thank them for the compliment. I would never say it out loud, because I must reject this distorted view on what's beautiful and what "runner" means and looks like—obviously. Still, I'm human, I've run since I was a kid, and hearing that I'm "skinny" still makes a part of me feel good, because it makes me feel like I belong. I can't lie about that. The best runners growing up—the ones beating me—were skinny. It's just how it was…and still is.
On the other hand, receiving these "compliments" sends me back 10 years ago, when I absolutely was skinny—deathly sick skinny. And they were right—other than the plumpy cheeks due to steroids and the other 10 pounds I hid pretty well, I physically couldn't gain weight due to my flaring ulcerative colitis. But I also couldn't absorb nutrients because everything went right through me. I could barely walk to the end of the driveway without getting winded, and I hardly recognized myself in the mirror. And when the water weight from Prednisone did eventually drop off as I recovered, I was still a pale, sick, skeletal nothing. For reasons that still haunt me, that vision of myself was stamped in my brain as the ideal to strive for.
Related: Surviving And Thriving As A Runner With Ulcerative Colitis
I'm still working on scraping away the remnants of my terrible, ill-informed definition of what a "runner's body" looks like. Eating disorders and disordered eating were the secret conversations among high school athletes, particularly female runners. Everyone knew what was going on, but no one spoke up. It's hardly difficult to notice when the best girls on your squad aren't eating—or throwing up what they did eat and encouraging you to do the same. And it's extra hard when you realize that you can trick your own system into rejecting food. After balancing out my diet and health following that vicious colitis—I'm sorry, "skinny disease"—flare, I was able to return to a normal weight. But over time, I began to yearn for the thinner version again, as my clothes started to fill out rather than fall off. Coming out the other side of that horrific flare, I was suddenly at an advantage: I knew which foods would give me just enough to sustain my running but not good enough to fully stay in my system.
I could train my body to achieve everything on nothing. And that was damn scary.
"Disordered eating" is a term I was recently introduced to in the last few years, by another runner whom I respect greatly. Up until then, I struggled with understanding why I was destructive with my body and how I fueled it, and with my mind and how I interpreted it. I wasn't bulimic or anorexic, so did I really have a problem? Was I just watching my weight? Was I just being dramatic about something that literally everyone does? I didn't even know anymore, until I read about another runner's journey with disordered eating, and it clicked. It wasn't okay, because this person came out the other side and is running better—happier—than he was before.
I was the one skipping meals if my runs were shorter or nonexistent and going to bed without dinner if there was a recovery day the next day. I was the one purposely drinking too much espresso because it would clear me out and make me look and feel less bloated with my colitis. I was the one mentally freaking out if I ate too big of a lunch. I was the one ignoring caloric intake when they mattered and obsessing over it when they definitely did not. I was the one destroying my body because I was really, really good at being in denial and hitting goals that overshadowed what was really happening with me.
Because really, my stomach was growling and the stress fractures in my feet weren't just from overtraining or the steroids.
Related: The Real Reason I'm Not Taking Before And After Photos
It wasn't until I started training for the Boston Marathon, as I've said before, that I realized I couldn't live like this anymore. As I wrapped up the worst run of my life after 20 miles of agony, I said on the curb near a gas station and cried. I texted my friend, who was and continues to be a major mentor to me, and said I didn't think I could do Boston. I was exhausted, miserable, disappointed, hot—and starving. In that moment, as his words started vibrating in my phone, I realized it was time, in this moment, to come clean with myself and what was really happening.
Caitlyn, you have a choice. You can continue to deprive your body, or you can feed yourself and fuel the machine to see this through. But you can't do both. 
Boston was the biggest goal I had ever chased, and it was about to go down the toilet if I didn't get my shit together. So I went home and ate…and of course felt horribly guilty about it. But then I felt full…full of relief and a sliver of hope that maybe my obsession with food wouldn't be all-consuming forever. I ended up finishing Boston way off my time goal—I even walked a little bit of it toward the end—but I actually felt healthier than I had in a really long time. And I had a ton of lobster that weekend.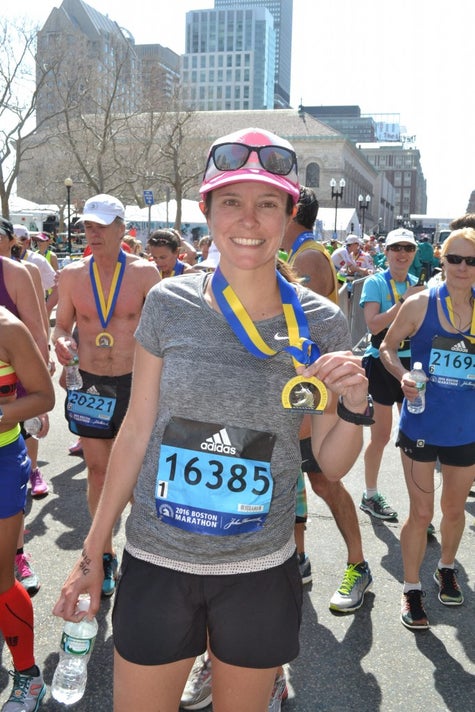 To this day, people are still surprised when I confide in them about my problems with eating and food. Although they are much, much less today than even a year ago, my issues and internal struggle to eat without reservation are still real. I feel that anyone who has dealt with this was, at one point, really, really good at hiding it. And I feel that more athletes, women and men alike, struggle with this than we know about. So I'm here to urge you to talk about it—talk about your problems with a friend, a therapist, a coach, a nutritionist. Whoever makes you feel safe. And if you think someone else needs help, have the conversation in a loving, supportive way. Because just because a person looks a certain way on the outside does not mean they aren't messy on the inside.