Blogger on the Run: Pawsitively Delightful
Meet our Blogger on the Run: Michelle of Pawsitively Delightful!
Heading out the door? Read this article on the new Outside+ app available now on iOS devices for members! Download the app.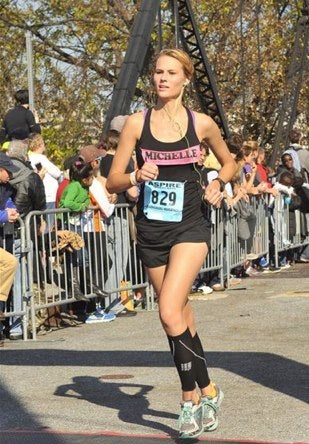 Today's Women's Running Blogger on the Run is a speedy New York City resident and Boston Marathon Qualifier. Meet Michelle of Pawsitively Delightful! As a student at NYU, she uses running to balance work, studies, family, and relationships! And she really loves dogs. Read about how Michelle BQ-ed and what keeps her motivated…
Women's Running: How would you describe yourself?
Michelle: 1/3 giraffe, 1/3 gazelle, 1/3 pizzavore. I'm 6 foot tall and love running!
WR: How did you begin running?
M: I started running in elementary school. We had a run club and would collect shoe charms on a ball chain for x amount of laps completed around the playground. Track and field in its earliest form for me!
WR: What type of run is your favorite?
M: Sometimes I love setting out on my weekly long runs…there is something so mind-clearing and inspiring about the journey aspect of a 20 miler. But I also love half-mile or mile repeats. Feeling fast is one of the best feelings a runner can have!
WR: You BQ-ed in two marathons this fall- Marine Corp and California International. How did you achieve such a big goal?
M: Yes! I sort of impulsively signed up for CIM. MCM was my goal/BQ race from the beginning of the year and my sister wasn't planning on running MCM because of timing so we planned on signing up for CIM together and have it has her goal/BQ race. I hired a coach (Josh of Gotham City Runners) and used him for my 12 week training plan leading up to MCM to get super speedy..it worked. A big focus was doing a bulk of my long runs at MGP rather than the 10% slower pace that many recommend. I created a shorter training for myself on purpose so that I wouldn't get burned out after MCM. I busted out a 15 minute PR and a BQ at MCM so I was just focused on maintaining my fitness and had the lure of CIM stringing me along. I definitely did not keep up with training as well as I should have but we both worked as a team at CIM and finished less than a minute apart.
WR: After a big 2013, what are your goals for this year?
M: I'm aiming for a PR at Brooklyn Half this year but I have so many other things going on so my main goal for 2014 is to be happy. Silly as it sounds, I've gotten my head wrapped around reaching so many goals and it gets exhausting! I'm graduating from NYU in May and am excited to see where I end up post-graduation! I know I'm running the TCS NYC Marathon in the Fall and I plan to enjoy every mile of it without the stress of a BQ or PR
WR: You mention on your blog that you are an army girlfriend. How has running helped you through times away from him?
M: Yes! My boyfriend was deployed in Afghanistan for the majority of 2013 and while he is Army, running Marine Corps Marathon was very relevant and it was definitely hard to maintain my composure during the race seeing all of the men and women in uniform. The training gave me something to focus on and distract myself. I only got to skype with him twice in 9 months so hitting the pavement and focusing on getting that elusive BQ I've always wanted was the best medicine for that time in my life!
WR: What keeps you inspired to keep running and training?
M: A lot of my inspiration comes from my lovely friends in the Twittersphere. Also just the lifestyle running brings for me is what is inspiring. I love being in shape, feeling great, and just going out for a run to clear my mind. I was left feeling unsure of what my limit was after MCM/CIM so that question is sort of what is pulling me along as well. Ideally a sub 3:20 would be in my future!
WR: What is your best advice for training in an urban environment like New York City?
M: Use your resources. They say we don't have hills. I challenge you to Harlem Hill repeats! Also feeding off of the energy that all of the runners along West Side Highway or Central Park exude is extremely helpful. I am so much more inspired to run when its fall marathon season in NYC because I know everyone else is out there too!
WR: How do you reward yourself for reaching a goal or having a really great run?
M: Mostly with food! I don't splurge often on food only because I'm on a college-budget but I'll go out to brunch after long runs sometimes or buy myself some treats (ice cream, candy, ice cream and candy?!). My favorite is Sockerbit—it's a Scandinavian candy shop in the West Village that brings me right back to my Finnish roots.
WR: Best running advice ever given or received?
M: To change your results, you have to change your training.
Want to read more about Michelle? Head over to Pawsitively Delightful and enter to win a year's subscription to Women's Running!
Michelle stays inspired by connecting with runner friends on Twitter. How do you stay inspired to run? Leave a comment below or tweet us at @womensrunning to share you answer.