The Little Beachtown Half Marathon You Need To Know About
The course is as perfect as they come.
Heading out the door? Read this article on the new Outside+ app available now on iOS devices for members! Download the app.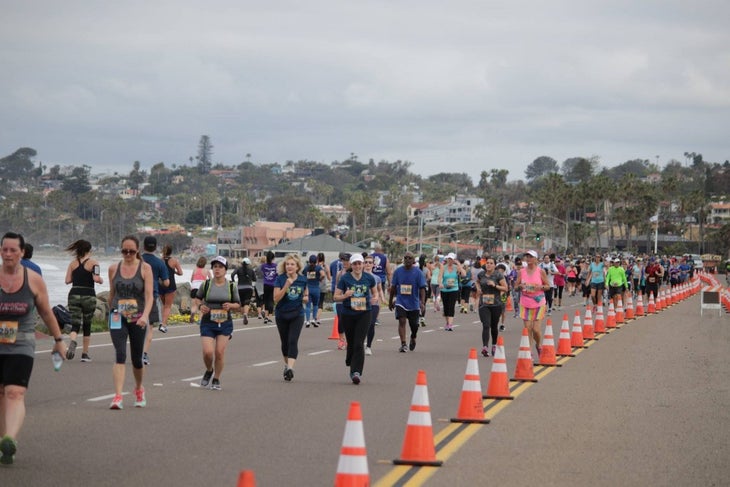 There is nothing quite like a race that has a start line barely 2 miles from your house. And there's nothing quite like a race that runs through a popular beach town, where, on any given day, already has hundreds of endurance athletes working out. This makes not only for a great inaugural event full of runners, but it also means that the sidelines are filled with enthusiastic supporters.
The Encinitas Half Marathon
This is exactly what I experienced at the inaugural Encinitas Half Marathon in north San Diego County in March. Initially I was hesitant to sign up for a race that runs the streets that I run literally every single day. Still, like I normally do, I signed up and was blown away by the organization, enthusiasm and energy behind this first-year affair. What's more—they kicked off on the right foot, offering a "Challenger" medal for anyone who completed another local event, then this event. Well done!
From one local who ran her new hometown event, here are five reasons you need to jump on the 2018 Encinitas Half Marathon:
The course
I tell a lot of people that the coast is flat, but it's not totally flat. It does not have mountainous elevation (duh), but it has its blips. The course did a fine job navigating a course that didn't negatively impact runners during two major out-and-back portions. For the most part, participants stayed on Coast Highway, where you see the ocean, the funky Leucadia sub-town and all the small businesses that make Encinitas one of the top surfing cities in the world and top vacation spots in the country.
The crowds
I was shocked how many people came out to support. There's definitely a positive energy and huge community of endurance athletes in this beautiful area, so people were happy to roll out of bed in their casual attire, grab a coffee and cheer for the thousands running the streets. One of my favorite spots to pass on my normal run is the famous "Kook"  surfer statue in Cardiff, another sub-town of Encinitas. During the race, I was reminded why that's true—so many people stood on that intersection to cheer! I didn't have any serious time goals for this race, other than just enjoy the experience (and prove to myself I can still run the distance), so I was happy to high-five some of the cute mini surfers that were desperate to make a runner's day. But I think I made theirs!
The medal
If you're a medal head and select races based on the medal, this is one to heavily consider. It's massive, and people who also completed the Surfing Madonna event last year got a "Challenger" medal. That's where it's at these days—getting people to complete multiple races and keep that momentum going!
The start and finish line venue
I'll be honest: when I realized that the start line and finish line were basically going to overlap, I did wonder if this transition was going to be chaotic. However, the race organizers seamlessly orchestrated a course that avoided any potential collisions with runners heading out and runners heading into the finish line chute. And the venue? The large parking lot of one of the most popular beaches in Encinitas. There was boxed water. There was oatmeal provided by the local Potato Shack. There was free coffee with a complimentary race-branded mug. And there was a place to find your results once you were finished. It felt small and intimate, but not so small that you were on top of other runners.
And finally…the bathrooms
Raise your hand if you've ever almost missed (or missed!) a start gun because you were still waiting in line for a porta potty! We've all been there…well, except for those who ran this half marathon. Aside from the access to the beach bathrooms, the race had plenty of toilets for runners, and they were placed in a perfect location to get to the start. I'm sure this is something that might change as the race potentially grows, but they definitely get the award for most organized inaugural event!