8 Reasons Why Mommy Needs To Run
The things moms gain from running are lessons that are worth passing down to our children.
Heading out the door? Read this article on the new Outside+ app available now on iOS devices for members! Download the app.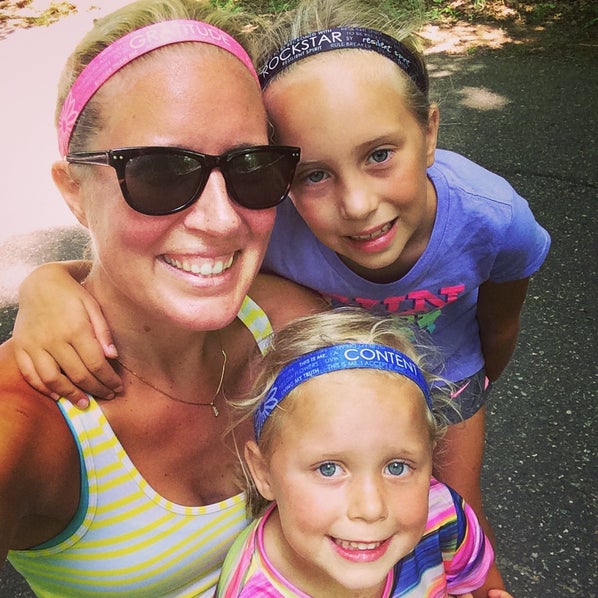 Republished with permission of Mel Charbonneau at Fellow Flowers
When I put my running shoes on, my daughters know I'm heading out the door for some miles. They always see me leave, but what I noticed yesterday was what they observed when I returned. I was hot, red-faced and sweaty, but what they saw was completely different.
"Mommy, you look better. You must've had a good run."
What struck me about this comment is I didn't have to tell them I felt better, they could just feel it. Of course, as a runner of 15+ years, I've always felt it, but in that moment I realized they did too. I was lighter, looser, and more at ease. My shoulders were more relaxed, my body language was inviting rather than tired, my mind was clear and my smile was effortless. And despite just running hard for 45 minutes, I felt refreshed and alive. In that moment I was a better me, and ready to step in and be a better mom.
As I sat on our front porch watching my daughters play, I realized I needed to let them know why Mommy, the mother-runner, runs. I needed to tell them why I leave feeling one way, and come home feeling another. And that while I can do my best to show them the magic of running, the only sure way for them to believe is to do it themselves. To begin the process of stepping into who they truly are, and witnessing their potential through their own actions and dreams.
Related: Motherhood Means You Run Your Race And Nobody Else's
1. It helps you understand your limits, or in fact, your lack thereof.
What are you truly capable of? What goals could you reach if you pushed through the adversity? Limits are big ambiguous rhetorical structures that we often let control outcomes before we even try. We let the limit win without giving ourselves a shot. But when you come face-to-face with a defining moment in your life—a crossroads, a challenge, a hardship—and you have the opportunity to rise and receive the lesson it's giving you, how will you show up? The grit and commitment of training for a race is much like anything worth working for and through—you've gotta earn it. Day after day, you put in the time and stay focused. Suddenly, you realize most of the limits you placed upon yourself was just because you weren't dreaming big enough.
2. It cultivates patience.
You will get there, my child, but don't worry so much about getting there now. The adventure and discovery is half the fun. No, actually, it's all the fun. Every step (and every detour) offers a lesson. Keep listening and looking for them. Don't focus on the finish line with your head down. Look up, take it in and enjoy the journey.
3. It helps you let go.
There will be so many things in this life that will be completely out of your control. There will be moments that require you to make impossibly hard decisions. There will be a day when you realize that walking away from something or someone you love is the only way to truly find yourself. But my dear, carrying burdens and baggage is no way to enjoy life. You are allowed to lighten your load and set forth on a new path! Running can loosen the grip on your guilt—I promise. It teaches you how to move forward while shedding the weight of the world on your shoulders. We can't find new light if we stay in the darkness. Let go my darling and set yourself free.
4. It shows the gift of loving yourself.
More than the good stuff, I want you to have something for when things aren't going good. When you need to escape—or when it's time to come home to who you truly are. I want you to have a space—a refuge—for when life gets complicated and you need to work it out. I want you to have a way to release your tears and worry, and to know that you can survive even the hardest moments in life. I want you to feel safe in your own thoughts and dreams. Your family and friends will be relationships that feed you, but it is the one you have with yourself that will sustain you. You can rely on the people around you, what you'll really need is a positive relationship with yourself. You need to know you. You need to like you. You especially need to create healthy ways to offer yourself compassion when you slip up and make mistakes. I want you to look inward during times of struggle and know that you are ENOUGH in all capacities. Remember—fall in love with yourself first, only then can you give the best parts of yourself to the world around you.
Related: 5 Reasons Moms Should Totally Run 
5. It teaches humility. 
Running will humble you and remind you both of your fragility and your strength. One minute you feel like a speed queen and the next you will be completely out of gas. Never think you're too good to stop practicing or putting in the work. Running challenges your will, but it also rewards you with an endurance that will see you through life's toughest times. Keep going.
6. It shows the importance of celebration.
Celebrate the wins—okay? Do you hear me? As children, we have this effortless innocence to celebrate what we love about life and ourselves. Somewhere along the way, we're steered away from showing too much pride in our accomplishments. We tuck it in and pretend it doesn't matter when inside we're literally screaming with 'holy crap I just DID that!' One of the greatest gifts my running friends have given me is a welcomed place to celebrate and HONOR my milestones, my firsts and my victories. On the pavement, but also in life. Surround yourself with these people, the ones who will be there to cheer you on and wish you success. And just as important, be there for them when they need a high-five. This beautiful exchange of support is called a celebration circle—and it will change your life.
7. You can do hard things.
Running is a sport of endurance. It's a mindset. There will be moments when you want to quit, but you somehow find a way to keep moving forward. You innovate. You think in the moment. You respond. You will your body to put one foot in front of the other. And when the unimaginable happens in life, while you may not be ready for it, you will know that you can survive it.
8. It lets fear be your friend.
There has never been a starting line I've toed where I have not felt the rush of fear flow through my body and mind. Can I do this? Have I prepared? But there is magic—true, true magic—when you learn to channel that feeling into fuel and let it push you into new spaces and adventures. And sometimes the more fear we're feeling, the more it is a sign that we are on the RIGHT path. (Comfort zones hate it when we get brave.) If you are not starting the race because you aren't sure if you will finish, IF you're not doing something you love because you are afraid it won't work out, IF you aren't standing next to the person who brings you true happiness because of what people will say or think (who you don't care about anyway) or IF you're not standing up for the causes and dreams that are stirring in your soul…you are letting fear win. You are letting it rob you of your truest self, and denying the world an opportunity to see you fully lit up and alive. Toe the line. Dance the dance. Feel the fear and do it anyway.
There is no greater joy than watching your children grow, learn and discover. I will be there for them when they need me, but my greatest hope is that they begin to find ways to be there for themselves. So I will continue to run, and show them how Mommy gets through her challenges and celebrates her accomplishments. May my miles inspire their own.