6 Tips For Running While Traveling
Don't let travel plans sidetrack your training! Get moving while on the go.
Heading out the door? Read this article on the new Outside+ app available now on iOS devices for members! Download the app.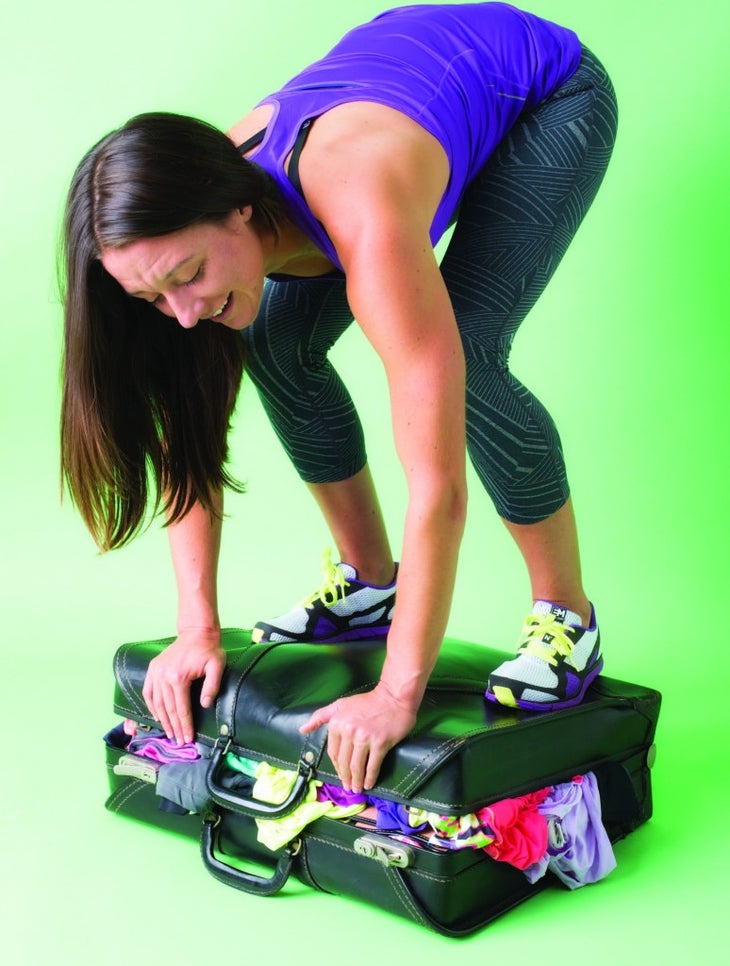 Running across the airport to make a connecting flight shouldn't be the only time you break a sweat while on vacay! Whether you're OOO for business or traveling pleasure, it's easy to forgo regular healthy habits in favor of sleep, cocktails and airport Cinnabon. Many runners discover a lax attitude while traveling can lead to an unintended souvenir—extra pounds on the trip home.
Though it can be hard to stick to your fitness routine when you're on the road, it's not impossible. Here's how you can take your health along for the ride, no matter where you go.
Tip #1 Plan Your Work
Take a look at your itinerary and identify times and places where you can fit in a solid sweat session. If you need access to specific equipment, like a treadmill for icy locales or a weight set for cross-training, call nearby gyms to inquire about special discounts or free passes for short-term visitors.
Tip #2 Set the Tone
After a long flight or car ride, your legs are likely to be a little achy. When you arrive at your destination, take 30 minutes to complete an easy run, followed by some light stretching. In addition to helping you shake out your muscles, this workout will establish the mindset you need to stick to your routine in your new surroundings.
Tip #3 Rise and Shine
When your day is packed, don't fall into the trap of "Oh, I can work out later." Chances are you'll be exhausted or get held up. Start your day off right: Get up with the sun and go for a run!
Tip #4 Some Is Better Than None Maybe you don't have enough time for
a 13-miler, or your schedule calls for hill repeats when you're in the flattest city on earth. Is that really a reason to scrap the whole thing altogether? Do what you can, whether it's cutting a run in half or taking your "hill repeats" to the stairwell of your hotel.
Tip #5 Eat In Once a Day
Save money and calories by keeping a stash of fruits, veggies, whole grains and lean proteins on hand at your hotel. Restaurant meals, though delicious, tend to be trend-indulgent. Who really wants to run with a bellyful of deep-dish pizza?
Tip #6 Stay Accountable
If you train with a buddy back home, keep accountable on the road by "reporting" your completed runs to each other via text message. Checking in is great motivation to follow through with your training on vacation and ensures you won't sandbag the group run when you get home!
Pack Like a Pro
Colored packing cubes can make finding your workout gear a cinch. It's easy to grab different kinds of clothing quickly without dumping an entire suitcase on the floor.
To maximize space in your suitcase, roll, don't fold. Stuff smaller items, like socks and hair ties, in your running shoes.
Include an extra-large plastic bag in your suitcase for packing sweaty clothes or muddy shoes for the trip home.
If you are flying to your destination, pack your essential items, like shoes and asthma meds, in your carry-on. If your checked bag gets lost, you'll be glad to have these for a stress-busting sweat sesh.