The 4 Things Runners Have Done For The Insta
Don't lie—that perfectly timed sunrise photo was just that: perfectly timed.
Heading out the door? Read this article on the new Outside+ app available now on iOS devices for members! Download the app.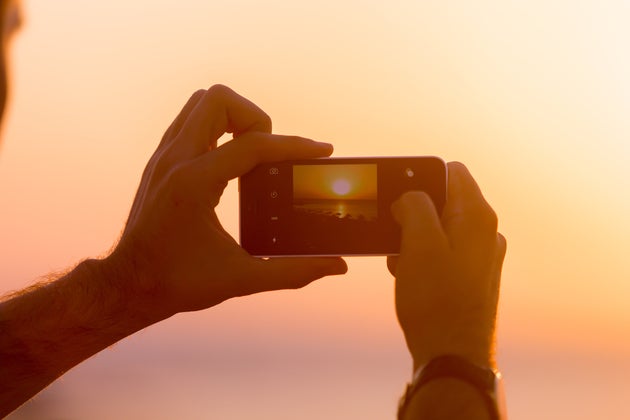 Published with permission of Rachel Goldmen from blog Someone Will Appreciate
I was a runner before social media was a thing, but I do believe that the presence of Facebook, Instagram, Snapchat, etc., have made me a more conscious and informed runner. Through social media outlets, I get information about races, see destinations I would love to explore while running, check out the latest running gear, relate to funny running memes and connect with people who also share my passion for running. All of these things have definitely changed my running game. I have always been a very intrinsically motivated person and could get up and out the door without the help of anyone or anything. Getting a runners high was rewarding enough for me and always started my day on the right foot. However, I am not afraid to admit that social media has helped me as a runner even more because it has begun to hold me even more accountable than I was before. There are a couple of reasons social media has personally affected my running game…
1) Sometimes I go for runs just for the sunrise pic. I am an early riser and like to get my run in before work. Most of the time when my alarm goes off it's still dark outside and it can be hard to get out of bed to get moving, especially in those cold winter months. Sometimes the only thing pushing me is the fact I know I'll see a gorgeous sunrise and get a great Instagram picture out of it. If doing it for the 'gram is wrong then sometimes I just don't want to be right. There are few things in life that I enjoy more than running while the sun is coming up. Getting my miles in when the day is officially beginning is a pretty special feeling and it always leaves me feeling ready to take on the day ahead. The combination of a great run and some cotton candy skies always leaves me with a big smile on my face and a little more pep in my step.
2) I run to places I maybe wouldn't usually run to in order to get a special photo op. Whether it's here in New York City or if I'm running on vacation, I love to get a great scenic landscape picture, especially when the city has woken up yet and no one else is around.  Because I run so early in the morning, I often get many normally crowded tourist places to myself. There is something totally incredible about running to super popular tourist destinations (either in your own city or on vacation) and having it all to yourself. When I do this, I get a deeper appreciation for where I am and how lucky I am to have had running take me there. I feel totally grateful in those moments for so many reasons (to be where I am, to have it by myself, and to have gotten there doing something I love) and usually walk around with a huge grin on my face the rest of those days. Let's also not forget the fact that I have started a pretty cool collection of pictures of my running shoes in the air in front of these places that I've had all to myself.
3) The post-race medal pic. This is an obvious one. Some might even call it a humble brag or a straight out brag, but let's be serious, we have all run a race or two simply for the medal picture. #SorryNotSorry. Whether we are kissing it, biting it, pointing to it, jumping with it, dangling it, or simply holding it up in the air triumphantly, the post-race medal pic is always a must. Although we are running for the accomplishment and pride in the race itself, in reality, sometimes we run for the bling and sometimes we run for the picture with the bling. I know for myself, even if it's a race I totally bombed at or a race where I PR'd, taking and posting that post-race picture is allowing myself the time to accept my accomplishment. Without social media I may not even realize what I am doing is actually very special and impressive. I'm doing these races for me, myself, and I, but sharing the end result always makes it a little sweeter. Even in my worst races, I have come to realize that as much as I struggled, I still pushed through and finished the race and that is something I can still be proud of. I hope because of that, I can also inspire others to do the same. On the flip side, if I happen to PR, I want to share my accomplishment and happiness with the people who followed me along the way and supported me because I know how hard I worked to get it and am proud of myself. There is no shame is celebrating yourself sometimes.
4) It connects me with other people with similar interests/goals. This is probably one the most important aspects of being connected on social media. There are runners I follow because they are motivating and inspiring. There are runners that I follow because they are simply kick-ass women and I look at their pictures and posts and think to myself "Wow, she is so awesome!" These people show me that sometimes the impossible can be done and if they can do it, perhaps I can to. Or maybe I am that inspiring person to someone else? Who knows. What I do know is that there are strength in numbers and there are a lot of us runners out there all interested in bettering ourselves and helping each other along the way through social media. I have found Instagram to be such a great source for all this and I have even met running friends through it and we all keep each other accountable and celebrate each other as well. Sometimes there's the thought that "oh man, so and so went out for their run this morning, I need to get my butt out there already." Seeing that they were already out there and got their run in is just the kick in the pants I need to get going. Or "Those race pictures look amazing; I have to do that race next year." And even "I know she worked so hard training this cycle, I'm so glad she PR'd." These things go through my head often as I'm scrolling my feed and I find social media to be such an incredible source of information, entertainment, inspiration, and motivation. I love it. How can this be ruining the sport or running and racing? Ummm, it can't.
I must say that I never thought that social media would be anything more than getting a good laugh from funny memes and keeping up with what's going on in some of my friend's lives. However, through the likes of it, it has made me a conscious runner. I have met people just like me because of it. I have signed up for races I never would have thought to sign up for because of it. I have explored areas that I wouldn't have thought to go to because of it. I have tried products that people have raved about because of it. And I have gotten inspired to be a better runner because of it. Social media isn't ruining running, its changing the game and helping it. It's getting some people who have never run a mile before off the couch because they see someone just like them doing it. It is connecting people who may not have thought there was someone else like them and turned them into lifelong friends. It has inspired others to do what they once thought was impossible like run a full marathon. And it has made many people, including myself, feel not as alone in the sport of running knowing that there are others just like me going out there every day and giving their all. What's so bad about that?!?!?