4 Aspects Of Running Perfectly Depicted In Books
Cat got your tongue on explaining your love for the sport? These four passages totally nail it.
Heading out the door? Read this article on the new Outside+ app available now on iOS devices for members! Download the app.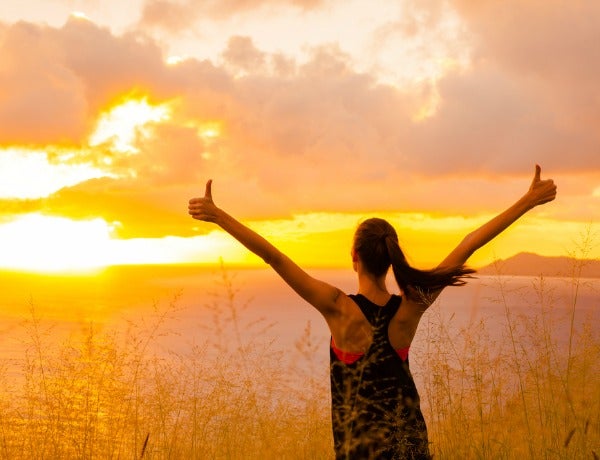 As a lover of both writing and running, it amazes me how well the two can come together sometimes. There are a lot of literary works about running out there, complete with nail-biting races, lovable characters, and great descriptions of the things we runners get to be a part of. Certain experiences we have, both in life and in training, are just plain difficult to put into words. This is often the case for runners, who get to witness divine changes in their minds and their bodies through the simple task of putting one foot in front of another. Luckily for us, several writers have taken on the task of interpreting the art of running with their very own prose. The aspects of running listed here, as well as several others, are very accurately depicted in the world of literature.
The serenity it brings us: For many runners, a quick workout is the best way to ease a stress-filled mind. We simply lace up our sneakers the moment life starts to get too overwhelming, and before too long a sense of calm washes over us, allowing us to experience a quiet peace that few others are able to reach on a regular basis. This feeling is best explained by Ultramarathon champion Scott Jurek.
But the longer and farther I ran, the more I realized that what I was often chasing was a state of mind – a place where worries that seemed monumental melted away, where the beauty and timelessness of the universe, of the present moment, came into sharp focus. —Scott Jurek, Eat and Run: My Unlikely Journey to Ultramarathon Greatness
That oh-so-good pain that we constantly endure: What is it about aching muscles and spent legs that is so addicting? Why, as runners, do we feel a sense of accomplishment when we wake up the day after a run only to find that we have difficulty walking because we're so sore? It's not necessarily about the pain, but about what we get out of the pain. Dean Karnazes offers a great description of this for when we just can't put our fingers on exactly what keeps us coming back for more.
People think I'm crazy to put myself through such torture, though I would argue otherwise. Somewhere along the line we seem to have confused comfort with happiness. Dostoyevsky had it right: "Suffering is the sole origin of consciousness." Never are my senses more engaged than when the pain sets in. There is a magic in misery. Just ask any runner. —Dean Karnazes, Ultramarathon Man: Confessions of an All-Night Runner
The nervous excitement that takes over just before a race: We've all stood at the starting line with our hearts pushing up into our throats and our stomachs performing some type of odd interpretive dance. The full-body adrenaline rush that we feel just before a race is something that many athletes have tried to put into words, but it's hard to understand unless you've actually been there. How do we explain to the inexperienced just how it feels when an emotion is so strong it actually becomes physical? John L. Parker has a serious gift when it comes to putting the unspeakable into words, so it's no surprise that he's able to bring the pre-gun sensation back to life with his writing.
For one instant there would be a kind of calm in the midst of all that pounding, roaring furor, a moment of serene calm before an unholy storm. There would be a single instant of near disbelief that it would finally be happening in a fraction of a second; finally happening after the months, the miles, the misty mornings; finally happening after the eighth or ninth now forgotten interval along the way somewhere that broke your heart once again. He would be leaning over tensely with the rest of them while the white lights burned down on them and for an awful split-second he would feel as if his legs had no strength at all. But then his heart would nearly explode when the pistol cracked. —John L. Parker Jr., Once a Runner
The reasons why we run: No matter what your initial motivation is for starting to run, the sport eventually becomes a habit and a part of who you are. You become a runner. And all runners take pride in being able to get out there and push ourselves to do things we, at one point, didn't even think possible. Haruki Murakami expertly explains our passions and our reasons in the excerpt below.
Most runners run not because they want to live longer, but because they want to live life to the fullest. If you're going to while away the years, it's far better to live them with clear goals and fully alive then in a fog, and I believe running helps you to do that. Exerting yourself to the fullest within your individual limits, that's the essence of running, and a metaphor for life. —Haruki Murakami, What I Talk About When I Talk About Running