3 Olympians, 1 Filmmaker and 1 NYC Marathon
Women's Sports Foundation's NYC Marathon roster includes three winter Olympians and an established filmmaker.
Heading out the door? Read this article on the new Outside+ app available now on iOS devices for members! Download the app.
The Women's Sports Foundation's NYC Team
Elite athletes in sports outside of running certainly have the grit and focus to attempt a marathon, but that doesn't mean training to run 26.2 miles is any less grueling.
When American Olympians Erin Hamlin, Anne Hart and Sara Hendershot Lombardi take on the TCS New York City Marathon on Nov. 4, they will challenge their bodies and minds in ways they never have before.
In addition to the thrill of competing in the NYC Marathon for the first time, they are raising money as members of the Women's Sports Foundation's marathon team, which also includes filmmaker Adam Reist. (Professional rock climber Sasha DiGiulian and Olympic rower Sarah Zelenka are also on the team, but they are currently unable to run.)
The foundation, created in 1974 by tennis player Billie Jean King, works to increase and maintain athletic opportunities for girls and women.
"[Marathon team members] are truly living the mission and walking the walk—or running the run," says Lauren Lubin, the foundation's associate director of athlete leadership. "What is exciting for this year's team is, although each runner is a champion in their own respective sport, for most this will be their first-ever marathon."
Luger Erin Hamlin made history at the 2014 Sochi Olympics when she won a bronze medal and became the first American—man or woman—to win an Olympic medal in the luge singles.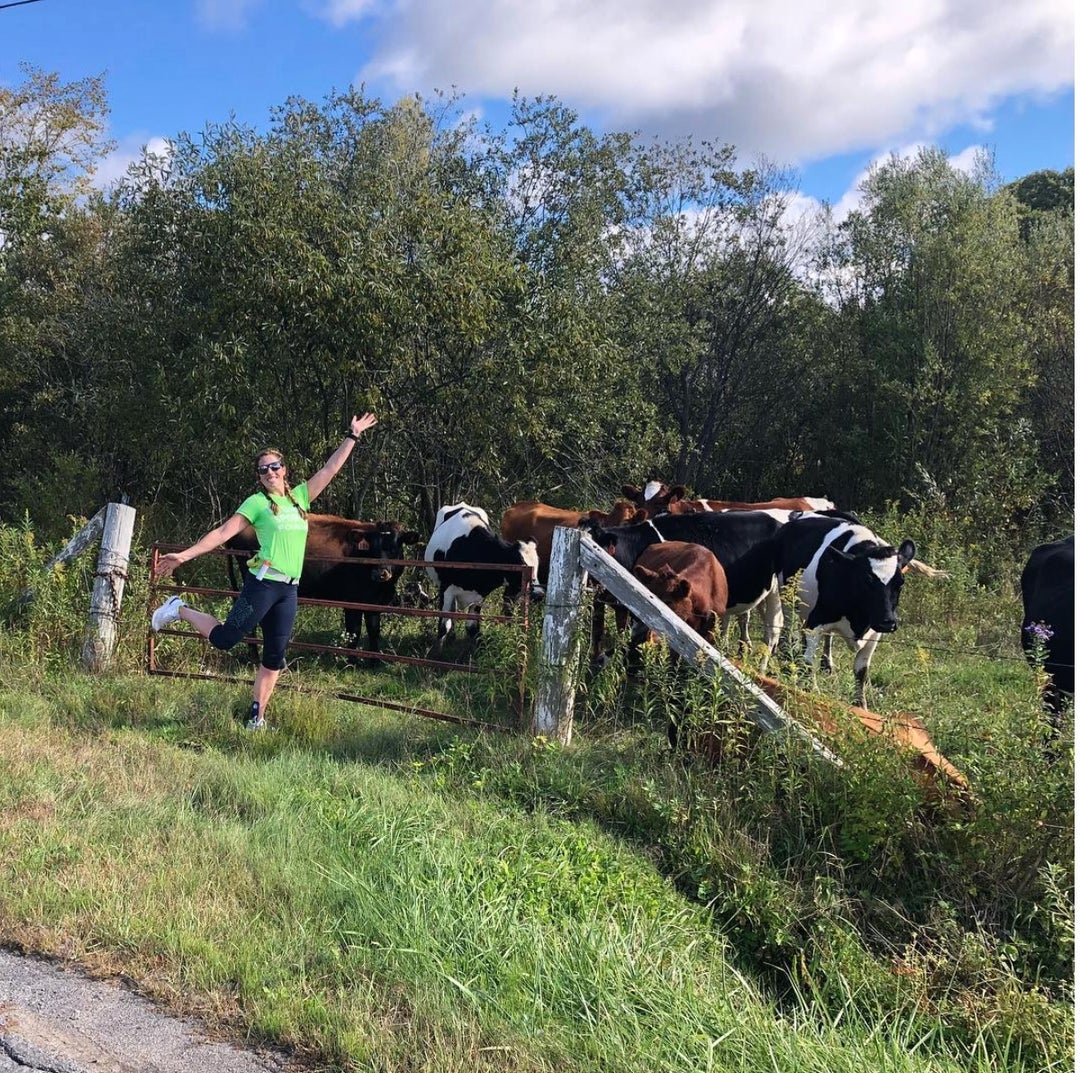 Hamlin says she hadn't considered running a marathon until she was asked by the WSF to join its NYC Marathon team. It's been quite a learning experience for the four-time Olympian. "It has been all about getting used to running long distances. It isn't anything like how I have trained throughout my entire career," the 31-year-old tells Women's Running. "All of my training for luge was focused around strength and power and being explosive."
Her luge performances from start to finish would only last a couple minutes, unlike the seemingly endless miles of a marathon. But a determined attitude is one aspect of Hamlin's luge career that has transferred well to distance running. "It will be one of the toughest things I've ever done as an athlete, so I'm looking forward to being able to say I accomplished running a marathon," she says. "It is so outside my wheelhouse that it won't matter how long it takes."
Sara Hendershot Lombardi, who competed in the 2012 London Olympics in rowing and now works as a rowing coach and director of marketing at Momentous, is also looking forward to her first marathon. To prepare for NYC, the 30-year-old has relied on the less-is-more approach that made her successful in rowing. Her training schedule included only three days of running a week—a speed workout, an easy run and a long run—and weight-lifting and rowing on the other days.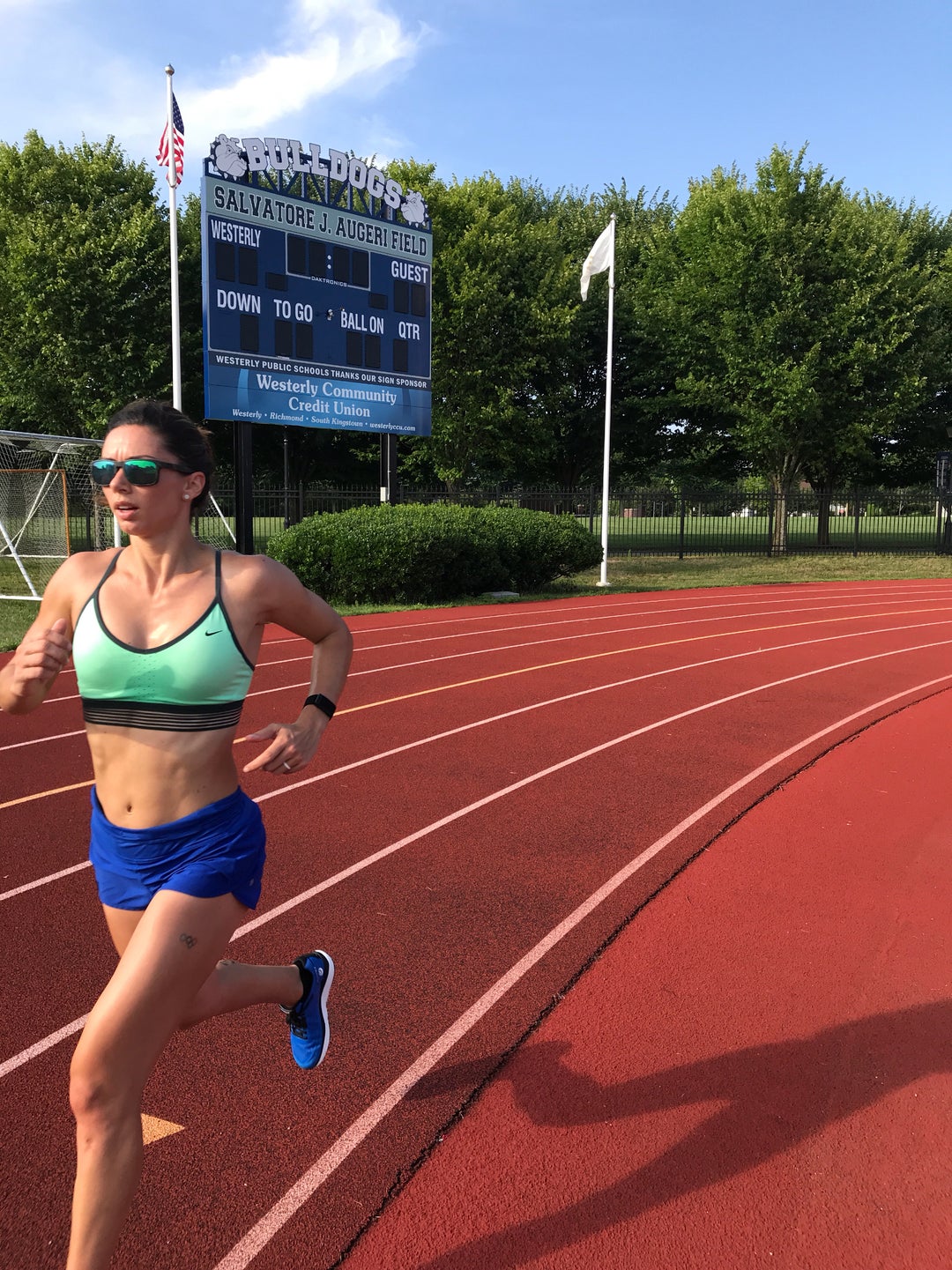 She credits her running coach, Anna Willard Grenier, an Olympic steeplechaser, and her husband and lifting coach, Mike Lombardi, with designing a plan that was a good fit for her.
Lombardi's rowing background has proved to be helpful, too. "I regularly think about my core to extremity connection while running, and it's been an easy transition from focusing on pacing in rowing to focusing on pacing in running," she says. "However, it's certainly been a different challenge training for a race that will take me over three hours versus my old seven-minute rowing races." Still, she has big time goals for her inaugural marathon and hopes to break 3:40. "If I have a perfect day, I think I can break 3:32," she says.
Anne Hart, a cross-country skier at the 2018 Pyeong Chang Olympics, has completed two marathons but has never been to New York City. When she was presented with an opportunity to run the NYC Marathon, she eagerly accepted. Not only will she finally get to visit the Big Apple, but the exceptional endurance athlete will get to see how fast she can cover 26.2 miles. "This seemed like the perfect time to set an ambitious running goal and really go after it," says the 26-year-old law student, who is aiming to run under three hours.
Training to perform well in an endurance race, whether it's cross-country skiing or distance running, requires patience and restraint. "The most important thing is listening to my body, knowing when to push and when to let off the gas—lessons I learned the hard way in skiing," she says. As a young woman and an athlete, she is also passionate about the foundation's work. "Sports have brought me all the best things in my life," she says. "My best friends, happiest moments, greatest failures and endless opportunities have all come through sport. I want nothing more than for all girls to have these same opportunities to grow into the best versions of themselves."
Adam Reist has never been a professional athlete, but he has a strong connection to them through his work as a filmmaker. In 2017, he produced a documentary called Dare to Be, which followed female rowers as they eyed the Olympics. Inspired by the athletes he met, Reist, a father of two daughters, wanted to continue to support women in sports. "If it wasn't for organizations like the Women's Sports Foundation, the opportunities my daughters have now wouldn't exist," he says.
Reist didn't think he'd ever run a marathon until he watched his college roommate cross the finish line last year and realized he wanted to try it. "I remember going to the finish and seeing the faces of those who had just completed the race—having that mixture of sheer elation, accomplishment and exhaustion," he recalls. Even though Reist had never run more than 5 miles before training for New York, he has surprised himself with how well he has adapted to all the miles. "I feel like—knock on wood—I can actually do this thing," he says.
Team members say they are ready for the race—and definitely ready for the well-deserved rest afterwards. "My body has been very excited to get to the starting line, so that I can take a nice break from running once it's all over," Lombardi says. "I'm officially tired."
Olympians, they're just like us.