10 Running Podcasts To Entertain You During Long Runs
Sometimes a solo long run can seem endless...except for when you have other runners in your ear providing you with inspiration.
Heading out the door? Read this article on the new Outside+ app available now on iOS devices for members! Download the app.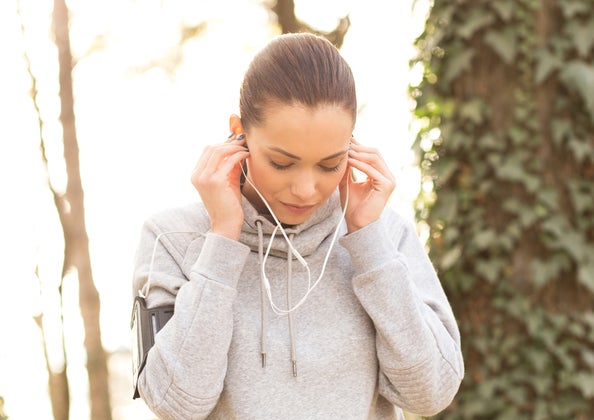 Anyone else save their podcasts for their long runs or the runs that you know are going to be super tough? Personally I love listening to This American Life on my Monday recovery runs, but hoard the running podcasts for my mid-week long run and my Sunday marathon training long run.
It seems like 2017 is the year of the running podcast, with a number of new ones popping up on iTunes weekly. Here's a round up of some of my favorites.
I've been reading Ali's blog for years, but her podcast launched a couple of weeks ago. I love how informal they are, like chatting with old/new friends about running. Most runners love chatting about all things running, so these make great, easy listening if—like me—you could chat about your miles for hours on end. Her really open and honest podcast with her husband is great, especially for anyone that deals with any bowel issues themselves. This week she launched a '10 Things' shorter Thursday podcast—perfect for a post-run stretch.
British professional runner, Tina Muir, talks with experts in their field discussing all things running related—from the importance of sleep, training your brain as a runner and tips for the weight room. She also chats with other elites like Molly Huddle. This is more of a serious, informative podcast than some of the other running podcasts that I listen to and I've picked up a lot of great tips to improve my training and recovery.
Hosted by Sarah Bowen Shea, this marathon veteran chats with a rotating group of co-hosts and expert guests about training, nutrition, motivation and mental toughness—as well issues such as stomach problems and snot rockets (I love it when runners overshare). I think this one will make you laugh on those early morning training runs.
Another informal chat-style podcast where Lindsey chats (usually while drinking wine!) with fellow runners including elites and amateurs, many of whom have really interesting stories and careers. I loved her interview with Amelia Gapin (the first trans woman on the cover of Women's Running) —I learned so much, and found it a really eye opening chat between Lindsey and Amelia. Other favorites include her chat with Shalane Flanagan and my coach Mary Johnson. This is a podcast I always save for my Sunday long run.
I've loved Kelly's blog and vlogs documenting her training for a BQ. These short, 10-15 min podcasts are very heartfelt, honest outpourings from Kelly. She shares some valuable self-help style information, funny stories and general motivational stuff, (however, if you're a longtime reader of her blog, some of it you may have read/heard before). Personally, as someone who started running as a way to deal with grief as Kelly did, I can relate to a lot of what she talks about!
This is a popular British running podcast, presented by Tom Williams and Martin Yelling. The guys chat about recent running news, interview elite runners and celebrate listener's marathons in the Listener Podium. Just a word of warning, some of the humor is very…British!
I haven't listened to these on the run yet, but I did listen to her recent podcast with Lindsay on I'll Have Another and immediately subscribed to Carrie's podcast, too. Carrie Tollefson is a former middle distance elite runner, and was voted fourth most beautiful athlete in the world by Sports Illustrated in 2006. She now works in broadcasting, covering high-profile events like the Olympic marathon trials. She interviews her guest while out running, even if that means a sub-7-minute mile! She recently interview Ryan Hall, an episode definitely worth downloading for a long run.
Although not solely about running, Rich interviews a number of athletes, including ultra runners, triathletes and obstacle course racers. A passionate vegan, former swimmer turned ultra endurance athlete and recovered alcoholic, Rich's long podcasts are powerful reminders to live your life to the fullest, and are guaranteed to make you rethink your diet and fitness plans.
This is not one I currently listen to but is a great source of advice and entertainment for trail running fans. Chatting through race day nutrition, kit, strategies for pacing and mental strength, it comes very highly recommended by those in the trail running community. However, I'm sure that road runners can pick up some valuable advice to take into their training and races, too.
Runner Matt Frazier shares training and race day advice alongside vegan and vegetarian nutrition tips in his weekly podcast. He interviews notable vegan/veggie athletes, including the aforementioned Rich Roll, Vega founder Brendan Brazier and Zen Habits creator Leo Babauta (next on my list to listen to) in the hopes of sharing a non-preachy (his words, not mine) informative tool for vegans and non-vegans alike.