5 Things To Consider When Doing Yoga On The Sand
Namaste, sandy beaches.
Heading out the door? Read this article on the new Outside+ app available now on iOS devices for members! Download the app.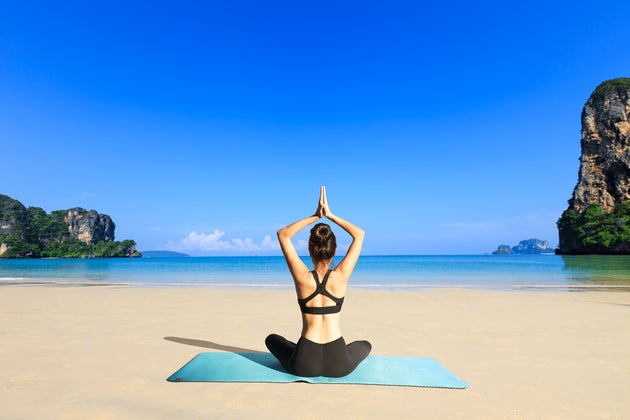 If you are planning to roll out your yoga mat on the sand here are a few things you should know.
Sand will get everywhere.
Just as with your digital devices, sand is going to find a way to sneak into your fancy yoga leggings, no matter the compression quality, no matter whether you've used a yoga mat or not. Instagram may be full of photos of non-sand-coated bikini babes doing yoga on the beach (see above), but these women defy the laws of nature.
Solution: Enjoy longer holds with less rush to get to the next pose. The added mindfulness will increase your ability to keep sand away.
Lighten your load.
Many yoga mats don't play particularly well with sand. Edges stick out, they absorb heat and can end up looking pretty dirty after one practice. If your yoga mat is made of rubber (many great eco-friendly mats are!), it will degrade faster in direct sunlight, or the color may fade.
Solution: Use a beach towel. The terry cloth absorbs sweat, conforms to the sand's wavy surface, creates the perfect amount of texture for grip and is easy to wash.
Embrace the challenge.
Sand is a superb surface for challenging your balance, which is crucial for runners in general, and particularly important for anyone who has ever sprained an ankle. Practicing balance is also key to graceful aging at any age. When you practice standing balance poses on sand, your foot and ankle muscles must activate in subtle ways because there are minor shifts in the surface beneath you as sand settles.
Try these three balancing yoga poses for 10 breaths each.
High lunge
Tree pose
Warrior III
There's no failing in falling.
You'll never learn your tipping point if you never fall. Sand is more forgiving to falls than most surfaces. If you've hesitated to try headstand away from a wall, make it a priority next time you are at the beach.
Try this move.

Headstand: Practice a few tuck and rolls (tuck your chin and roll slightly to one side) on cushiony mats at home before retrying on the sand. This will be your safe exit strategy from headstand. Once you feel comfortable, start with a solid base, pull your knees to your chest and slowly straighten one or both legs. Make sure your first try is not on a windy day!
Be playful, with caution.
Although the sand is great for balancing and strengthening through the feet and legs, be careful when bearing all your weight through your hands. The heels of the hands can press into the sand, causing a divot that shifts weight back onto the carpal bones and their precious ligaments. Make sure to stop any hand balancing if you notice discomfort or pain in the wrists. Be playful with arm balancing, but distribute the weight evenly through the hand by activating fingers strongly.
Try this move.
Crow Pose: Try this gateway pose to arm balancing, but make sure a towel is on the sand in front of you. Sand doesn't taste as good as it looks.