How To Rock Your Running With The Body You're Given
No matter your shape, size, weight or gait—you are a runner. Here's how to celebrate your body and rock your running at the same time.
Heading out the door? Read this article on the new Outside+ app available now on iOS devices for members! Download the app.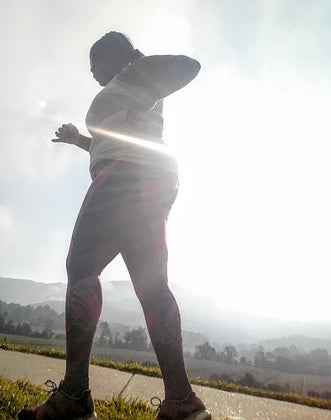 These past two weeks have been simply incredible! I just finished my first New York City Marathon and last week, I finished my fifth Marine Corps Marathon. I know, crazy, but that's a story for another day—and wow, let me tell you, the bounty of all kinds of runners at both events was astounding. To be surrounded by such a large, beautiful and eclectic sampling of humanity was exciting and humbling. If you've ever wanted to feel powerful and accomplished in whatever body you have, make your way to the start line of most any race.
I looked around me and saw taller and shorter runners, thin and stocky runners, runners who had similar bodies to mine, differently-abled runners, really thin runners, hefty, Rubenesque runners, run-walkers and walk-runners. Some made running seem effortless and others toiled to keep moving. But every single person moved forward, no matter their body shape, size, gait or weight.
This is what makes running the great equalizer of sports. There are those that are super elite, of course, at the very top echelon of the sport. They push the pace and inspire everyone to be their very best. They show us what the human body can do in extenuating circumstances. They raise our standards, and continue to make this most natural and simple sport the beacon of pure athleticism that it is today. But no matter where you are on the spectrum of elite to amateur to just starting out, you are still a runner.
The variety of runners that exists today is encouraging. The fact that there are so many different bodies toeing start-lines is reassuring in a world that can at times be uninviting and discouraging to people who may not have what some deem an athletic or fit appearance.
As I looked around at the field of runners on Sunday, I was grateful that there are so many who rock running in their bodies without hesitation or apology.
Are you having an issue reconciling yourself and what you think a runner looks like? Are you questioning your own runnerliness? I know I just made up a word, but stay with me for a bit.
Our bodies are all vastly different and work in all sorts of ways. Some of us are preternaturally gifted with speed or endurance. Others of us have to work at it, and that's okay. That's part of what makes it exciting, reaping the benefits toiling towards a goal as lofty as a 5k or ultra-marathon. The most important thing is that we're all running and we love the sport despite any difficulties we might have while doing it. Here are a few things to keep in mind as you run in the body that you have:
Do run slowly? That's okay, You're still a runner.
Do you run the like the wind? Yep. Still a runner.
Do you have an awkward gait but still manage to move forward with both feet suspended in the air at least at some point? Still a runner.
What about flab? Do you have flab? Do you run with your flab? Yep. You're a runner.
Do you have bony elbows and knees and no body fat? Sounds like a runner to me.
Are you one of those long-legged gazelles or short and lithe types? R-U-N-N-E-R.
How about a crutch? Do you run with one? YASSSS. YOU. ARE. A. RUNNER.
My point here is that there is such a variety of types of bodies that enjoy this sport, so why not celebrate and embrace what you have and just run? Take a look around and see that others have caught on and are doing it too.
Go get your run on in that beauteous body of yours!