10 Reasons Moms Should Try A Stroller Strides Class
These classes are kid-friendly, making it the perfect way for new moms to incorporate their children into their healthy lifestyle.
Heading out the door? Read this article on the new Outside+ app available now on iOS devices for members! Download the app.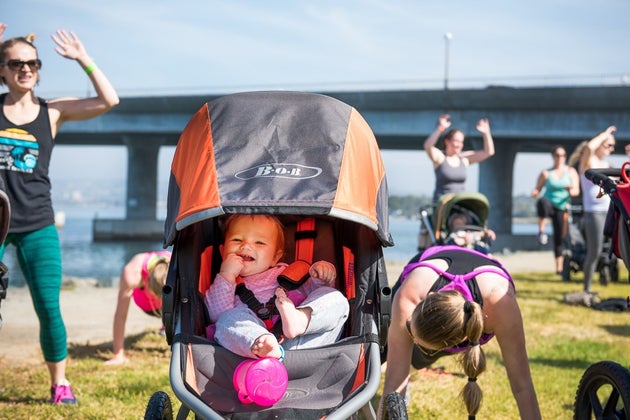 After Stacy Mahoney had her son, Benjamin, she wanted to get back to running and exercise, but it was tough. Her new life as a mom had tacked so many more things on her to-do list. Even though she had decided a running stroller could be used every day, she wasn't ready for the challenge of actually running with it.
Once Benjamin was 4 months, she attended a Stroller Strides class through Fit4Mom. She says this stroller-based fitness program not only is good exercise but it gives her a way to connect with other moms. After attending for a couple of weeks, here are Mahoney's 10 main motivations to keep going.
The workouts last about 60 to 90 minutes, and there are so many classes in the area to choose from, it's easy to find one that works for her schedule.
Since different moms are at various levels of fitness, there are options for running or walking and other modifications to be as inclusive as possible. Organizers suggested Mahoney wait till her son is 8 months to start running, but she says some moms run with younger kids (check with your pediatrician for what's right for your child).
She's learning new songs as part of the class ("Head, Shoulders, Knees and Toes"), which has also included reading books—one time while doing wall squats.
Everyone is very friendly and Mahoney is looking to meet other new moms, and each class begins with introductions that include the kids, who range a lot in ages—basically any kid who'll sit in a stroller.
After a warmup, the group goes on the move (usually through a park where she likes to attend classes, but there are also indoor options). They stop at different intervals to do strength and toning exercises. Changes in scenery make it fun and give you something to look forward to.
The exercises are designed to actually give mom a workout. This isn't a baby-focused mommy-and-me-style class. Most activity is done with body weight, but sometimes you may use resistance bands.
BOB makes a stroller that is branded in conjunction with the class, and Mahoney is very impressed with how sturdy it is. Though she says you don't necessarily need to have a "running" stroller, so that's convenient.
There's a lot of flexibility and understanding. If your baby is hungry, stop and feed. If your little one wants to be held, you can wear your baby instead of using a stroller. If you're pregnant with your next one, still come!
Even though the class isn't focused on kids, they aren't ignored either. The instructor may blow bubbles for a little added entertainment or the group may make singing or reading a part of the workout (see #3). Mahoney also loves setting a good example and showing Benjamin how important it is to exercise.
There are other activities through the group if you want some more time with new-found friends, whether it's a little after-party when kids get out of their strollers, a different kind of workout class or a mom's night out.